Besame Cosmetics – Vintage Inspired Makeup
Founded by Gabriela Hernandez, Besame Cosmetics is the real thing when it comes to authentic vintage style makeup. The gorgeous packaging makes the buying experience all the more enjoyable. Gabriela's vision is to create original cosmetic with detail and formulas that make women feel glamorous and unique.
Her range is crafted to empower modern women to feel feminine, elegant, and of course glamorous ! Return to the glamorous days of the 1930's, 1940's and 1950's.
But it's not just packaging, their famous red  lipsticks, mascaras and rouges are simply luxurious to apply.
Treat yourself and your handbag !
Besame Cosmetics signature classic red lipsticks are now famous the world over. You will see them applied in many movies set from the 1930s onwards. Gabriela is constantly researching, and seeking to emulate the popular colors of the era.
Besame Red, Noir Red, Tango Red, Carmine Reds, American Beauty, Red Velvet are just some of the mouth watering lip smacking names for you to choose from.
Rich and creamy black mascara that will make you feel and look like a Hollywood starlet. Inspired by a 1930's formula.
Cake mascara was the popular form in the 1930s and 1940s. Unlike the wand application, this is applied with a brush. You can reapply and reapply with out any clumping. Rinse brush after each use to guarantee perfect application every time !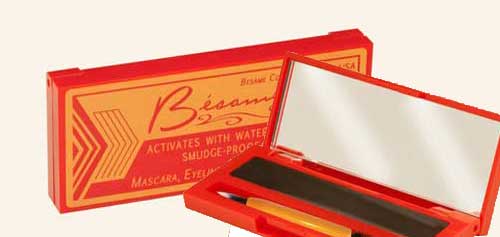 Luscious rouges in beautiful vintage colors – Apricot, Crimson cream. Souffle foundations for velvet smoothness. Violet brightening powder for a soft, matte finish and a subtle violet fragrance.Cashmere Powder Compacts in gorgeous gold casing ….what more luxury could you wish for?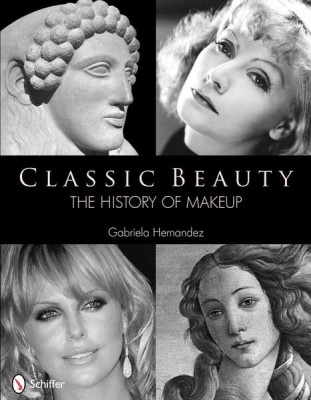 Written by author and founder of Bésame Cosmetics, Gabriela Hernandez, this is a feast of make-up history, from the classic 1920s era onward. Packed full of vintage illustrations.