A Brief History of the Brassiere.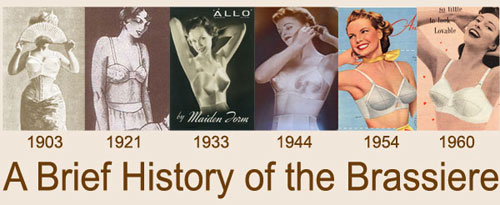 Herminie Cadolle, a corsetiere in 1889 made history at the Paris Exposition Universelle when she revealed her corset-gorge – a corset for the bust. It was the forerunner of the bustier or long-line bra. That being said – it was still a corset – not a brassiere.
The first notable name in brassiere design is Marie Tucek who patented the breast supporter in 1893 – a garment very similar to what we now recognize as the bra. It used shoulder straps  and a hook-and-eye closures to support a woman's breasts in separates fabric pockets. It was by all accounts not overly comfortable to wear, but some daring women chose it in place of the conventional corset.
Gallery of Brassiere patents.
The New York socialite Mary Phelps Jacob better known as Careese Crosby, patented her handkerchief bra in 1914 as a comfortable alternative to the corset or bustier. It had no cups, but was popular enough and created a trend in the 1910's. She sold her new bra under the name Caresse – though she later sold her patent to the Warner corset company, for a reputed $1000. By the end of the First World War, sales of bras by well known brands such as DeBevoise took off in strides.
A Visual Timeline of Brassieres from 1910 to 1950s.
The bust flattening fad continued well in to the 1920s helping to popularize the new 'gamine look'. One woman changed everything , a Russian immigrant named Ida Rosenthal along with her husband formed a company called Maidenform in 1922. Producing bras with 'bust cups' attached with elastic, breasts were uplifted rather than flattened and the bra – as we now know it took off. The infamous gamine look of the bust flattening Symington-side-lacer however dominated haute couture as well as flapper styles through most of the Roaring Twenties decade.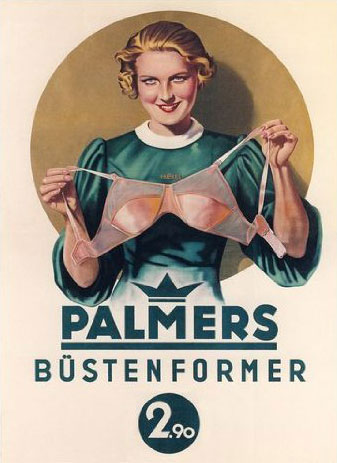 But by 1930, the silhouette was returning to a curvier more natural shape for young women. This year also saw the arrival of the seamless bra. In 1931 – the maternity wear company S.H. Camp and Company produced the first bra measurement size charts for women's breasts and Warner's quickly followed with their A B C D cup sizing charts.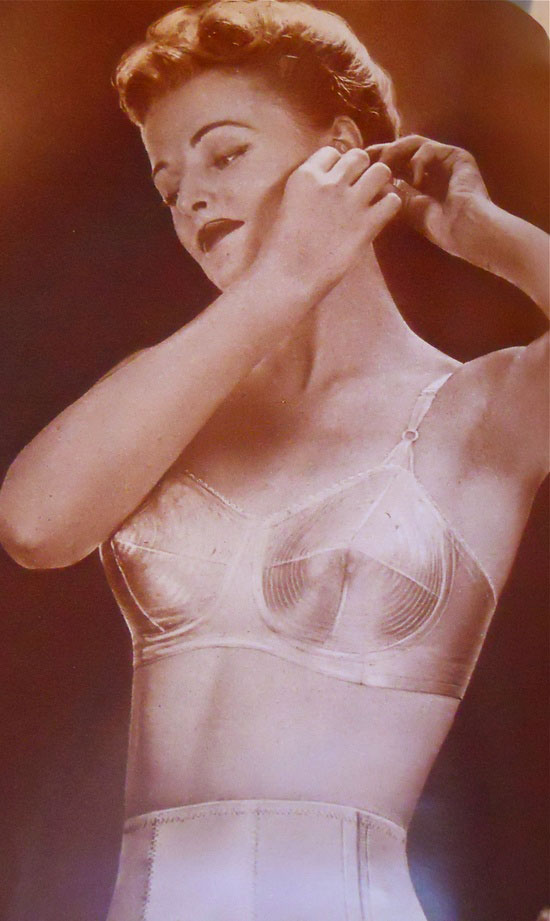 By the 1940s, bras had to be durable for women working long shifts in factories and on the farm [ Land Girls ] and the busty sweater girl look came along via Hollywood starlets like Lauren Bacall and Jane Russell. Military inspired bras were fashionable with torpedo and conical shapes abounding. With the arrival of the Paris New look – brassiere designers created wired bras to take the load, so to speak off ,normal bra straps – perfect for off the shoulder evening dresses and sportswear. As the 1950's arrived, brassiere designers concentrated on making bras, girdles and all other female undergarments as glamorous as possible.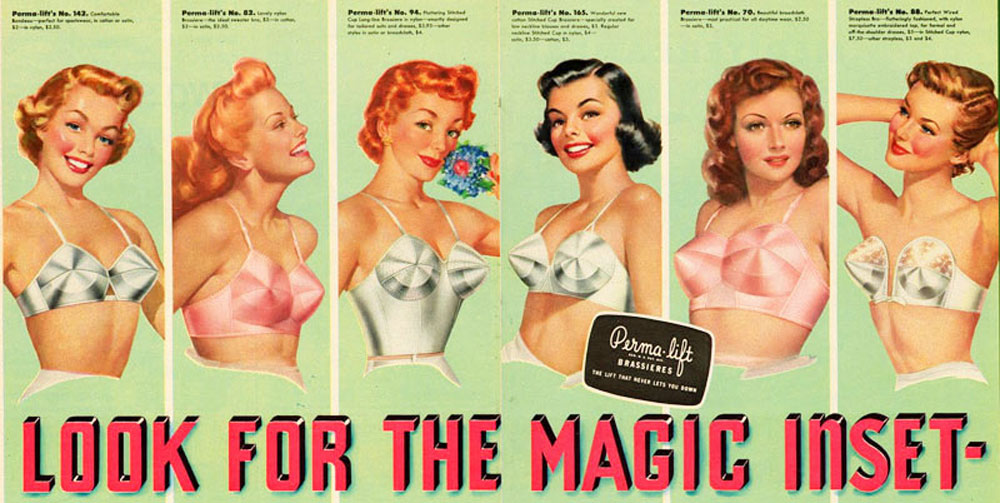 Famous Brassiere Brands Timeline
———————————–
1901 – Gossard
1911 – Vanity fair
1917 – Berlei
1920 – Lily of France
1922 – Maidenform
1927 – Bali
1932 – Playtex
1942 – Olga
1946 – Frederick's of Hollywood
————————————
© 2013 – Stevie McGlinchey – Glamourdaze.com
Further Reading and Viewing:
Metropolitan Museum of Art.
Fashion Era
Bust & Lace
By Gum Golly – Recreating the 1940's Silhouette