A Brief History of 1960s Makeup
A concise illustrated history of 1960s makeup for women and the key styles that were popular in the swinging sixties.
The early 1960's makeup look was all about elegant eyes, pale pink hues and loads of powder. By the mid 1960's, this evolved in to a simpler girlish style, typified by the likes of British models like Twiggy and Jean Shrimpton.
Two defining images – early classic 1960s and late 'London' Look
However the London fashion explosion brought with it – the London Look and a revolution in hair styling (Vidal Sassoon) and Makeup (Mary Quant Cosmetics), and all eyes for a time turned to the fashionable scenes of Carnaby Street and Portabello Road in London.
1960s Makeup Tutorials
For original 1960s makeup tutorial books, direct to your device, we suggest visiting Vintage Makeup Guides. You can perfect the sophisticated Mad Men makeup style of Jessica Pare with ease.
Vintage 1960's Makeup Tutorial Video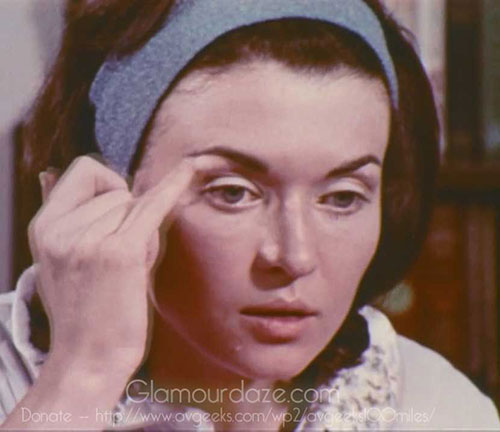 You can also watch our viral success – Vintage 1960's Makeup Tutorial on our YouTube channel. With nearly 6 Million hits, it's popularity is showing no signs of waning.
1960's Makeup Products
The London makeup look, if it could be defined, was pale lips and pale eye shadows. Besame Cosmetics produce the perfect retro 1960's lipstick with their portrait peach lipstick.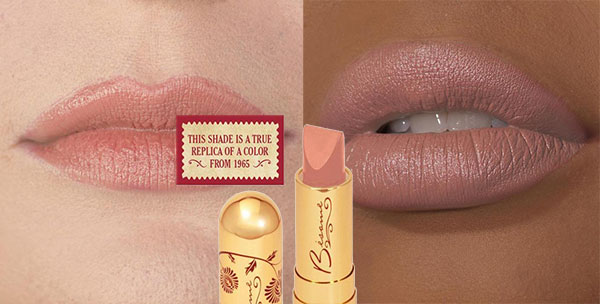 Gallery – Applying 1960's Makeup
Yardley of London – tapped into the new youth look and their firm experienced a whole new lease of life with iconic 1960s models Twiggy and Jean Shrimpton modelling their makeup products under the banner of The London Look.
English Model and Beatles chick Pattie Boyd wrote a Letter from London column in the American teen magazine 16. Teens from across the USA eagerly read about her exploits and followed her 1960s makeup and Hair Tutorials. There were three distinct looks in the 1960s, the classic, the mod and the hippy. The mod look is the cosmetic look most remembered from this beauty era.
Gallery – The Makeup Looks of the 1960s
The Key 1960s Makeup trends
By the mid 60's, the cat eye look of the 1950's disappeared and emphasis went back to lashes. Now with false eyelashes taking on a whole new popularity.
The 1960's was the first 'retro' decade with styles in clothes, makeup and hair hearkening back to the 1920's. However with a more waif like appearance. Lips were pale to help emphasize eyes. Legs were finally revealed in all their glory via the miniskirt fad.
Eyes – eyeliner was the most important makeup tool. Instead of cats eye effect, liner was doubled up at the end of the lid.White eyeliner drawn down over upper lid to inner corner of eye.
Eye shadow – the popular palette was blue,grey and white.
Eyelashes – placed on both top and bottom for a real retro 'flapper' effect.
Powder – Lots of powder in the early 1960s to just a dab of translucent by the end of the decade.
Lips – very pale pinks and reds outlined with a pencil.
Gallery – Makeup Adverts of the 1960's.
1960's Eye Makeup
Eye-shadows turned pale for a daytime look. In the evenings – lush primary shades like blue and green were in vogue. Foundation compacts out-sold liquid and cream foundations. The Mod look dispensed with the heavily powdered elegance of the early 1960's.
In the Swinging Sixties in contrast with paler eye-shadows, foundations and rouges all emphasis went on eyeliners and lashes. False eyelashes applied with lashings of mascara were made particularly popular by Twiggy. Lip liners were rarely used by younger women, who now preferred a softer line.
For a time lipsticks took second place to the eye.
Notable 1960s cosmetic brands include Mary Kay Inc (1963),Cover Girl (1963)
© Stevie McGlinchey – Glamourdaze.com
Further Reading:
A Short History of 20th Century Cosmetics
History of Makeup – 1900 to 1919.
A History of Makeup – 1920s
History of makeup – 1930s
A History of makeup – 1940s
History of makeup – 1950s
---
A Concise Illustrated History of Fashion – 1900 to 1919
Concise Illustrated History of Fashion – 1920 to 1929
A Concise Illustrated History of Fashion – 1940 to 1949
—————————————————————————————————————————————
Further Reading:
The 1960's Eye Makeup Look – Maybelline.
Rare 1960's Makeup and Beauty Tutorial on film
Pattie Boyd's London Makeup Look
1960s Fashion Era – makeup.
1960's Beauty and Makeup – Pinterest.