A Brief History of 1950's Makeup
The age of makeup entered its golden age in the 1950's. For the first time, unknown models began to rival the big Hollywood names in becoming the 'face' of makeup brands.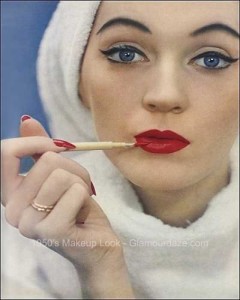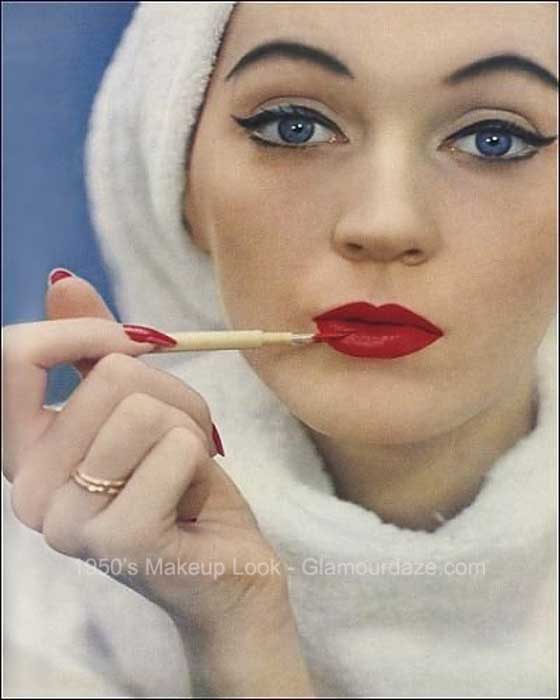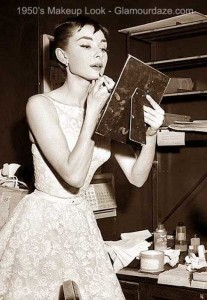 In Britain Gala of London marketed a real sense of Haute Couture to their makeup range. However when conjuring up the 1950s makeup look it's difficult not to see the faces of those glamorous post-war beauty icons – Elizabeth Taylor, Natalie Wood, Marilyn Monroe, Grace Kelly, Audrey Hepburn, Doris Day, Ava Gardner, the list goes on and on.
For original downloadable 1950's makeup guides – visit Vintage Makeup Guides.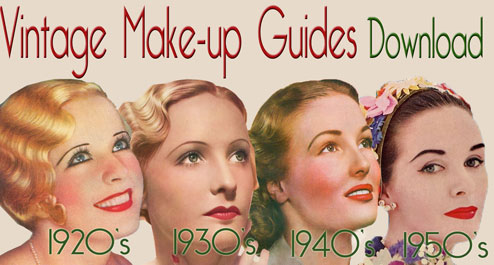 Gallery – 1950's Women Applying Makeup
Skin improvement cosmetics began to sell as fast as the old traditional 'face paint'. The consumer race was on to create the perfect youth preserving cosmetics. In 1949-50 Hazel Bishop unveiled to much excitement the first non smear lipstick. Revlon  followed this with their own by own non-smear lipstick' in 1953. The ruling shades were pastels in the 1950's and pink lipstick replaced the reds for a time as the lip color of choice – especially among younger women. Audrey Hepburn once declared that she " believed in pink!" and who could argue with Audrey?


Gallery – The Makeup Looks of the 1950's
A much heavier makeup look for the face was in order with liquid foundations and loose powder appearing on dressing tables again. The eye shadow look of this decade was much more minimal than in previous decades, eye-shadows now containing shimmer and a huge palette of colors.
Revlon produced 'eye-shadow palettes' with two or three shades to create a specific look. A soft but definite eye line and eyebrows a slightly darker shade than the natural.
The Key Makeup Looks of the 1950's
A really glamorous decade for women's makeup. Creams were the in thing in foundations and shadows.It was the era of the 'mask effect'. A thick creamy application of foundation and flesh colored powders to set. Eyebrows still a natural look but more tapered and feminine. Rouges were less emphasized than in the 1940's. If there was a color to define the 1950's – it has to be pink. Pink hues in shadows and reddish pink lipsticks.
Foundation – A cream ivory base, and cream or liquid foundation near to natural skin color.
Powders – brushed on flesh colored powder to set.
Eyes – subtle shadows on lid – taped out to shimmering pale brow.
Eyeliner – the wing effect became popular in the 1950's.
Lashes – subtle and applied usually to the upper lashes.
Rouges – pastel and rose colors applied to the apple of the cheek.
Lips – many tutorials advised creating a 'smile' effect with lipsticks. Achieved by drooping.
Mascara from brand leaders such as Maybelline was an imperative cosmetic to have in your handbag. Though it wasn't until the 1960's that women applied it again to lower lashes again [ as in the 1920's ]. Loads of newly patented cosmetic tools like eyelash curlers and eyebrow stencils helped young women achieve the look of whatever starlet took their fancy.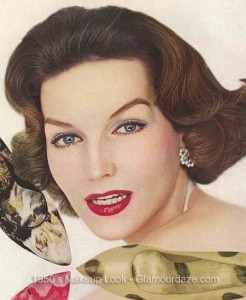 The Cat eye-line or the winged tip which defines the current retro pinup look – such a simple innovation, added real glamour to a girls eyes and was often preferred by women to a heavy eye shadow look.
Gallery – Makeup Adverts of the 1950's
In 1954 Avon [ founded in 1886)  launched their "Ding Dong Avon calling" campaign and became one of the longest running and most successful advertising campaigns in history.By 1957 there were over 100,000 Avon representatives.
Notable brands to appear in the 1950s included Biotherm (1952), Clarins (1954), Shiseido International ( 1957).
© 29/05/2013 – Stevie McGlinchey – Glamourdaze.com
Further Reading:
A Short History of 20th Century Cosmetics
History of Makeup – 1900 to 1919.
History of Makeup – 1920s
History of makeup – 1930s
History of makeup – 1940s
History of makeup – 1960s
---
A Concise Illustrated History of Fashion – 1900 to 1919
A Concise Illustrated History of Fashion – 1920 to 1929
A Concise Illustrated History of Fashion – 1940 to 1949
—————————————————————————————————————————————–
Further Reading:
Vintage Makeup Guides – The 1950s Look.
Lipstick and Curls.
Makeup Look from 1910 to 1950.
1950's Makeup and Beauty – Pinterest.
1950's Lipstick Masterclass.
Vintage Eye Makeup Glamour Tips of the 1950's.
Classic Beauty – The History of Makeup.
Duke Library – 1950s Makeup Ads.
Cosmetics and Skin