1950s Eye makeup Glamor Tips.
as seen in a 1954 Coty Advertisement.
1950s eyebrow and eyeliner tip.
Outlining the brows and corners of your eye with an eye crayon is the first step to achieve lovelier eyes. Flattering pencil lines help to curve the eyelids upwards – eyebrows wide and high.
1950s eyeshadow tips.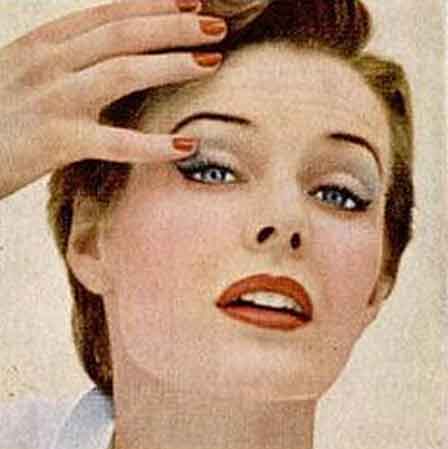 Apply a light tint [ not dark ! ] just above the lashes for a subtle shade to make your eyes larger and brighter.
A creamy texture is best, and is best applied with the finger. begin at the center of eyelid and deepen at the temple for a flattering 'elongated' look.
1950s Mascara tips – the Audrey Hepburn Look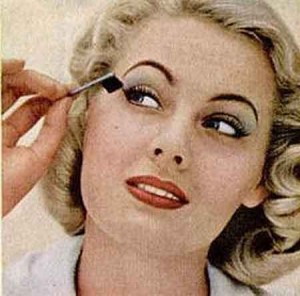 For the last lovely accent to complete your feminine face, apply mascara with a brush. Mascara is still relatively new to girls [ having
only become a standard cosmetic in the early 1930s ] but is now 'the' accessory for your makeup bag, if you want to keep up with the Hollywood starlets and the makeup looks of Audrey Hepburn – amongst others. . Remember – use only on the upper lashes. Apply it outwards to the extreme lash top.
Now you can bat those lashes with the best of them!