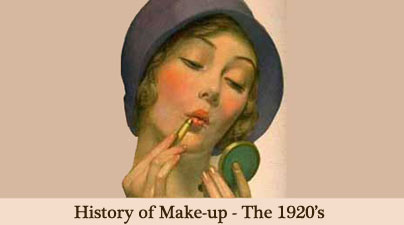 Concise illustrated history of 1920's Makeup styles and cosmetics. Where to buy vintage inspired makeup.
Those cosmetic innovations of the 1910's heavily influenced 1920s makeup. Lipsticks, eye-shadows, mascara and pan-sticks etc from brands like Maybelline and Max Factor were now to be seen on dressing tables and handbags across America and Europe.
Makeup Artist Max Factor at work in 1935
In Japan, still not under the spell of fascism, Shiseido was producing their own unique beauty products for the 'modern Japanese woman'. The 1920s was the era of the Flapper, a time when nice girls could be bad – at least in the evenings!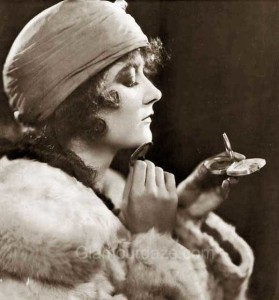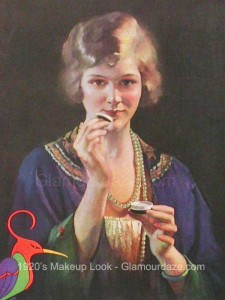 Makeup played a huge part in helping women recover from the horrors of the war. Now they could assert their new sense of feminine power. Helena Rubinstein famously said "If you can show me a woman who doesn't want to look young and beautiful – well, I'm afraid she isn't in her right mind. Women all want it – and we admit that they do !"
1920's Makeup Tutorials
Download original 1920's makeup and beauty tutorials from the golden eras. Learn from a genuine 1920's society girl how women really wore their makeup in the 1920's.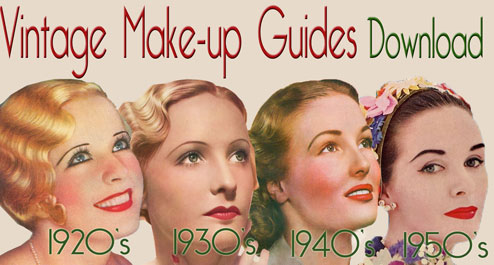 1920s Makeup Products
Besame Cosmetics, founded by Gabriela Hernández is by far the leading purveyor of vintage style cosmetics today. We love their beautiful shades of vintage inspired lipsticks. Their 1920's cake mascaras, in black and brown, are so authentic and beautifully packaged.

Dark defined lashes were a must for actresses and showgirls. Besame Cosmetics 1920s cake mascara will bring out the flapper in anyone. It comes in authentic cake style, in a tin that you won't want to throw away. Add to that a delightful applicator brush and you're set for creating those steaming eyes of the 1920's flapper.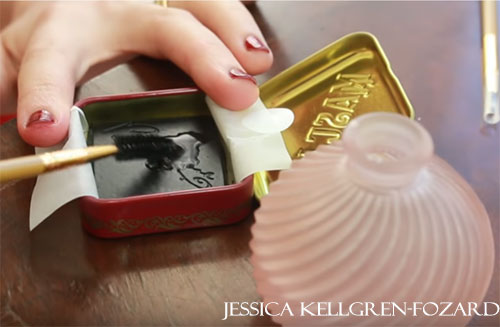 Gallery – Makeup Mirror – Women of the 1920's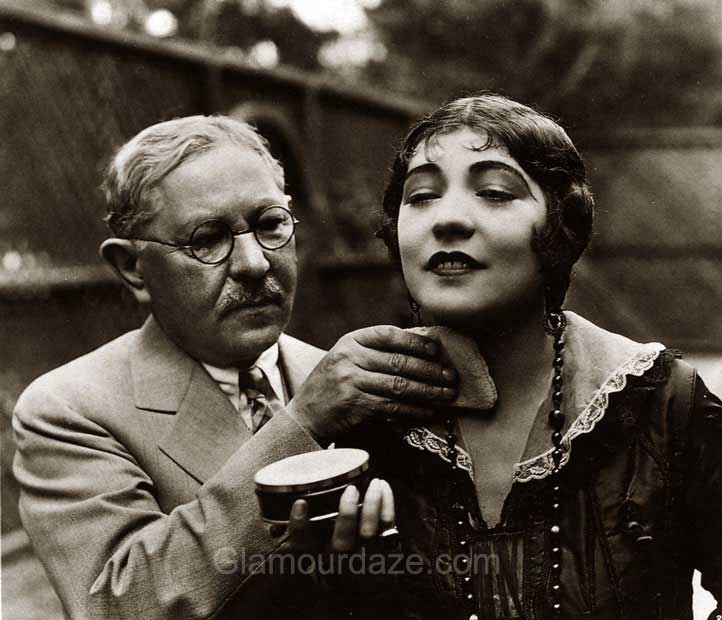 In 1909 Gordon Selfridge had opened the first cosmetics counter to allow women to 'try before you buy' and by the 1920s, every pharmacy and department store in the world had makeup counters. The earlier stigma attached to makeup and 'harlots' was gone. Women felt at ease perusing the latest powders, vanishing creams, pan sticks, lipsticks and mascaras. The original name was mascaro !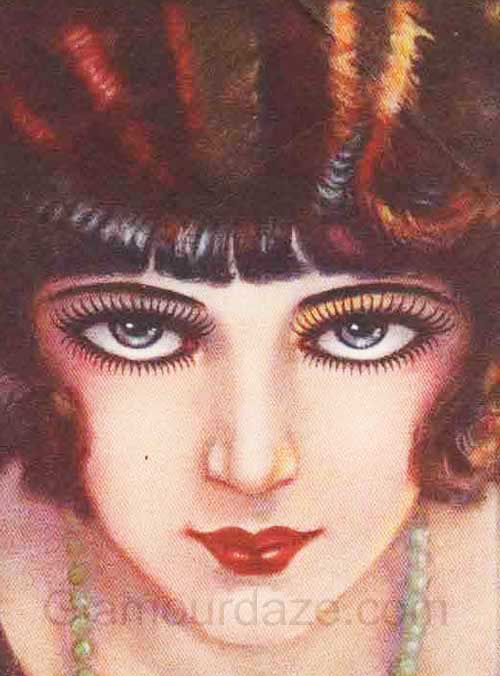 Hollywood stars like Clara Bow made the cupids bow lip – a self shaping lipstick developed by Helena Rubinstein – popular and the image of the 1920s woman with her bow lips and dark eyes peering out from under her cloche hat has defined the look to this day. Shaping the mouth became a major pastime for women. Metal lip tracers being sold to help achieve the perfect pout. The defining 1920s makeup look was a youthful glow to contrast the ivory pale skin. This was achieved using creams, rouge papers and various foundation liquids.
Gallery – The Makeup Looks of the 1920's
1920's Make-up for Women of Color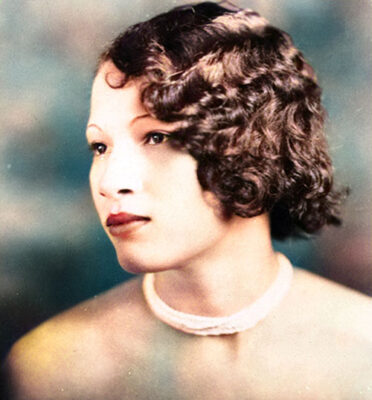 Kathy Lee Peiss in her book Hope in a Jar noted:
"If pale and creamy was the desired skin, the solution for white women lay in an array of powders, paints, and bleaches. But what were the ramifications for black women? Peiss examines the hair and skin products sold and marketed to black women. Two of the largest companies within the black community did not sell hair straighteners or bleaches."
The Key Makeup Looks of the 1920's
The 1920's woman was the first to truly create an artificial face. Startling eyes, scarlet lips and a pale pallor – thanks to buckets of powder resembling that of a corpse.The consumer boom in makeup – simplified women's requirements and a handbag carried all any daring flapper needed. Cake mascara – applied with a brush and the ever present push up tube lipstick.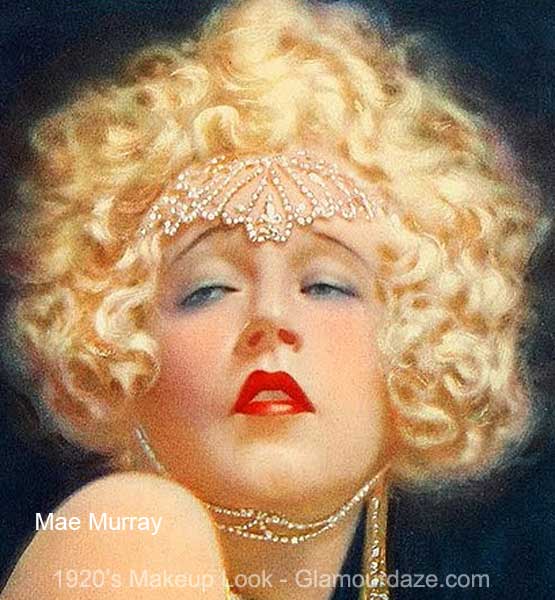 Eyes – kohl eye shadow for the more daring girls
Eyebrows – Plucked for the first time and drawn downward towards the temple.
Lips – lips were smaller than the natural outline and fashioned into the 'cupid's bow' shape.
Lashes – mascara was the new rage and no woman could resist enhancing her lashes.
Rouge – Applied in circles rather than angular. The effect was a rounded face.
Nails – The big name was Revlon and the popular style was the 'moon manicure' leaving the tip in painted.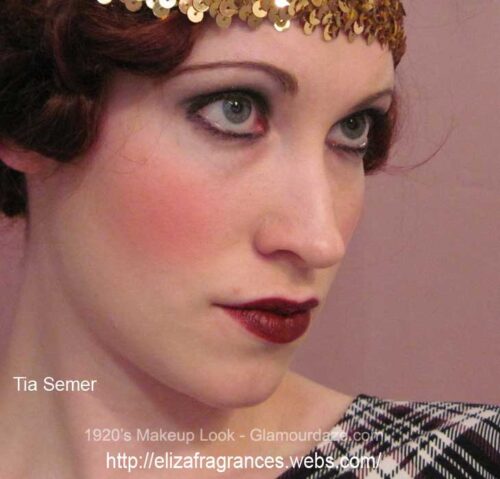 Gallery – Makeup Adverts of the 1920's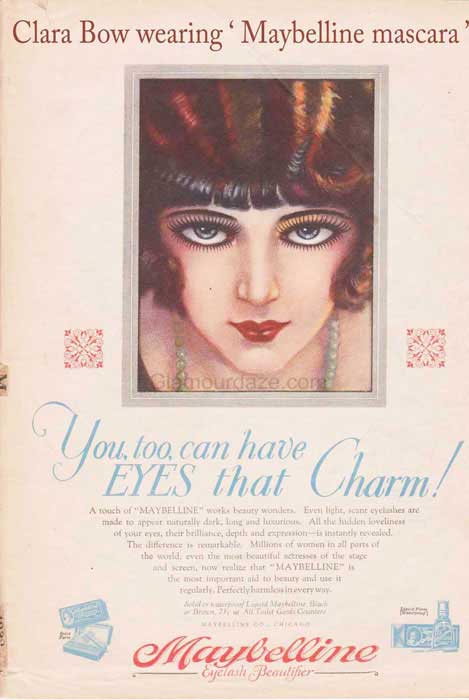 Contrary to popular belief the art of plucking eyebrows did not take off until the early 1930s, again to some extent popularized by Hollywood bombshells such as Jean Harlow and Myrna Loy.
No – the 1920's look for the most part was one of femininity and beauty routine – day and night.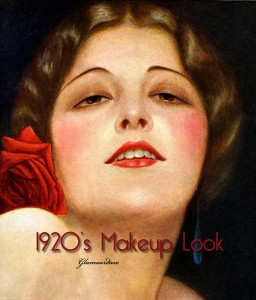 Most women did not go for the so called flapper look – but instead the idea of facial contouring was gaining interest and soon 1920s makeup and beauty books displaying detailed tutorials for women were being sold. One notable makeup tool that appeared in the 1920s was eyeliner – inspired by the huge interest in all things Egyptian, following the discovery of the tomb of Tutankhamun.
The First "Swivel" Lipstick
Now a staple in every woman's handbag, the lipstick tube – purportedly invented in 1915 – with a side lever to push up the lipstick, was challenged by a patent by a James Mason Jr in 1923 – with his "swivel lipstick container".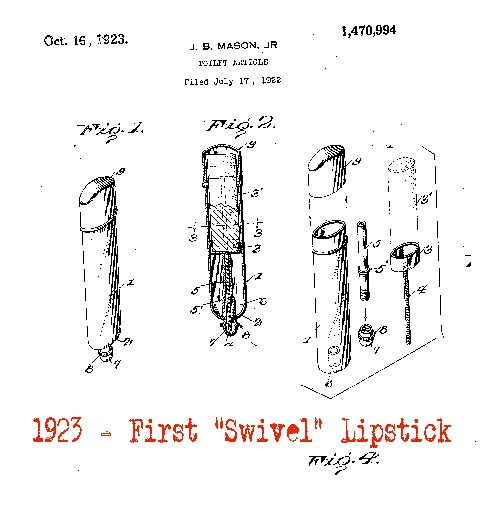 Gallery – Cosmetic Patents of the 1920's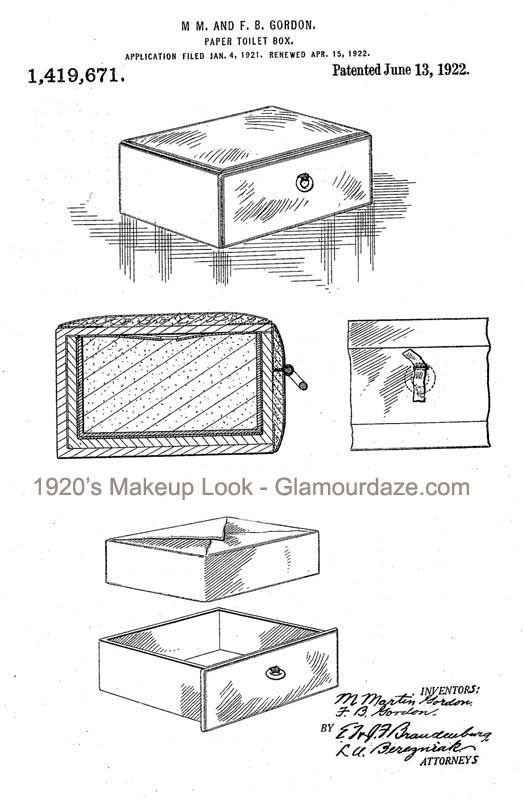 A Popular makeup brand which made its mark in the 1920s was Tre-Jur – under the lead of cosmetic entrepreneur Albert Mosheim. Other notable makeup brands who joined the ranks of Tre-Jur, Max Factor, Coty, Rubinstein and Arden in the 1920s included Tangee Lipsticks (1922), Peggy Sage (1925), Charles of the Ritz (1926) and Bonnie Bell (1927), Kissproof (1927)
© 29/05/2012 – Stevie McGlinchey – Glamourdaze.com
Further Reading:
A Short History of 20th Century Cosmetics
A History of Makeup – 1900 to 1919.
Complete History of Makeup – 1930s
A History of makeup – 1940s
Full History of makeup – 1950s
History of makeup – 1960s
—————————————————–
A Concise Illustrated History of Fashion – 1900 to 1919
The Concise Illustrated History of Fashion – 1920 to 1929
Concise Illustrated History of Fashion – 1940 to 1949
————————————————————————————————————
Vintage Makeup Guides – The 1920's Look.
Cosmetics in the 1920s.
Pinterest – 1920s makeup & Beauty
An Original Flapper's Guide to 1920s Makeup.
Makeup – Women's studies.
The 1920s Image – Review.
Classic Beauty – The History of makeup.
Patent Images – via Google Patents
Plus – the excellent – Collecting Vintage Compacts
(2 patents by Mosheim – 1357412 and 1498475.
Gordon – 1419671, Miles – 1451740 and Kasdan – 1503955)
Recent Posts on Glamourdaze