In 1945 – the great Helena Rubinstein served up this post war makeup color chart to women across the United States of America.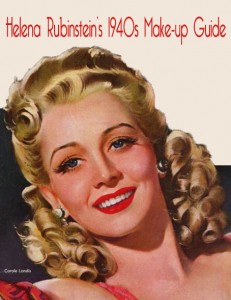 The Cherished Blonde.
Your natural colors are the story book hues of spun gold. For vivid beauty, wear tints and shades of fuchsia. Find your most flattering colors in the wonderful blues of nature. and for a soft spoken color effect, depend upon the discreet, muted blue greens.
1940's Make-up for the Blonde.

Lipsticks – Red Velvet, Pink Champagne
Foundation – Rachel
Rouge – Red Velvet
Eye Shadow – Opalescent blue
Powders – Pink hues and Suntan glows
Nail polish – Velvet Red.
The Versatile Medium- Blonde
Your very own colors are the glorious orange sunset shades. Your most arresting colors are the glamorous reddish- orchid hues. Your day-in, day-out favorites – the gentle blues. For a restrained color strategy – select from the never discordant greens of Nature.
1940's Make-up for the Medium- Blonde.

Lipsticks – Raspberry Reds, Plush Reds
Foundation – Peach colors
Rouge – Plush Red / Plum Reds
Eye shadow – Jade
Powders – Rachel and Mauresque Red
Nail Polish – Plum Red.
The Inimitable Redhead.
Your most personal colors are the tints, glints, shades of your hair – from apple blossom pink
to warm rose. Your most effective tones are the exciting purplish blues.
For the color you just feel is yours – the spirited greenish blues. Your most delicately beautiful hues – the complacent Chinese greens.
1940's Make-up for the Redhead.

Lipsticks – Red coral / Apple Red
Foundation – Peach bloom
Rouge – Apple Red
Eye-shadows – Opalescent brown
Powder – Champagne bisque
Nail Polish – Apple Red.
The Exotic Brunette
Your most vibrant coloring makes the enchanting merican beauty hues your most harmonious shades. Your electrifying colors are the dramatic life blues. Your easiest tones are the cool, tropical greens. For a quiet, reposed effect – burnished golds … the color becomes the background – you – the exclamation point.
1940's Make-up for the Brunette

Lipsticks – Plush Red / Orchid Red
Foundation – Pink Champagne
Rouge – Plush Red
Eye-shadows – Orchid
Powder – Champagne Bisque / Suntan
Nail Polish – Plush Red
The Sophisticated Gray.
Your own colors are the natural highlights you see in your lovely silver hair – soft purples and mauves, Create your most dramatic effects in rich Cardinal Reds. You'll be wonderfully " at home" in soft pistachio greens. Create an interesting effect – quietly – with the clever use of muted aqua – the soft-spoken color is of amazing impact !
1940's Make-up for the Silver-Gray.

Lipsticks – Apple Red / Cochinelle
Foundation – Pink Champagne
Rouge – Red Raspberry
Eye Shadow – Orchid
Powders – Mauresque, Suntan
Nail polish – Red Velvet.
At a Helena Rubinstein cosmetic counter you could ask for a complete Color – Spectrograph.
That's all ! © Glamourdaze
See also The 1950s Fashion Look – according to Helena Rubinstein