Clara Bow Makeup Tutorial – 1920's Hollywood
A quirky no nonsense 1920s makeup video tutorial from Courtney Bes Green. I think this girl has really nailed the Clara Bow makeup and hair look.
She really resembles her at the finish. "I started by pin curling my hair – not especially neat – as Clara Bows hair is quite fluffy, and I used very small sections of 1 cm to 2 cm ."
Prime and moisturize your skin.
Thick coverage of foundation followed by skin concealer to get that pale skin look.
Next Courtney uses a technique called 'soaping the brow' to conceal her eyebrows. [ there are other methods of wiping out your eyebrows on YouTube tutorials but Courtney's method does seem very simple – she has a link in this video to another tutorial on how to do this]
To create that 1920s Eye Makeup look – Courtney then uses dark brown eye shadow to go with her green eyes.
Courtney then draws in new eyebrows – starting before her tear duct and extending way out beyond her natural brow end for that wide eyed 1920's look.
Courtney then 'contours' her cheeks to get that small Clara Bow face look.
Lipstick – Clara had small defined lips so it's a cupid bow look for the lips. Courtney opts for a plum lip liner and lipstick.
Finally – a MAC liquid liner to define and complete the brows. The hair is fluffed up and ….
Voila – Clara Bow ! Well done Courtney!
Courtney finishes up by recreating the iconic 1920's turban of Clara Bow.
All Images © Courtney bes green
That's all !
Download direct to your phone, tablet or PC – gorgeous vintage makeup guides from the 1920's and beyond.
Check out the History of 1920s makeup.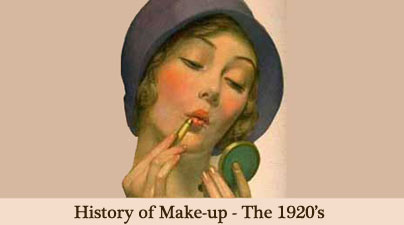 That's all ! © Glamour Daze
Read all our 1920's makeup and 1920's hairstyle posts.