What colours did the silent screen stars really use ?-
Talia Felix of The Gibson Girls Guide to Glamour shares with Glamourdaze her insights into some of the misconceptions of the 1920s make-up looks of the silent movie era –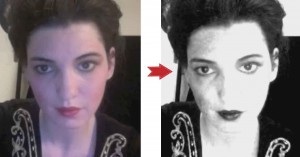 EVERYONE knows the classic silent film star look: deep, dark lipstick and smokey black and grey eye shadows over pale skin. But how close is this to the reality?
As a teen, I often fretted over why even my darkest lipstick never photographed like the photos of Madge Bellamy and Vilma Banky I had tacked up in my room. It was many years later that I learned about the effects of orthochromatic film and how it affected colours. Our ideas of "silent movie make-up" are actually much more dark and dramatic than the realities.
Until 1926, virtually all movies were shot on blue-sensitive orthochromatic film, and it continued to be used until about 1930. Why is this important? "Blue-sensitive" indicates that the color blue registered very brightly — much too brightly. Skies appear perpetually overcast white and blue-eyed actors look somewhat frightening with their unnaturally pale irises. Meanwhile, red registered so darkly that it was often indistinguishable from black.
Because of this phenomenon, our ideas of women's make-up from the era have been somewhat skewed. A vibrant red might appear black as the actress's mascara, whilst a deep purple hue might register as only a medium gray which a viewer could interpret as pink.
Magazine covers and old movie posters are a good gauge for what types of make-up hues were actually en vogue, and particularly what the stars might have been wearing in their movies. The portrayals can be surprising. With green eye-shadow, fiery red lips and ample rouge, Louise Brooks looks much less Gothic than her black and white photographs suggest.
Theda Bara's famously blackened eyes are actually shown as being made up in soft brown and peach tones. Gloria Swanson seems to have legitimately tended to dark, bold colours — which is interesting, since she doesn't especially have an appearance of wearing intense, smokey colours in her silent works. (Unfortunately she seemed to like heavy blue eye-shadow, which photographs as a pale tone that one tends to interpret as a nude.)
Of course actors would wear different make-up for different films and even scene to scene within a film, so these paintings are not to be taken as exact copies of a fixed look. Additionally, the magazine covers (and other rare colour photos) indicate that heavy rouge was popular in real life; yet we can assume most women who expected to be photographed were omitting it from their look, as it would have created distinctive dark patches on their cheeks; yet such patches are rarely to be seen until the era of panchromatic film.
HOW WAS IT DONE?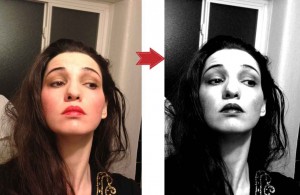 It was recommended that a woman keep her lipstick and rouge colors coordinated, and this was easy to do as the available colours were fairly limited — they rarely strayed too far from carmine red, though they could be made more purple, more orange, darker, or lighter by the addition of other pigments.
During the 20s and into the 30s, indelible lipstick was the primary style on the market — this was generally achieved by making a mixture that was part stain, part cream, with the result that even as the cream and pigment wore off, the matching stain would remain on the mouth and create the illusion your lip color was intact. This meant the stain needed to be a match to the pigment, and further limited the colours that could be produced. Lipstick was essentially matte, though clear glycerine could be painted over top in order to create a wet-look.
1920s Flapper Silent Film Makeup Tutorial – Louise Brooks.
Cream and ivory coloured powders were popular for the face, but bear in mind this doesn't necessarily mean they were opaque powders like we often use now. While I do not have any authentic 1920s face powders to investigate, I know that cornstarch and body talc were still being used as face powders by women who either didn't trust commercial preparations to be safe or who simply realized it was less expensive. Cornstarch with no colouring leaves only the slightest white cast over the face. Pure talc is more white but still allows the flesh to show through. Another popular colour for this time was one called Rachel — it's a darker tone more like modern natural coloured powder. It is unclear how well the available face powders for daily use corresponded to the actual colours used by movie stars, as film actors also wore heavy foundations (which were virtually unheard of outside the theatre) and the film stock tends to increase the contrast and make them look paler than they were.
Eye make-up in the 20s could be many different colors, and there seems to be little rhyme or reason behind the choices. Yet despite the variety, one rarely sees the heavy, smokey eye look portrayed in the color illustrations of the era. This may suggest it wasn't very popular. Blues, greens and browns seem to have been more typical eye-shadow shades, with only a thin line of black or brown eye-liner smudged in.
copyright Talia Felix – Glamourdaze.com
Makeup Images – Talia Felix
Images also courtesy – Cosmetics and Skin