To bob or not to bob in 1924
The 1920s bob haircut craze of 1924 takes Hollywood by storm. The 12 Classic bobs.To bob or not to bob. Which actresses bobbed their hair.An exclusive interview with Colleen Moore, whose famous Dutch bob caused a worldwide rage. We also get the opinions of many other top Hollywood actresses on the pros and cons of the 1920's bob haircut and of getting the big "chop!"
1920's hairstyle correspondent Carolyn Van Wyck reports for Glamourdaze.com .
The 12 Top 1920's Bob Hairstyles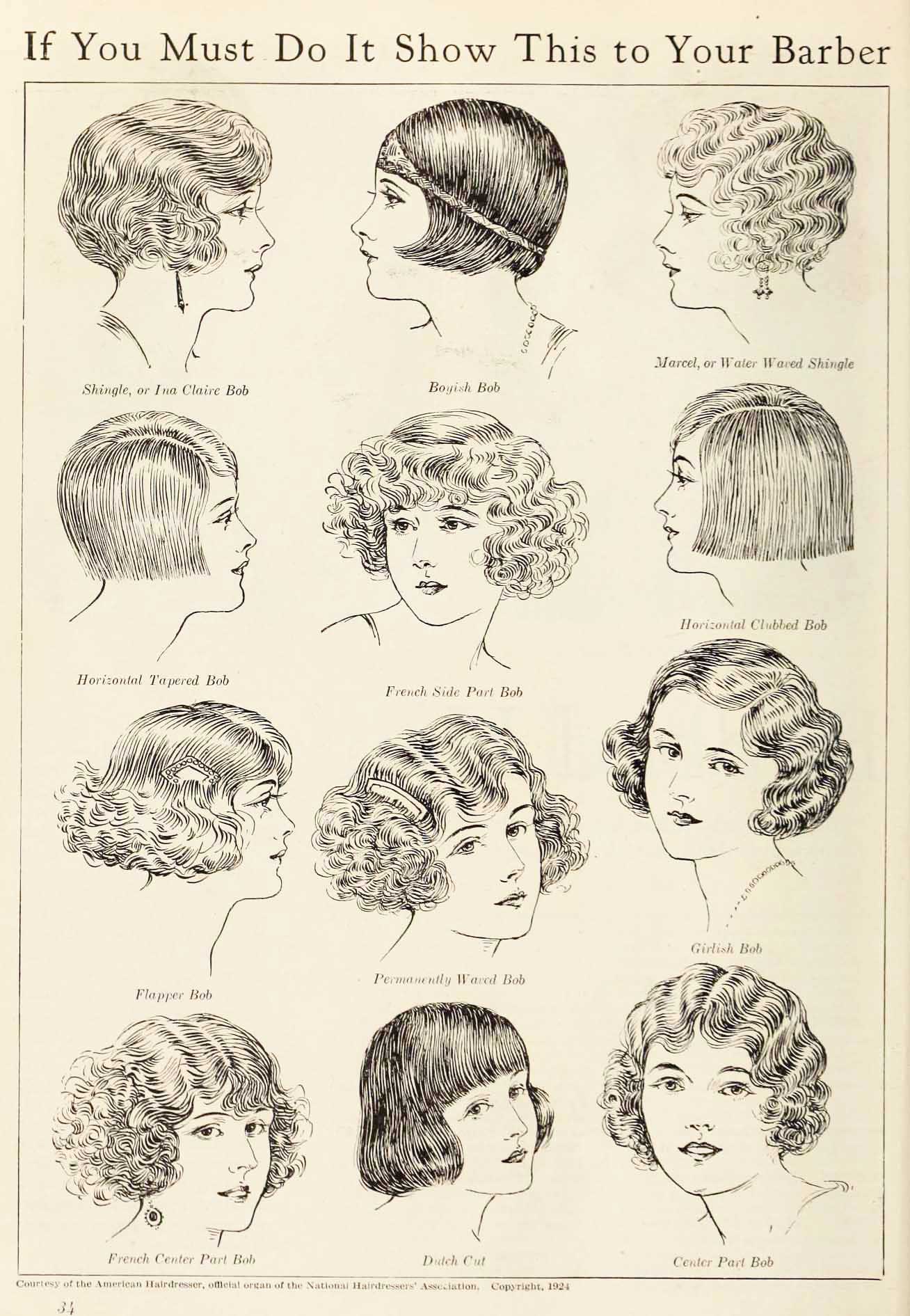 Shingle, or Ina Claire Bob
Boyish Bob
Marcel, or Water Waved Shingle
Horizontal Tapered Bob
French Side Part Bob
Horizontal Clubbed Bob
Flapper Bob
Permanently Waved Bob
Girlish Bob
French Center Part Bob
Dutch Boy haircut
Center Part Bob
As the Lady of Long hair majestically entered the hotel lobby, a member of the Bobbed Hair Sisterhood jauntily jeered: "Here comes the horse and buggy!"
"Bandit!" retorted the Lady of Long Hair, with all the venom of outraged womanhood.
To bob or not to bob – that is the question that is causing more argument, more acrimonious discussion in this country today than any other, with the possible exception of prohibition. It interests all classes and sexes.
The emancipated – those who have had their hair bobbed – have coined a term for those who have not – "horse and buggy". This has taken its place beside that other term of opprobrium and scorn – "Old Ironsides" – applied to those of the younger generation who still wear corsets.
1920's Bob Haircut – Media Reactions in 1924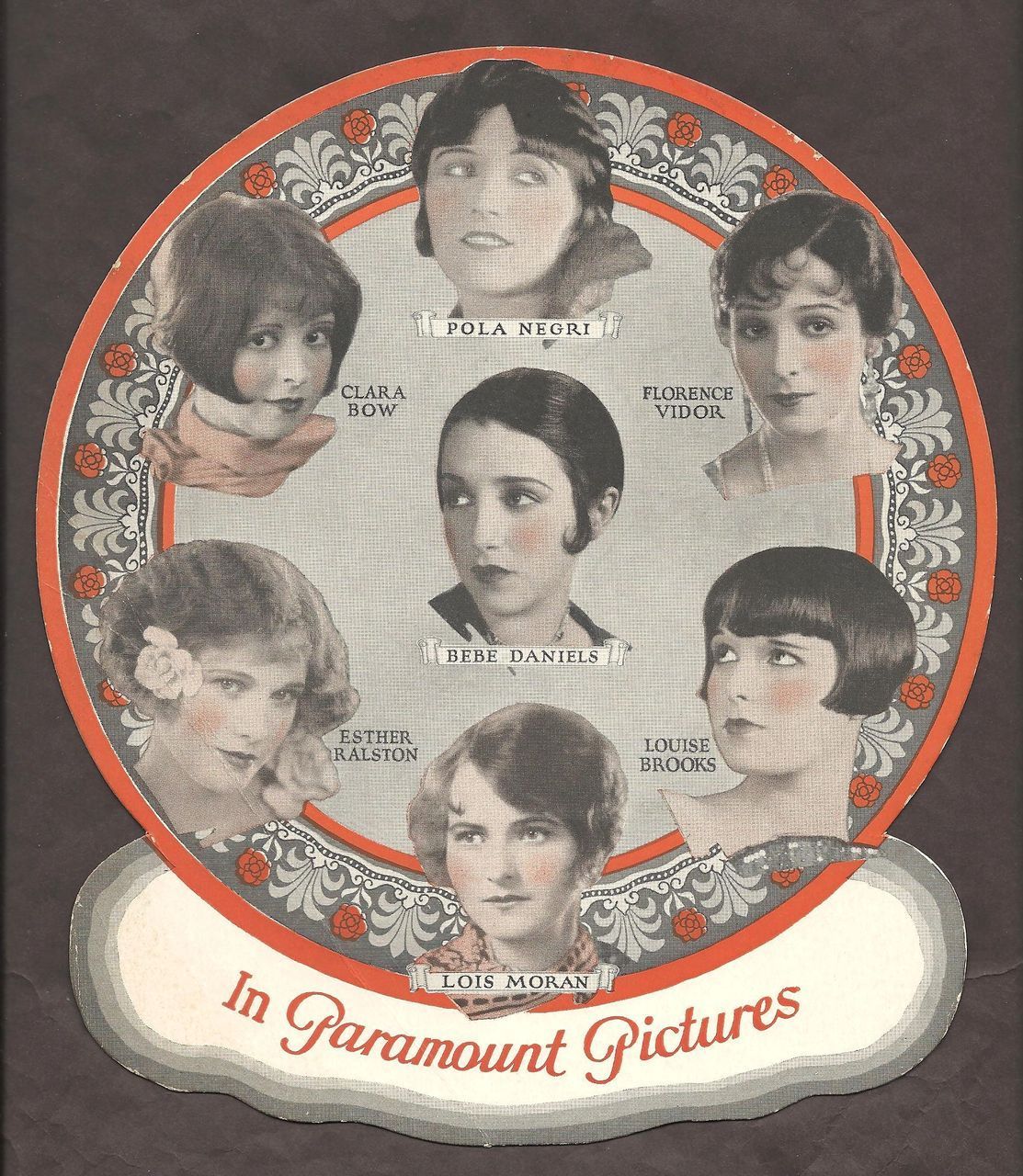 "It is an incentive to crime!" declares one newspaper."It's a result of the war and falling morals" declares another
Some of these anti bob headlines are hilarious to me but obviously not those who wrote them.
"Bobbed hair leads to divorce."
"Bobbing of hair costs twelve nurse jobs!"
"Shocked husband shoots himself when wife bobs hair!"
"Bobbing your hair leads to insanity!"
"Bobbing your hair will make you go bald!"
"Bob-hair bandit collects $350 for spring suit!"
"What if Lady Godica had bobbed her hair – I rest my case!!" and so on and on ….
There is no getting around the fact though that the bob is immensely popular, a large part being due to the coiffures of Hollywood's current stars such as Colleen Moore, whose 'Dutch bob' has swept the nation.
One famous hair salon in New York bobs three thousand eager heads a week!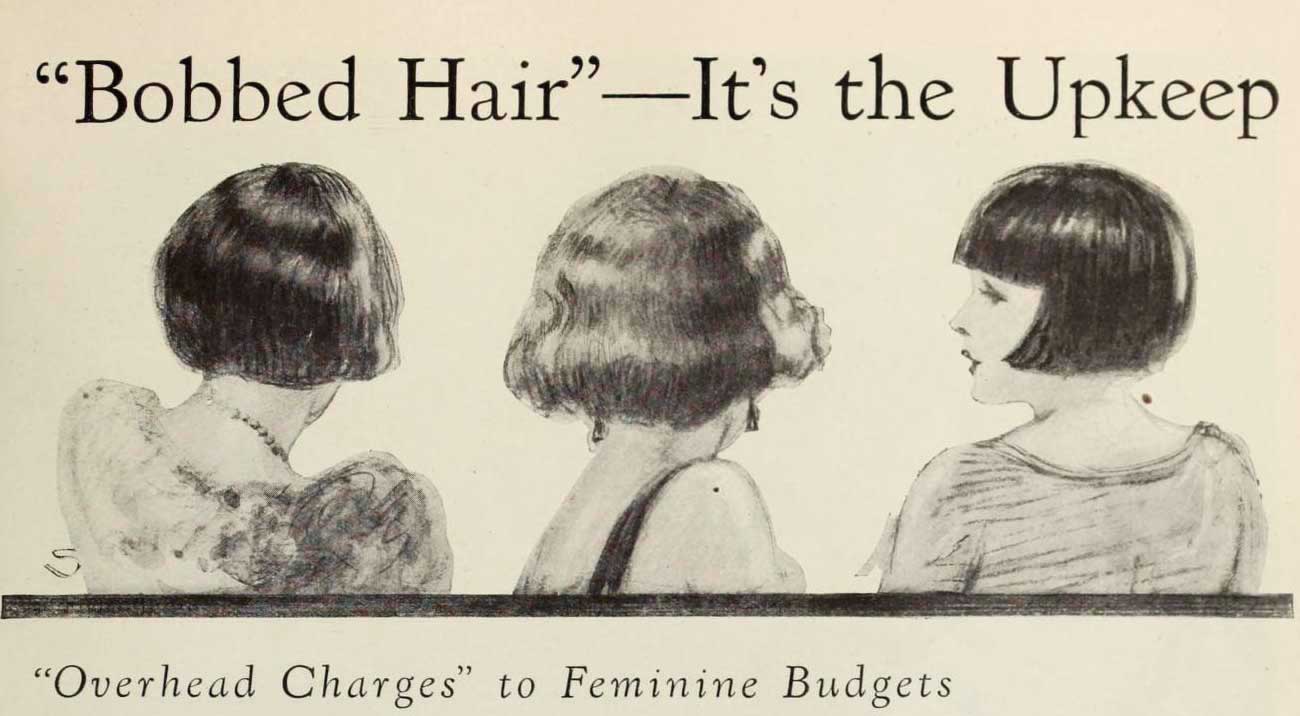 The Cost of the Bob Cut
If it costs a man $25 a year to maintain a $5 derby, how much does it cost a woman to support a $5 bob?
The answer is anywhere between $2 a week up, mostly "up". Bobbed hair has introduced the item of "overhead" into the feminine budget.
Seven million American women have opted for the short bob hairstyles, as of this April of 1924. It appears also that women are shunning their local barber and travelling great distances to the salons of New York to be sure they get the particular kind of bob, Dutch, boyish or clubbed which will set off their individuality to best advantage.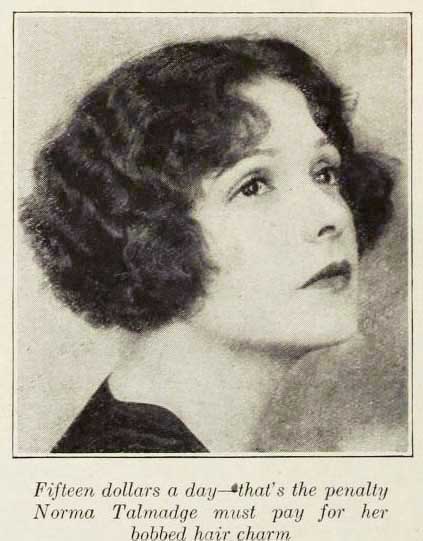 For the great majority of the bobbed hair sisterhood it's a choice between learning how to to use the iron and the tight curlers every night, or spending money for the daily, semi-weekly or weekly Marcel and accompanying trim. Even the permanent Marcel wave doesn't take care of itself, but needs regular water-waving to preserve the natural appearance.
So the true cost of having a bob haircut is at least $5 for the initial bob hairstyle and $2 a week thereafter. This totals – and I'm being conservative girls, a minimum of $107 a year. Many women spend much more weekly so the cost is often much much higher. Not that the hairdressers are complaining!
So girls – if you are considering committing the act of "bobbery" you might find some helpful suggestions as to what to do after the fatal "snip!" has made your decision irrevocable.
Colleen Moore talks about her 1920's bob hairstyle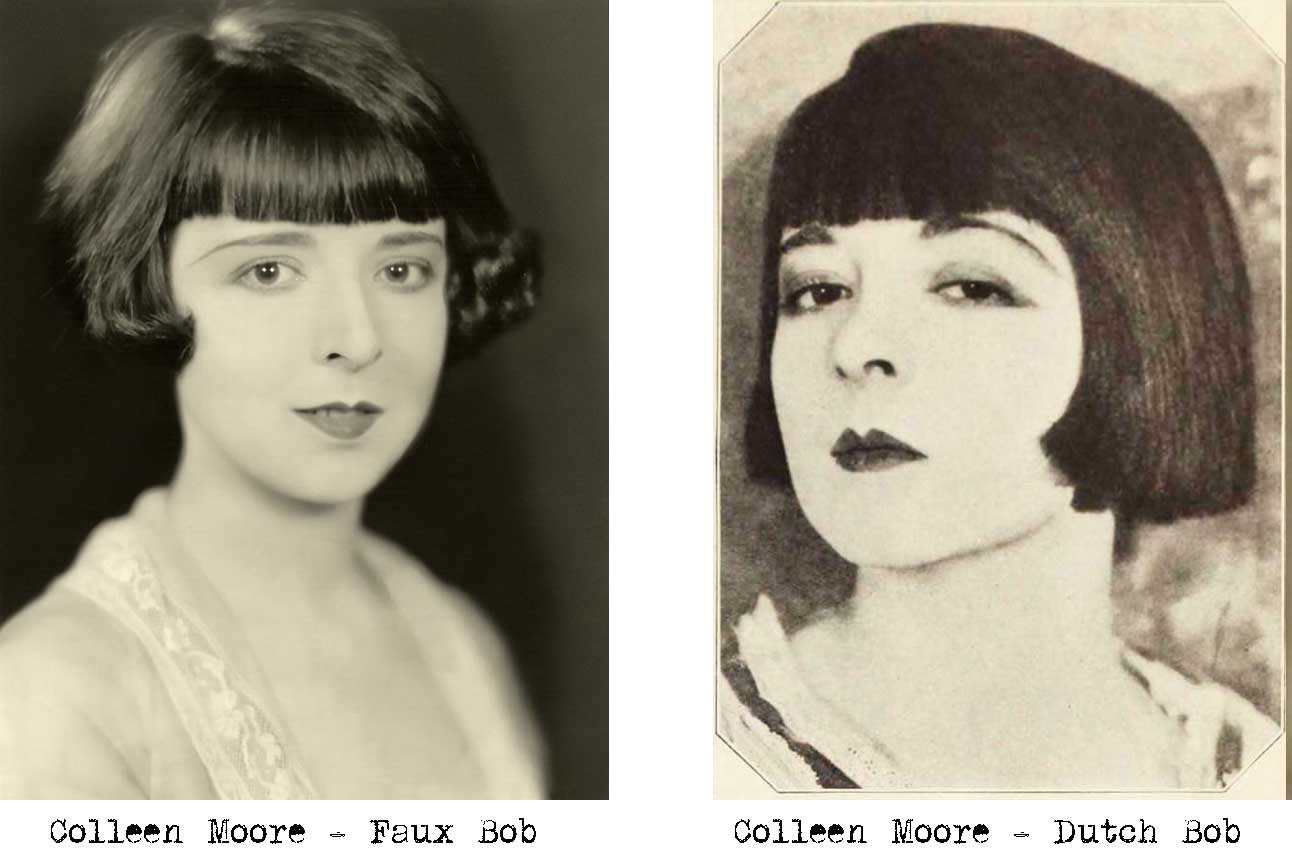 Colleen Moore – "I used to wear a faux bob hairstyle, with my hair rolled up in back with a short fringe to the front. My Mom basically didn't approve so I had to improvise. Then I did something drastic one day and chopped my own hair to resemble a little China doll I had. For me it began with the filming last year of Flaming Youth. My character was wild and reckless but also innocent. So I wanted a basic girlish hairstyle that embodied innocence. Since Patricia was a modern woman, her hair had to be short. I decided to cut it properly short for this part and – well – I've been cutting it shorter ever since. I guess that this is what has caused all the fuss!"
As for cost of upkeep – it appears, with her straight or at least semi-straight bob, Colleen gets off comparatively easy. "I have to have it cut often!" she tells me, "but at a cost of about $5 a week, I'm fairly average with most Americian girls. Like most other film actresses I also believe that the hair should be trimmed whenever it is marcelled, to keep the line just perfect!" As it happens – Miss Moore's is currently one of the few successful straight bobs in Hollywood, but it is clearly having an impact as I see it now everywhere when I travel.
What other top 1920's Actresses think of the bobbed hairstyle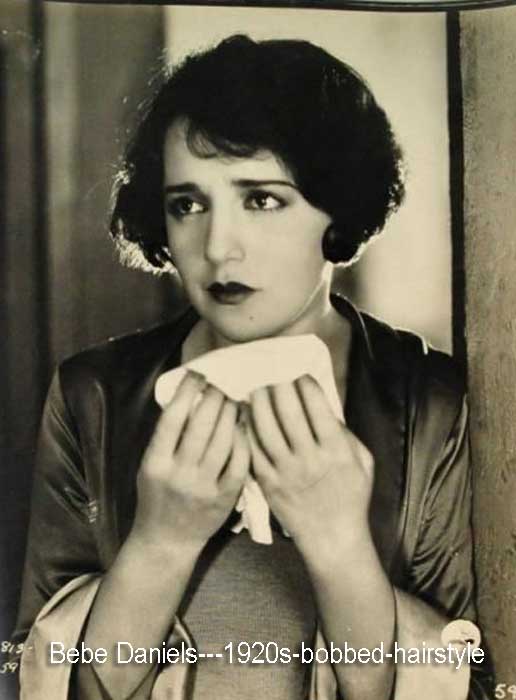 Bebe Daniels – "My hair is long but I do prefer it bobbed. The only reason I don't chop my hair is that I'm required for so many parts calling for long hair and I hate wearing wigs. As for becoming "bald" because of bobbing, I think that's what they call "bunk."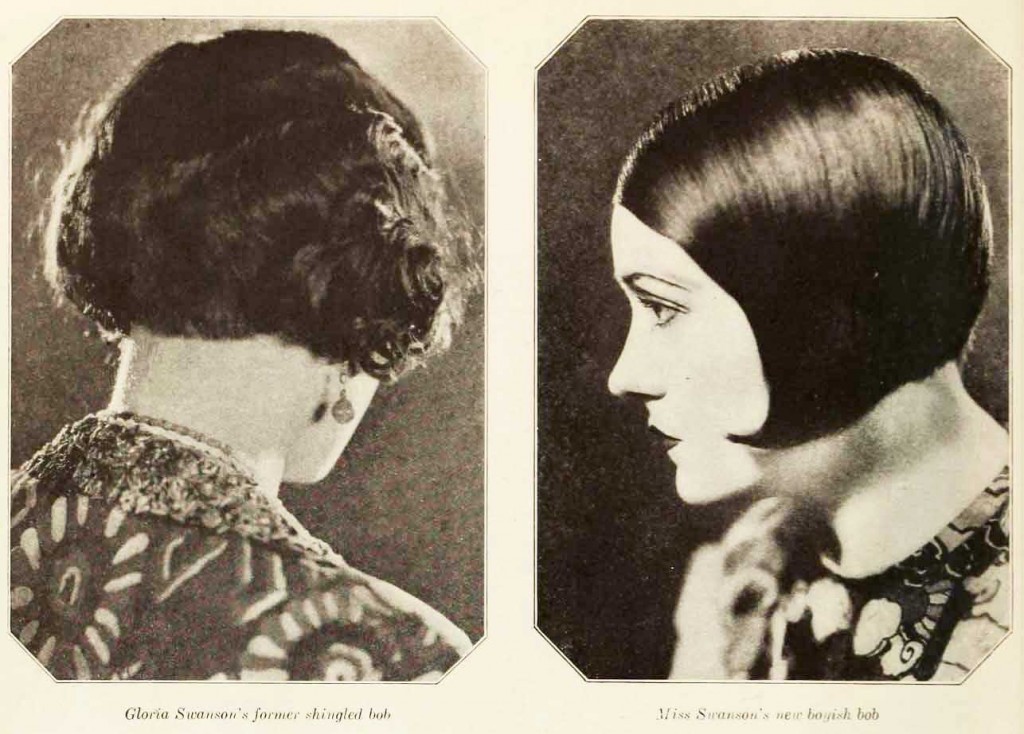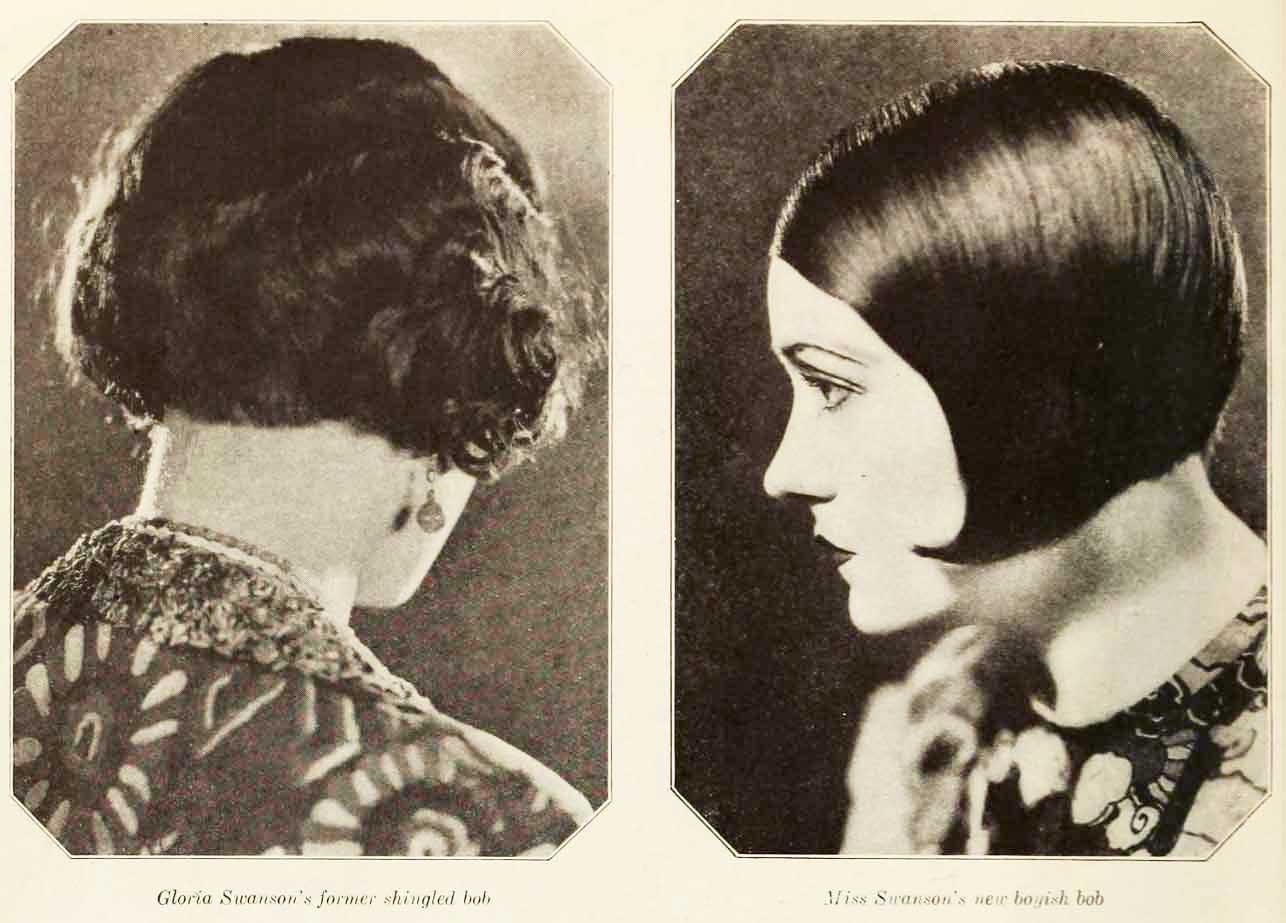 Gloria Swanson – "I might as well confess my secret: I'm a cliptomaniac! Cutting hair amounts to an obsession with me. I'm always trimming my won; i love to cut my baby's; and I cut Alice Brady's beautifully. i find short hair very convenient for every type of coiffure. I do always wear a bob though!"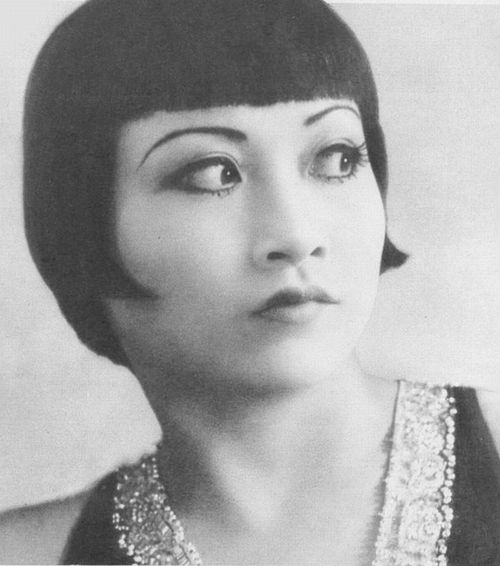 Anna May Wong – "I had to bob my hair because of my job. I do like it but it took a lot of thought before I made the decision. A Chinese woman's hair is her chief ornament in life. Chinese women never wear hats, but they put all their ideas of decoration in their hair. As a race, we use hair for head covering instead of hats, so we could not possibly approve of bobbed hair. Some Chinese women think bobbed hair is dangerous to the femininity and beauty of woman!"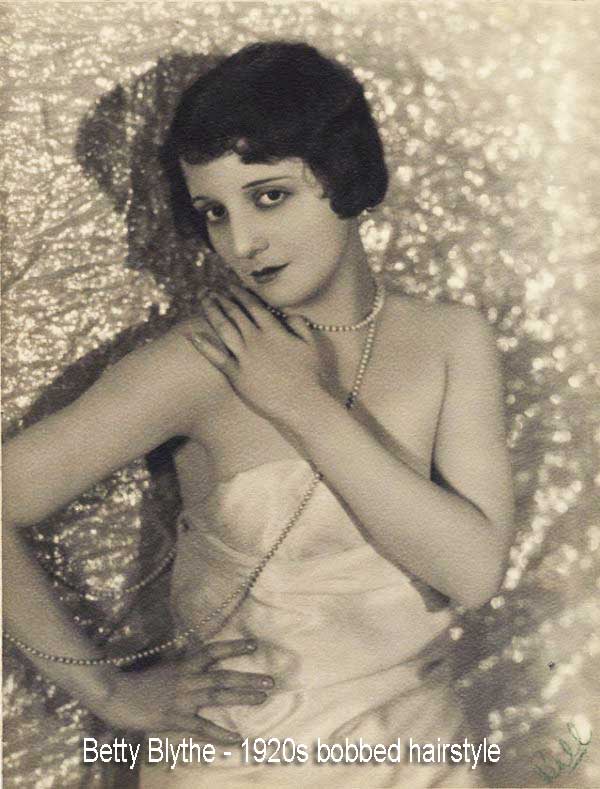 Betty Blythe – " I felt five years younger when I bobbed mine. In Paris I shopped for hats, but found none for sale for women with long hair. So to be in the swim of the present vogue is one reason i bobbed my hair. It makes me feel youthful"
Mary Astor – "Bobbed hair, never! I see no reason for it. Beautiful hair is one of woman's greatest charms. When men decide to wear their hair long, then that is when I will bob mine!
That's all !
©Glamouraze.com

Originally published in Photoplay – April 1924. Many thanks to the Media History Project for finding and preserving these wonderful time capsules.
Bobbed Hair 1926 – AI Enhanced Film