The History of Makeup – Lipstick Allure
by Gabriella Hernandez – founder of Besame Cosmetics.
Excerpt from her book Classic Beauty – presented on Glamourdaze.com with kind permission.
Lip colors are considered the most widely used cosmetics ever invented. Women who typically do not wear a full face of make-up commonly wear lipstick. From the earliest of civilizations to the present time, women throughout history have painted their lips. The Hindus used 'betel' to darken the lips and teeth, and the Elizabethans painted their lips with a colored plaster pencil. Lipstick formulas included items such as fried and crushed insect bodies, cochineal, beeswax, and olive oil.


Rouge was used both as lip colorant and as cheek paint. Because of it's popularity and use of easily found ingredients, many recipes to prepare rouge creams or powders existed.
Until the Revolution in America when patriots left behind the customs of the English aristocracy, men also wore rouge!
One of the first to manufacture rouge in the United States was Samson American in 1860, who crafted rouge from Alkanet, oil of turpentine, and
oil of roses. It was advertised as giving the cheeks a look of 'perfect health'. In 1867, Harriet Fish patented a rouge pad to use on the cheeks and lips. The formula was created from carmine, beets, strawberries, and hollyhock root.

By World war 1, chemical advances brought about synthetic reds that rendered a less dense, more natural appearance to the lips. With these new paints, lip color became socially acceptable and its use was practiced freely across the country [ US ] Women were able to match the color of their lips to the outfits they wore, creating a market for many new colors of lipstick. Around 1880, the Guerlain Company produced one of the first commercially successful lipstick products. This lipstick pomade was formulated from grapefruit mixed with butter and wax.

Other vendors tried to compete with their inferior products, which contained ingredients that irritated the skin and created thick and unnatural looking lips.
The invention of the Lip-Stick. ( amended by Glamourdaze)
The long held view is that the first patent for the metal tube push up lipstick we know and love today was made in 1915. Maurice Levy purportedly designed the first American lipstick in a sliding metal tube and was manufactured by the Scovill Manufacturing Company. But according to the reputable Cosmetics and Skin blog written by James Bennett, just two years later William Kendalls patent for the lipstick tube was an 'improvement on much earlier designs.' such as the metal tube lip salves of the 1890s made by Vinolia Lypsyl or these Bourjois cosmetic pencils which James discovered dated to 1898. So that little mystery remains.
But well into the 1920s lip colors were usually sold in pots, on tinted papers, or in tinted tubes. The first lipstick containers to swivel from the case were patented by James Bruce Mason Jr, in 1923. Named the 'Mason tube, the lipstick had a decorated screw at the bottom of the case that was turned to dispense the stick.


In 1924, it was estimated that 50 million American women used lipstick. During the 1920's, a tube of lipstick cost a dime. the use of cosmetics had transcended class structure because it was no longer confined to the wealthy or to usage on the stage.
Women experimented with lip colors and shapes.


With the mass commercialization of products, cosmetic companies designed packages to attract customers attention. Eye-appeal was factored into the design of consumer goods. Lipstick was one of the first products to use its carton to advertise the product.
During World War 11, lipstick was introduced to women who served as nurses on the battlefields. This lipstick included a sunscreen and contributed heavily to maintain morale. Metal cases were replaced with plastic or paper due to wartime shortages. During the war years, competing manufacturing companies worked together to supply lipstick and other cosmetic products to munitions factory workers.
Hollywood's influence on Lipstick.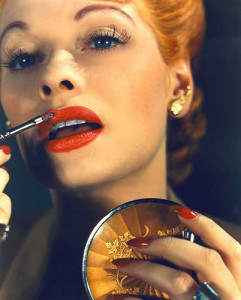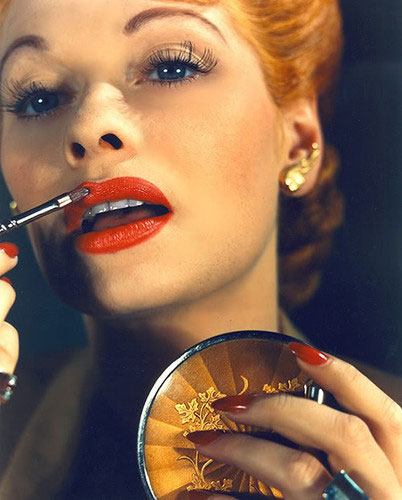 With their wide range of make-up products, Westmore and Max Factor were pioneers who brought the magic of Hollywood to the average girl.


These men were also responsible for creating the signature looks of the era's well known facial feature trends such as Clara Bow's cupid bow
lips and Joan Crawford's full lips.

Tangee lipsticks was one of the first brands to target the younger consumer with a lipstick that changed color
to suit the wearer. The lipstick provided a natural soft red color different from the opaque colors available at the time. Tangee became an acceptable transitional product as a girl blossomed into womanhood.
Hazel Bishop introduced the first no-smear lipstick in 1950. the formula was not 'kiss-proof' as was advertised, but it did present a change in
the lipstick market as it spurred competition and more innovation in cosmetic formulas.
1920s Lipsticks to the 1990s.
Since the 1920s lipstick technology has focused on developing indelible long lasting formulations, new colors, and new methods of packaging
and applying lipstick. Early lipsticks were not very durable – the color wax sticks of the past have been turned into a variety of 'textures' with a multitude of uses. Multipurpose colors were used on both lips and cheeks with new softer formulas. Lipstick was combined with gloss for a sheer and shiny finish and a lighter texture. Stains provided a natural flushed look to the lips applied with marker type applicators.
Natural formulas were created in the 1990s using oils such as jojoba, castor, coconut, rose hip, and sunflower. other products used cocoa, or shea butter, beeswax, grapefruit, strawberry, or cherry extracts. Lipsticks were now softer compared to the hard waxy lipsticks beforehand, and because they used plant based colorants, the pigments were sheer and not as deep or bright.
Lipsticks added lip plumping ingredients, collagen, vitamins, sunscreen, and other  ingredients to keep lips healthy, soft
and sensuous.
In 2000, the staying power of lipsticks improved. lipstick formulations became 'permanent' on the lips. Max Factor launched 'Lipfinity, a liquid lipstick that was painted on, then sealed with a separate top coat. it contained Perma tone, a semi permanent color that had eight hours of continuous wear. In 2005, Maybelline launched Superstay lipstick with a similar two-system format as Lipfinity.
For the savvy consumer looking to preserve one of the most provocative parts of the female body, the options in lipstick choices are endless
with regard to texture, shine, and ingredients. Because lipstick is arguably the favorite and most popular cosmetic product among women today, hundreds of patents for lipstick dispensers and innovative formulations exist and will continue to be filed.
Excerpt from Classic Beauty – the History of Makeup by Gabriella Hernandez.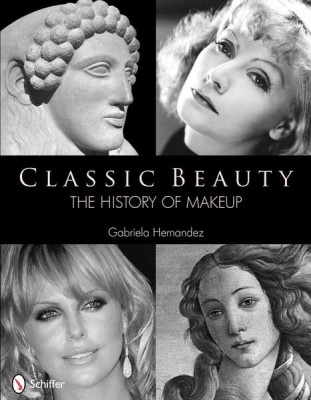 Text transcription –  Glamourdaze.com 2013
Download beautifully restored vintage makeup guides from the 1920s onwards.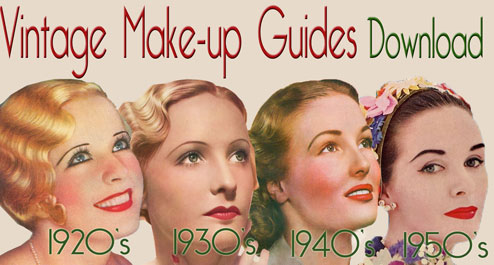 Read the full History of Makeup – from 1900 to the 1960s.