Iconic Glasses and the Stars who Wore them –
There is nothing like a trusty pair of glasses for an actor to assume a character. Oddly there have not been too many iconic performances by glasses on screen, and most of these are by men. For women, the total lack of vogue for eye wear was always a problem, and in the movies the wearing of specs was usually left to unfortunate librarians.(see Donna Reed in It's a Wonderful Life).
The donning of spectacles in a story was often for disguise or a comedy turn. Silent comedian Harold Lloyd was famous for his horn rimmed frames.  Sunglasses on the other hand have always been fashionable.
Altina Schinasi popularized Cat Eye Glasses , branded as Harlequin glasses, in the late 1930's, in an attempt to glamorize women's eyes. Her inspiration came from Italian masquerades.
Sadly those lovely early cat-eye glasses, evolved into some truly hideous designs in the 1950's and often did more damage to women's looks than any other accessory. Some women could appear  quite severe wearing Harlequins. They have been immortalized on the farm animals of Gary Larson's Far Side cartoons.
So, after a few days brain racking and some googling, we've picked out our favorites here and in no particular order. Some are complete performances of glasses, some are memorable 'screen cameos'.
Dorothy Malone -The Big Sleep 1946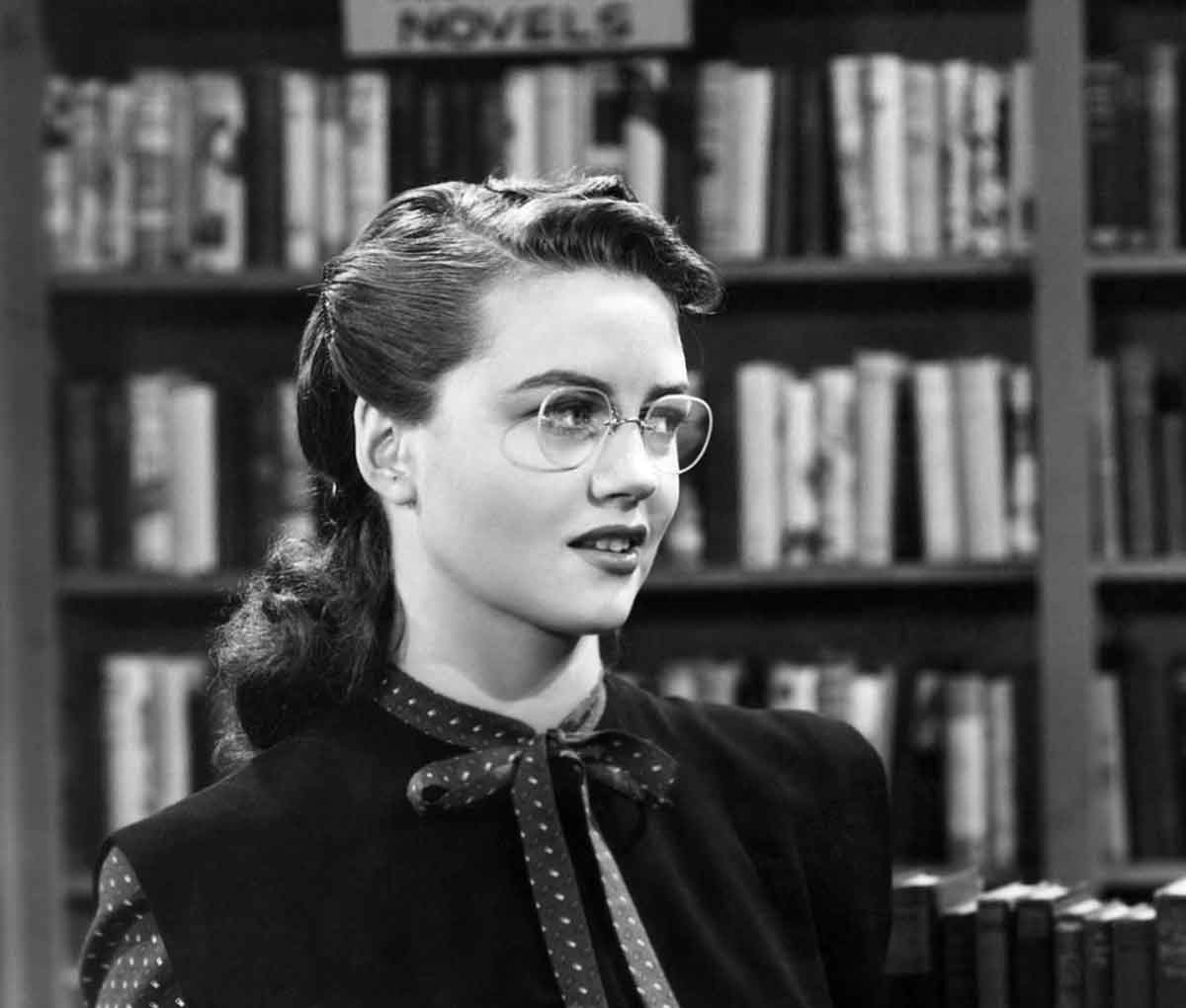 The bookseller babe to beat them all. My favorite scene in the whole film. In walks Bogie and there is Dorothy Malone dressed in a high-necked, three-tiered cocktail dress ..not the usual outfit for a bookstore proprietress. The little game of "I know that you know that I know" makes it one of those rare and memorable occasions where a supporting actor steals the scene from the star. "You begin to interest me . . . vaguely" . Classic.
Barbara Bel Geddes – Vertigo 1958
Barbara Bel Geddes 'Midge' , James Stewart's downbeat bohemian friend in this Hitchcock classic is really memorable. These round vintage glasses were probably chosen to make her look bookish, but I defy anyone to disagree that she looks amazing in them.
Michael Caine – Ipcress File 1965
One of the iconic men's vintage glasses in film. Michael Caine donned these Curry & Paxton glasses to portray the unsophisticated spy Harry Palmer. Hampered by blindingly boring bureaucracy, this character is about as opposite to James Bond as you get. Short sighted in real life, the majority of Caine's film appearances are actually without glasses. Not a lot of people know that !
Gregory Peck – To Kill a Mockingbird 1962
Atticus Finch .. the epitomized screen image of a father, memorably played by Gregory Peck in his tortoiseshell-style spectacles. Gregory Peck glasses are now reproduced, and can be purchased easily.
Anouk Aimee and Marcello Mastroianni – 8 ½ 1963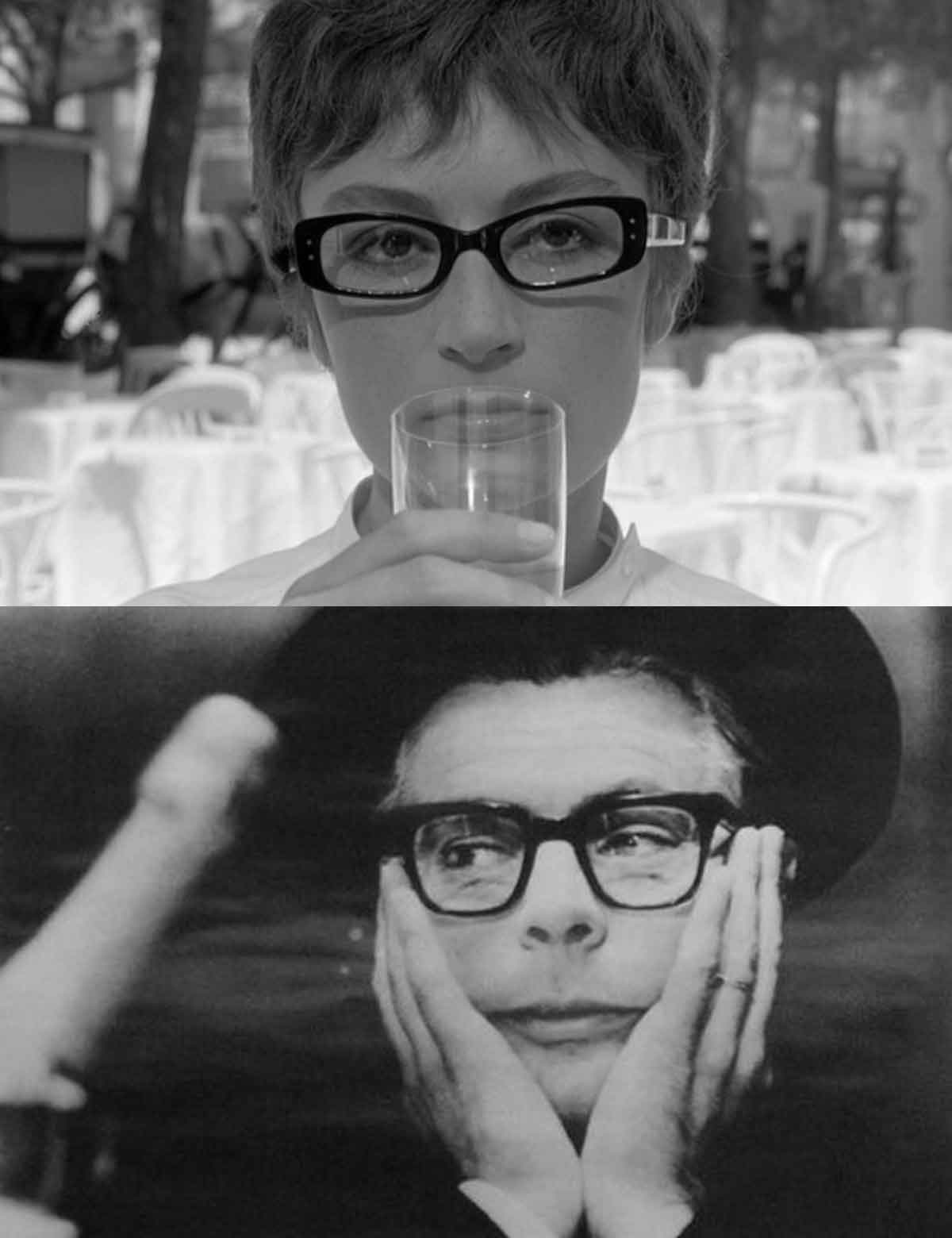 A great Fellini movie. Both principals are bespectacled to memorable effect so we've included both.
Cary Grant – Bringing up Baby 1938
Donning a pair of round framed glasses which were clearly a nod to the comic genius of Harold Lloyd, Cary Grant is really funny in the vintage screwball comedy Bringing Up Baby 1938, where he co starred with Katherine Hepburn.
Tony Curtis – Some Like it Hot – 1959
Apart from wearing several frocks in this comedy masterpiece, Tony Curtis brilliantly parodies the aforementioned Cary Grant, as the sexually frustrated oil billionaire "They shrink when they're marinated." Priceless.
Groucho Marx Glasses – Duck Soup 1933
"You can leave in a huff .. if that's too soon you can leave in a minute and a huff". The Marx brothers could all look alike when they donned a pair of glasses and boot polish mustache, as was brilliantly realized in the mirror scene from Duck Soup, one of the truly funniest movies ever made. Groucho Marx glasses have since become one of the most recognized and used party costume.
Ingrid Bergman – Spellbound 1945
Ingrid will always be Ilsa for me in Casablanca 1942, but she really is remarkably good in this Daliesque Hitchcock tale. The glasses received an Oscar nomination.( kidding)
Ali McGraw – Love Story 1970
Love her or hate her, the brash but engaging Jenny Cavilleri, played by Ali McGraw, created an iconic image of the 1960's college girl. Costume designers Pearl Somner and Alice Manougian Martin made Ivy League fashion ..fashionable, not to mention camel coats. Of course she dies of cancer, so its a bit of a downer in the end, but the film was a cultural phenomenon in the early 1970's.
Jean Seberg – Breathless (À bout de souffle, 1960)
The Godard film which truly launched La Nouvelle Vague ( the French wave) in the 1960's. Its hip on so many levels. I cannot find a credited costume designer for this film, but its entirely possible that Jean Seberg and Jean Paul Belmondo made their own sartorial choices. Seberg's pixie haircut quite possibly may have launched the mod look of the 1960's.
Liza Minnelli in The Sterile Cuckoo – 1969
In a largely forgotten love story from the kooky sixties, Liza Minnelli shines as the gawky but appealing eccentric. She really was something in her day !
Christopher Reeve as Clark Kent in Superman – 1978
The late great Christopher Reeve, as the awkward bungling Clark Kent is still a joy to watch. Lois Lane is completely blind of course for allowing a simple pair of specs to come between her and Superman, but that scene where he whips off the frames to reveal her true love is a great switch on what was usually a cliche for women in the movies.
Anna Karina – Anna 1967
Jean Luc Godards beautiful muse in an odd and frankly idiotic film from 1967. But she does look cool in those tortoise frame glasses.
Pamela Franklin – The Prime of Miss Jean Brodie 1969
One of the standout supporting performances from any movie I've seen, Pamela Franklin employs her glasses to great effect as Sandy, one of the Brodie set, who unmasks Jean Brodie for the manipulating fanatic that she really is. A brilliant movie, not just the glasses.
Ryan O Neal – What's Up Doc 1972
Very funny film from Peter Bogdanovich ( why did he not do more comedies??) with a brilliant comic performance by Ryan O Neal. And even if you're not a Barbara Streisand fan, she is really chic and funny in this movie. One of my favorite performances with glasses on film.
Judy Holliday – Born Yesterday 1950
A clever take on Shaws' Pygmalion, the film was deemed as "culturally, historically, and aesthetically significant" by the Library of Congress. Judy Holliday was a unique woman. She reportedly had an IQ of 172 and started her career with Orson Welles Mercury Theater. She died much too young at 43 of breast cancer.
Virna Lisi – Eva 1962
Lisi plays the tragic Francesca in this absorbing and disturbing film. The glasses only made a brief appearance but you won't forget them. Lisi almost out shone the stars Jeanne Moreau and Stanley Baker.
Marilyn Monroe in How to Marry a Millionaire – 1953
What more can be said about Marilyn Monroe. This movies three glamorous stars Marilyn Monroe, Betty Grable and Lauren Bacall, make it utterly watchable. Monroe's nearsighted Pola showed her early comic potential.
Meryl Streep – The Devil Wears Prada 2006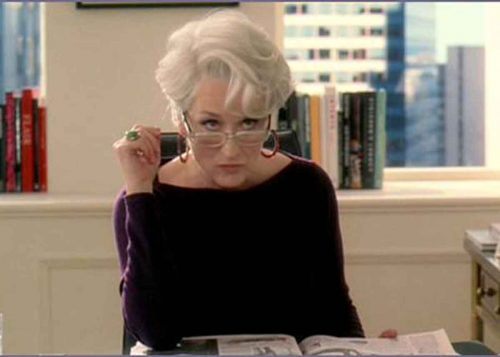 That withering look from the diabolical fashion editor Miranda Priestly is one of my favorite screen moments. The movie is no masterpiece but a good adaptation of a great book. Great fun to watch and the clackers in the corridors of Runway pretty much sum up the absurdity of Haute Couture.
That's all !
©Glamourdaze 
Further Reading:
Retro Sunglasses – Decade-by-Decade Vintage Style
Sunglasses – The 20th Century's Coolest Fashion Accessory
Girls Who Wear Glasses – 1940's Beauty Advice