Paris Fashion Rises Again  –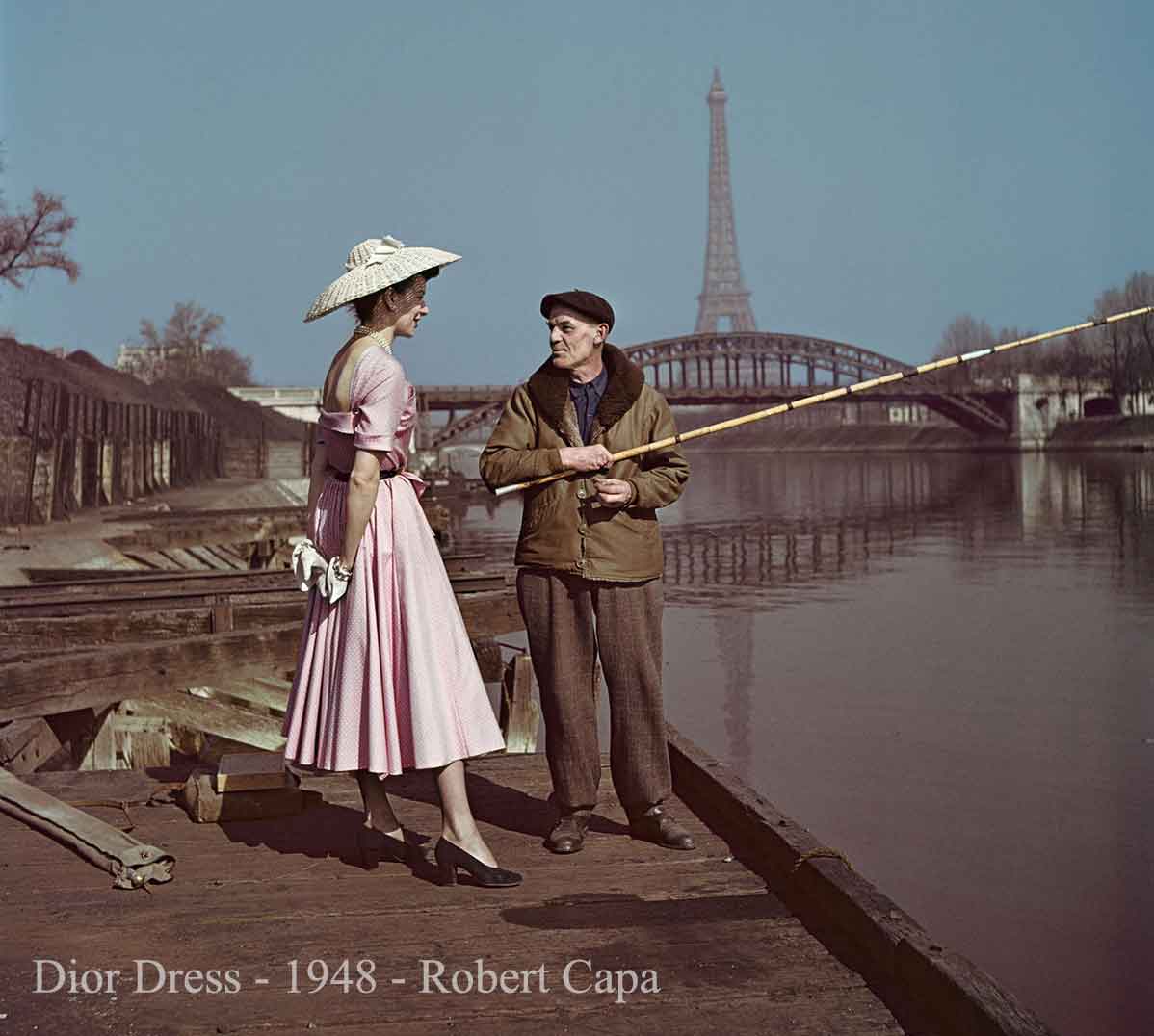 After virtual domination for some years by the Americans, there is no better way to sum up the new post-war Paris fashion explosion, and the panic and incredulity which the Dior New Look triggered, than in this defensive fashion review from 1947.
Procured from that great archaeologist of all things papery – Old Magazine Articles.
Late 1940's Fashion – Full Skirts vs Gamine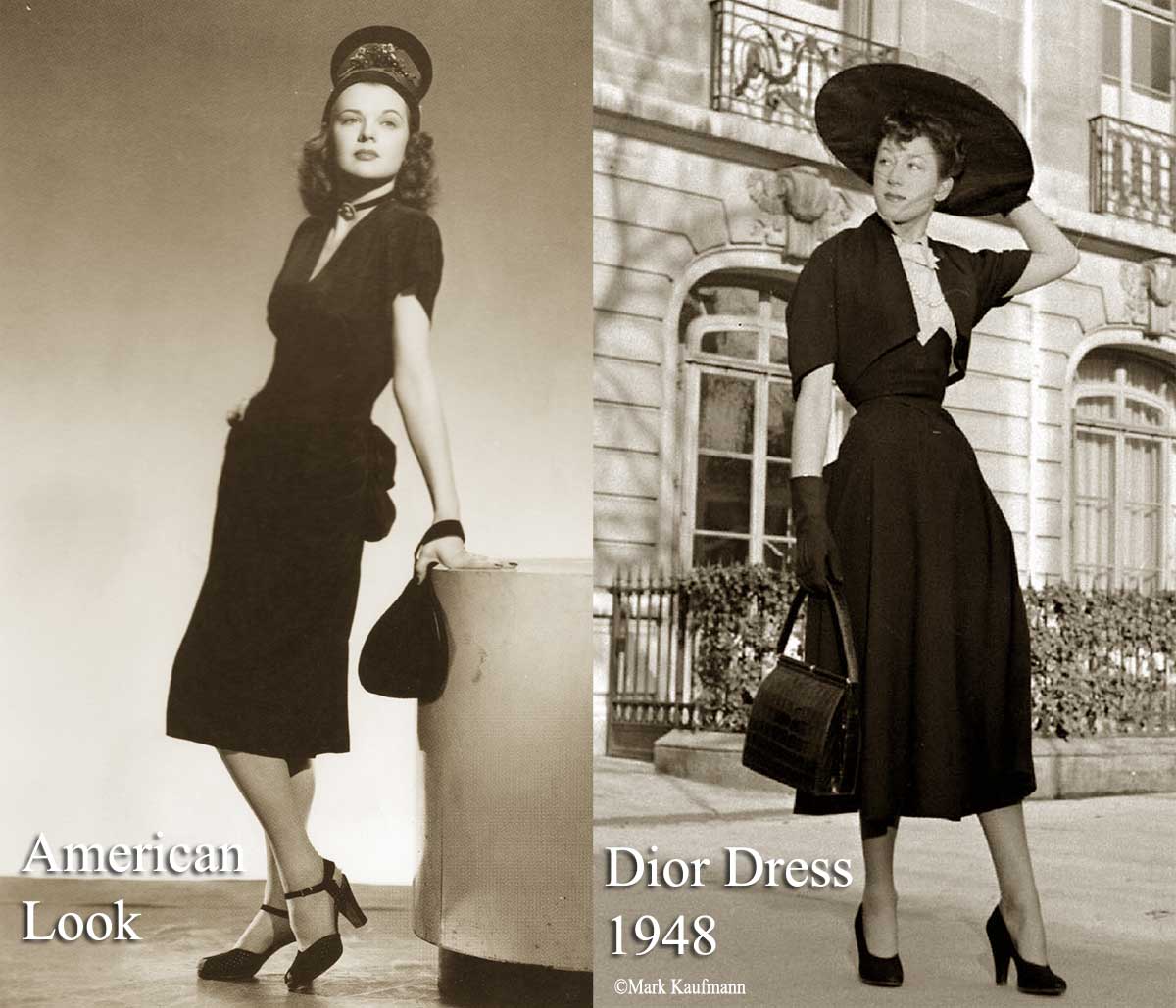 Paris and Hollywood were never farther apart, when it came to the New Look. Hollywood, paced by Adrian,  and Paris – under the magic spell of Dior, have their lines clearly established in the current battle of the silhouette, or should we say – bulges !
Unlike most wars, the women of 1947 cannot lose. What they lack in figure, they can now recover in fashion, thanks to the Haute Couture of Mister Gilbert Adrian and Monsieur Christian Dior.
Actually the opposing lines were not drawn, nor sewn, solely in an effort to capture the world's fashion leadership. They were inspired by distinctly different cultures, and reflect, in amazing degree, both the position of women and the economic stability of postwar France and postwar America!
The American Look in 1947
Gilbert Adrian, for instance, holds the feminine figure of America, like its truths, to be self evident, and not in need of padding. He confines his exaggeration for the most part, therefore, to the shoulders. the feminine silhouette, as he sees it, has widened shoulders, a slim waist, and slim hips.
The American woman is strictly Twentieth Century, streamlined and smooth. "I feel very much the need of doing clothes that will fit into the wonderful new architecture." he said in a recent Vogue interview.
Rita Hayworth Dress in 1947
"Contemporary clothes for a fast-moving century, clothes that are part of the life that women lead today"
Adrian's casualness, evident in all his styles, is borne of the self confidence of the American woman, postwar edition. She knows that her country is looked to as the world leader.
She knows that her government is the most democratic and, potentially, the most acceptable in the world. And she knows that her society enjoys the finest and the free-est.
Adrian provides the style that expresses this unpretentious comfort.
Since the American woman's design for living is never fixed nor dogmatic, but always in step with changing conditions, Adrian modifies his basic lines wherever the design can be improved by extra yardage.
If more material adds grace and meaning to a dress, he will drape the skirts, add a cape, or borrow the lines from the Japanese to make a blouse blowzier.
This is a formidable fashion strategy, and one that can hardly be intimidated by the new Parisian designs. Adrian and his followers are made of sturdy stuff, and they will not retreat because their Paris contemporaries, bolstered by a few new York disciples, drop the bulge from the shoulder and place it on the hips!
Howard Greer, upon returning from Paris found Diors ' New Look' to be distorting, extreme, exaggerated, and entirely contrary to the American figure, taste, and active way of life.
"In dressing women" he said, " I find that slim hips are definitely preferred."

This again partially explains the diametrically apposed trends in Paris-Hollywood fashions. here, there is plenty to eat, and the worry is that hips ' may' get out of line. In Paris, the problem ( among many) is food, and the best way for it, is to add a few yards on a woman's derriere.
Christian Dior, who seems to have appropriated the fashion rostrum in Paris and decrees decor at will, spins the feminine figure in the unconventional manner. He's trying to make her look good where she ain't. Dior seeks the ballet dancer illusion – natural, rounded shoulders, too weak to support a struggling world, a natural calling to the perplexed women of postwar France.
Pinched Waists and Padded Hips
Her waist is pinched in an exaggerated indentation, the better to emphasize her padded hips. Since Dior opened his new house in February, he has continued to startle the couture world with a frenetic use of frou-frou.
There are butterfly sleeves, box pockets, belled jackets, and barreled skirts, suggesting something like a Gibson Girl, or whatever grandmother should have worn.
He continues with other exaggerations – mad tunics, tier upon tier of back draping, swirls, pleats, and dips that recall a France in gay, flirtatious days, when she could afford to be extravagant.
Dior New Look to Fail Prediction
Of the two, Adrian is far more realistic, far more representative of his environment [ for example – the modern home, and workplace ]. Dior tries to revive the glory of France, and for this he should be commended. But his elaborate fashions are beyond the reach of many in Paris; he must have his New York followers. he has a few.
Unencumbered by slim silhouette demands from the O.P.A, there are New York designers who are indulging in more drapery. They are dropping hemlines ( the big battle ahead) and adding a puff or a pocket. But this is a natural largess bursting out after wartime repression. Allay any qualms which might arise from the ' liberation' of the American fashion libido. US women have found a new expression in dress, and they will not retreat to the bustle and cinched girdles of yesteryear.'
This was written in 1947. By 1953, women all over America had taken to the New Look of cinched waists and girdles.
That's all !
©Glamourdaze 
Originally published by Rob Wagners Script 1947
Read the Concise Illustrated History of 1940s Fashion – 1940 to 1949