Luscious costumes by Gilbert Adrian –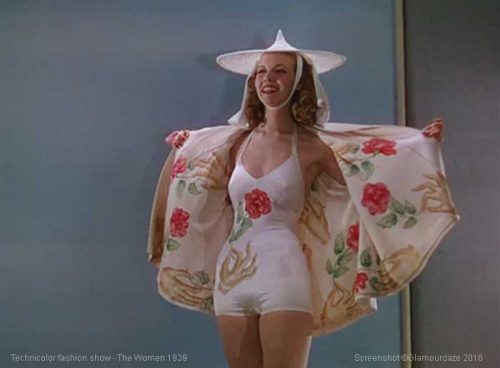 "Bonjour Madam, Mademoiselle !It gives me great pleasure to take you on this adventurous little voyage into 1930s fashion land.
But today ladies, as an innovation, you will see our models go through the rhythmic movement of everyday life, as it responds to the ever changing flow of the female form divine !"
Actress Sybil Harris sets the scene for the Technicolor fashion-show sequence, featured in George Cukor's 1939 pre-feminist movie The Women. This 1930s fashion show is pure eye candy with all gowns by Gilbert Adrian,the iconic Hollywood costume designer. The leading actresses are subsequently seen wearing versions of the gowns seen in the fashion sequence.
The film itself is good fun, famously an all female cast,and some sense of feminine authenticity from screenplay writers like Anita Loos, who is best remembered for her book Gentlemen prefer Blondes, a somewhat similar story of gold digging women.
As in Loos's 1920s book, the Park Avenue set of women portrayed in the story however are clearly living in a mans world, but spend their time gossiping, shopping, visiting beauty salons, and trading witty repartee. It featured some of Hollywood's finest female actors such as Norma Shearer, Joan Crawford and the mercurial Rosalind Russell.
There are appearances from Hedda Hopper (future gossip columnist) Joan Fontaine, Paulette Goddard, Ruth Hussey and  Butterfly McQueen ( best remembered as Prissy in Gone with the Wind) .
The film has as bitchy a script as you can imagine and its all good fun, its character all wonderfully camp, However the flotilla of submissive black maids and Noo Jursey accented beauty therapists keeps it firmly in the 1930s, and The Women (1939) is most definitely regarded now as an important pre-feminist period piece in gender history.( please avoid all remakes – this is the true classic).
Of course the real subject of the film is money. The irony of course is that the actresses who portrayed these women were were better paid than many of their male counterparts in the golden age of Hollywood.
Scroll forward a few years to 1943 to actor/ director Leslie Howards film The Gentle Sex for a very different take on the all girl movie – a loud statement on female solidarity as well as a great anti fascist propaganda story.
But enough social comment, go watch the fashion show from The Women 1939  at TCM , and revel in he clothes and the wonderful talents of Hollywood costume designer Gilbert Adrian.
That's all !
Text ©Glamourdaze.com