Poets have praised them, artists have painted them, sculptors have modeled them – now learn the Hollywood beauty secrets that helped maintain the beautiful throats and neck lines of their most glamorous stars  – Time traveling 1930s beauty correspondent Caroline Van Wycks reports from the Hollywood firmament in 1937.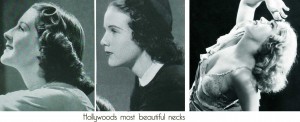 As far as Hollywood necks go, there are long ones and short ones, thick ones and thin ones, but they are all consistently the most beautiful necks one will ever see.
Hollywood knows the transience of 'uncared for' beauty.
Once the throat line has lost its elasticity and lilt, the effect of youth is gone forever! For so delicate a line, its power of betrayal is tremendous.

Smart makeup, vital effects of coloring, the subtle accenting of eyes and mouth go a long way in dispelling the appearance of age as we all know.
But the throat – how little can still be done to disguise a sagging line!

What are the Hollywood beauty secrets that maintain youth in these lovelies fragile neck line?
The wonders that the studio beauty gurus have accomplished in creating the effect of an ideal throat line is a compound of wizardry; a simple but persistent beauty regime on the part of the said actress and the combined artistry of her hairdresser and dress designer!

Starting with the premise that the neck may be expressive of anguish, allure, terror, majesty, eager loveliness and so on, the individual problem if releasing its inherent beauty is simply a matter of appreciating the factors involved!
The basis of throat beauty is supple muscles in a mobile skin!
The fluid line – can only be apparent when it actually – well – flows! There is a vast difference between a flow and a jerk.
Through lack of use, neck muscles tighten and shorten, resulting in a straightening of that delicately curved throat line that one associates with youthful beauty.


Below are the Three golden rules of Throat and Neck beauty, followed religiously by Hollywood's finest.
1. Exercise
2. Nourish
3. Protect
1. Exercise – The Five Minute Hollywood Neck and Throat Beauty Routine.

Follow the series of simple exercises illustrated in the charts, and let all the exercises flow with easy strength – in other wards darlings, don't force any movement.
2. Nourish – Nourish you Neck.

When neck muscles shorten, the skin of the throat does not also conveniently shrink. No siree, a woman's throat skin proceeds to accordion- pleat into countless horrific folds and ridges. If you're still in your early Twenties – lucky you, but start now with rich lubricating creams morning and night to nourish the skin.
Stroking upwards from the jaw! Don't forget the back of the neck. Cream from the hairline to the shoulders may be applied more vigorously. After your skin is swimming in the glob, then proceed with the exercises outlined above.

Last and perhaps most importantly – never ever tan your face or neck. In fact sun lotions are not good enough.

Always bath under a parasol. Your legs torso and arms will get nice and brown, and your face, which is open all year round to the sun, will develop a pleasing and youthful glow. So once again – avoid direct sun on your face and throat. Period!