Hollywood's latest styles in suits and coats –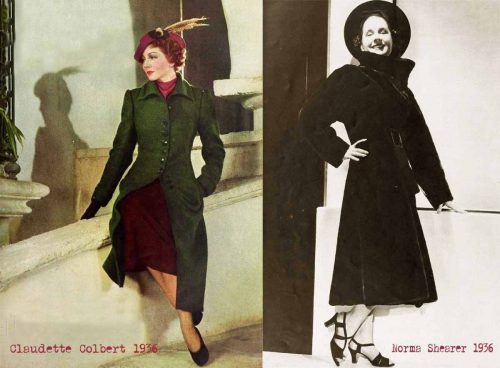 Claudette Colbert, caught in color on her way to the races at Santa Anita, in a sports outfit designed by Irene of Bullocks Wilshire. Her coat is a vibrant green with red-brown flared skirt and lumber jacket blouse of dull raspberry. A pheasant's feather trims her smart hat poised above her burnished curls. To the right Norma Shearer models a coat of safari seal, designed by Adrian. The sandals however are for sunnier climes !
Marian Marsh, to the left, in a navy wool and grey tweed. Her cape swishes back. Red velvet Ascot, navy hat. To the right, Marian is wearing a dress of emerald green velveteen. Brown leather buttons match her leather belt and the hat is green felt.
Marian Marsh again looking dazzling in her early spring suit – a dusty pink woollen suit with brown wooden fastenings closing her jacket. With it she wears a brown felt hat with a pompom, suede gloves and pumps. To the right, as the golden Californian sun sets, Marian waves goodbye in a coat dress of white gabardine. A brown silk tailored shirt matches her brown shoes. Her white felt hat is softly turned up in back to show her curls.
That's all !
©Glamourdaze 2016
Photoplay 1936