1920s Fashion Predictions for Hollywood – Summer 1929 –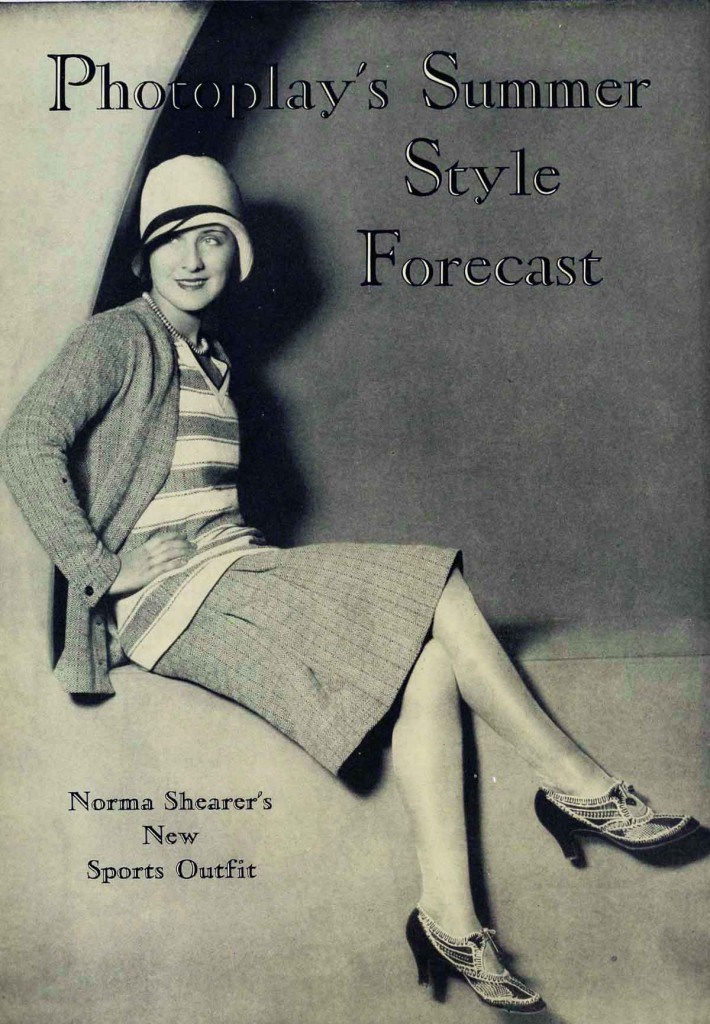 With the Wall Street Crash just around the corner, it was all sweetness and light in California. Some of Hollywoods most glamorous stars model their chosen wardrobe for the coming season. Carolyn Van Wycks reports for Glamourdaze from May 1929.
In color, line and design, Hollywood fashion offers its creative genius to American women.
Norma Shearer models three beautiful outfits for us. First up – oh Norma, Norma ! Added to a delectable costume, the come-hither smile is almost too much for our aging pulse. The dimples are copyrighted, but it's no secret that the dashing ensemble is created by an Angora sweater striped in pink, rose and blue, a flannel skirt, Angora coat and soft silk turban.
Next – an exceedingly smart cool print frock with figures in green, yellow and lavender, making a dainty pattern on a white ground. The blouse gets a one-sided treatment, being trimmed with a bow at the right of the neck, the two gathered flounces taking an upward trend. Norma's belt rests on her natural waist – the drop waisted look being more and more passe these days. Topped off with a white bangkok hat, with band and edge of lavender.
And for the cool summer evenings to come – Norma looks oh so devine in this printed chiffon evening frock, further accentuated by a smart bolero jacket. The hemline is uneven and quite low – could this Avant-Garde lowering of skirts move into daywear any time soon? Colours are canary, turquoise blue and lavender.
After a long tiring day in a hit studio – the lovely Loretta Young's delicate coloring is set off by these pajamas of lustrious, supple pink satin. The lace panels and yoke of the jacket are in one piece. The long, wide sash is a new feature.
Ruth Taylor on the left shows us that satin is the favored material for wedding gowns in the movies, as well as for really-truly brides! The ever popular and useful white flat crepe fashions this new princess dress which was designed for Thelma Todd. The white scarf can be thrown loosely about the neck or transformed into a decorative little shoulder cape.
Do you want a well-browned back and shoulders? Then wear this blue and white cotton bathing suit so becomingly modelled by Leila Hyams here. But you don't want a syn bath? All right, just draw up the extra skirt panel, fasten it at the shoulders and outwit the sun! There's a beach coat to match too.
Printed crepe de chine in red, pink and rose, with a trace of green leaves, lends itself to the frock on the right which June Collyer chooses for afternoon wear. The coat is of rose kasha with a scarf of the print. A rose colored hat and shoes completes the affair. designed by Sophie Wacher of Fox Films.
The lovely Raquel Torres fills in the last word in swimming suits, one of those designed for both sand and water. The colours are white and navy blue, with a matching tam to cover the bathing cap. The Chinese beach sandals are very smart this season. On the right Bessie Love enhances the scenery along Hollywood Boulevard on summer afternoons in this Sally Milgrim model. The long blouse is patterned in the style of Sonia Delauney, in several shades of blue. The skirt is of black satin. A sophisticated off-the-forehead black hat, cobwebby gunmetal hosiery and stunning black satin pumps add the finishing touches.
Text copyright Glamourdaze.com 2014.
Read our newly published Full History of 1920s Fashion. A lavishly illustrated, educational work, complete with bibliography and numerous 1920's style related links.
Photoplay 1929 – Thanks to the Media History Project.