A rare film of Makeup artist Max Factor giving a makeup tutorial in his studio in 1935. Enhanced with Deep AI Colorization.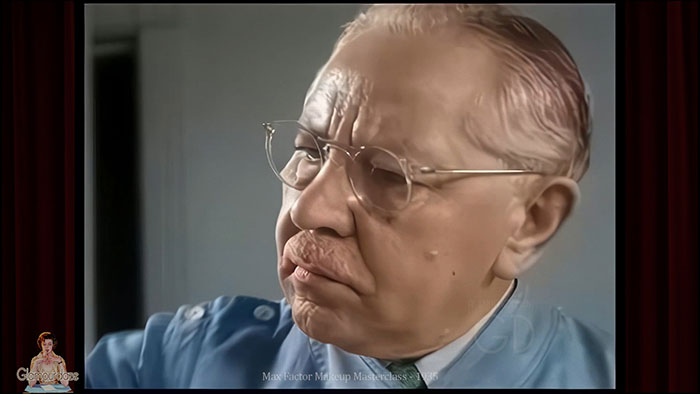 The genius of Max Factor captured in a rare film taken in his studio. Now Deep AI Colorized and Upscaled using deep learning AI. Young actress stand-in Pluma Noisom, gets the Claudette Colbert look by the maestro himself in the Max Factor. A rare makeup tutorial from the golden age of Hollywood.
Watch Max Factor at Work in his Studio 1935
Footage – Glamourdaze.com Personal Collection. Deep AI Colorization by Glamourdaze 2022
A Short History of Max factor – the man.
On a snowy winter night in 1904, deep in the Bohemian forest of Czechoslovakia, a young Max Factor, with his wife and children fled from soldiers sent after him by Czar Nicholas.
Not long before, the successful Polish beautician was a favorite of the royal family in Russia. But it all changed when the antisemitic Czar Nicholas ordered a crackdown on the Jewish community.
Fast forward to 1914 and Max was Makeup artist to silent film pioneer Charlie Chaplin. Along with fellow makeup artist George Westmore, Max helped coin the term 'makeup.'
By 1916, Max Factor House of Make-up ( he always insisted on the hyphen) was a booming Hollywood business.
His famous 'cream makeup' tubes became the staple of Hollywood actors. Gloria Swanson, Pola Negri, Jean Harlow, were all his clients.
The Legacy of Max Factor
As film evolved into Technicolor, Max invented a brand new makeup now applied with a damp sponge, called Pan-Cake.
Actresses began stealing it off the shelves for personal use. His son Frank, developed it into a line of consumer products. Pancake makeup, along with their line of TruColor lipsticks would global best sellers.
Before the 1920's, apart from a touch of rouge and powder, women rarely enjoyed wearing lip or eye makeup during the day. Hollywood and Max Factor helped change that.
Max did not live to see this success however. He died in 1938 at the relatively young age of 61. But the Max Factor & Company did not die with him. His son Frank made the brand a global name.
That's all ! ©Glamourdaze