Hollywood beauty guru shares secrets –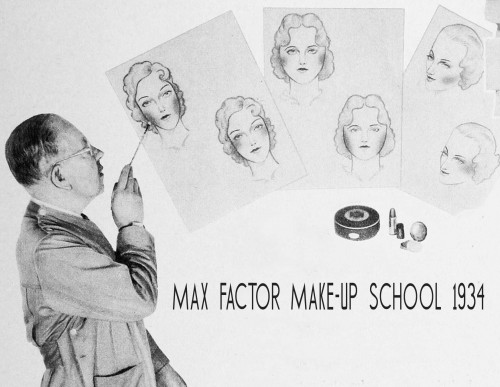 "Do you know", asks Max Factor " that you can change the very contour of your face?"
That isn't an idle dream. It's a fact. All you have to do is to learn a few elementary principles of art.
So – step into school girls. Let's do what the artist would do if you were sitting for a portrait.
Let's get the proportions of your head. Comb your hair back smoothly, wipe away every trace of make-up and take a good look at your features.
Now – which is the longer? The distance between the tip of the nose and the back of the head or between the tip of the chin and the top of the head?
The latter should be the greater distance. If it isn't, then you'll have to create an illusion of length!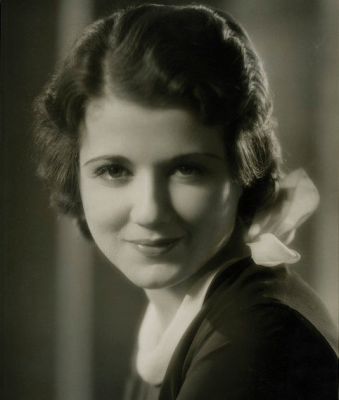 Complicated? Certainly not. Round faces belong to cherubs and if you're not particularly interested in being a cherub, don't wear bangs nor part your hair in the middle! It ought to be brushed back and a little to the side from a point near the temple. Something to the manner of little Sidney Fox
Your Hairstyle shapes your profile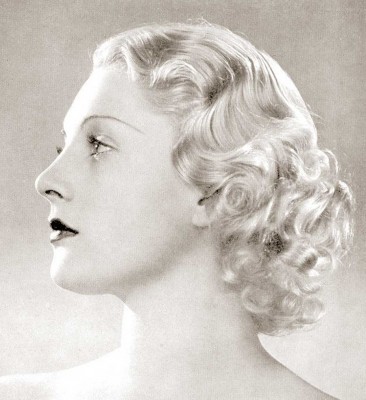 Keep entirely away from a "set", tight headdress. Lovely, loose waves – hair away from the face as much as possible – that's your plan !
Long thin faces are another story. Treat them as such. Bangs in this case are advocated. Or you might try bringing the hair down in swirls on either side of the forehead. It ought to be arranged "softly" about the face to give the idea of width.
But what, asks the girl at the back row, can one do about a funny little bump on my nose?? No way of distracting from that !
Oh, but my dear – there is. Try fixing your hair in a neat stand-out twist at the nape of your neck and you'll be surprised how much less noticeable that bump is. Ann harding's favorite way of doing her hair is like this – even though she has no reason to complain about her nose.
You see, it's all a matter of "balance", that underlying rule of art. You know how it is – when you see a flat chested girl with a tiny hat tipped over one eye, she looks exactly as if she were going to "topple over" at any minute.
A girl who is full-bosomed should do her hair full in back to be in proportion.
If your shoulder tends to droop to one side, part your hair on the opposite – balance again !
Contouring with make-up
Now comes the important business of "contouring" with highlights and shadows. Many a mistake in make-up has been made because so many women simply don't bother to learn the rules of governing them!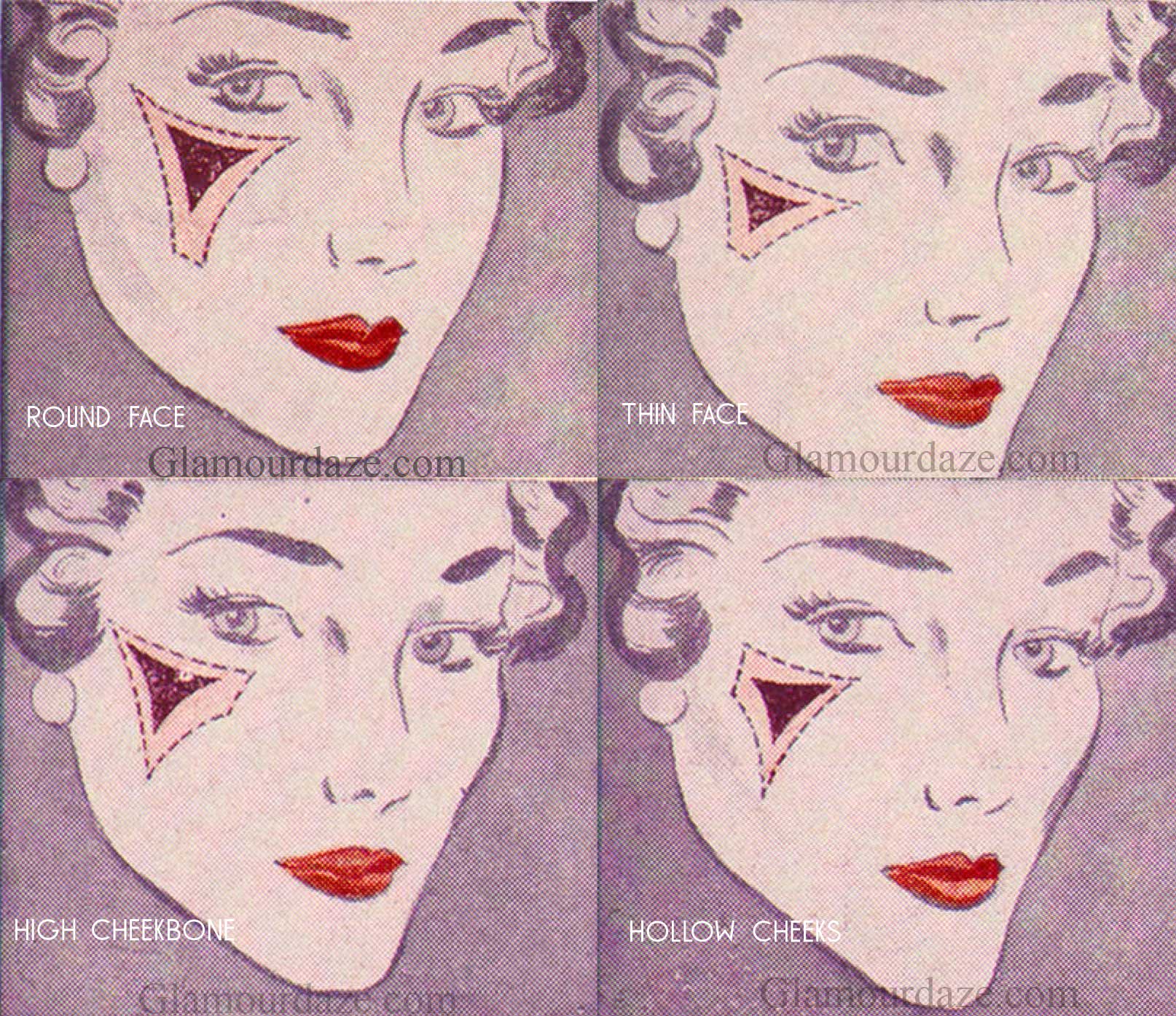 Rouge, even though red, acts as a "shadow" if used sparingly. Consequently if it is placed in the hollow of the cheeks it serves to accentuate that in-drawn look. Instead, blend your rouge down from the cheekbone and around the hollow. This 'counteracts' the natural shadow there and the contour appears fuller.
You've rounded the outline of your face!
One the other hand, if you have prominent cheekbones ( above)  you can use your rouge to make them less noticeable. A very slight amount of it will shadow the highlight on the cheek-bones. But avoid using too much color there. That will only make them more conspicuous.
You must learn to see "Red" ! Every painter will tell you that he mixes a variety of pigments to get a skin tone. You must know the compounds of your own skin – whether there are bluish undertones or a ruddier depth. Perhaps it has a golden cast or is sun tanned.
Know your complexion. There's a rouge to match it that's as skilfully blended by scientists as the pigments of the master painters. be sure your colors are right.
If you have a thin face (above)  – if you rouge near the center, you are emphasizing that thinness. Bring the rouge outward to the full part of the cheek and keep it away from the nose. By doing this, you increase the apparent width of your face.
The reverse is true with a chubby or "moon" face. Here the rouge ought to be well towards the nose. by doing so, you cut down on the natural highlight through the center of the face and give it a semblance of length. You have "shadowed the fullness" of the cheeks.
Finally never – never let rouge wander below your lips!
That's all !
Originally reported in Hollywood Magazine – May 1934.
Archived by the Media History Project 
Imagery taken from original 1930s makeup and beauty guides.