12 Steps to a 1940's Hollywood Makeover.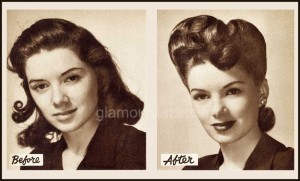 Paramount Studio make-up guru Eddie Senz reveals his beauty secrets to
Modern Beauty Shop in 1943.
An exclusive behind the scenes look at a 1940s Hollywood makeover. A step by step guide of adapting the Hollywood makeup look for a 1940's beauty street look.
Eddie Senz " The American woman in my opinion, the best groomed in the world – yet from the viewpoint of a super critical eye, there is always room to improve. I constantly observe mistakes in women's makeup application. For example – all the mouths I see on the street are painted identically in a size and shape,inspired no doubt from the movies – full lips. Many 1940's women are naturally trying to ape their favorite star by means of "trick" make-up but with highly mixed results.
I wish that every woman would realize that her own personality if correctly enhanced would stop any Hollywood agent in their tracks. make the most of yourself ! Why be a poor caricature of Hedy Lamarr or Greer Garson? Piquant chins, cute little noses, even square faces can be turned to your advantage. Thus with artful makeup – your real self won't be buried under an artificial mask!"
The 12 Step Guide to a 1940's Hollywood Look
1- Pat foundation cream over the entire face, even into the skin under the eyebrows.

2- Use a sharp black pencil to line the eyelids for accent. Press and roll the pencil close to lashes, forcing the color down into the lash roots.

3- While eyeshadow is being applied, hold the lid taut and blend shadow upward no higher than the fold in skin.

4- Before applying pencil. brush brows upward. Upper hairs are then used as a guide line for pencil.

5- To keep the arch of brows in the proper high line, brush brows upward into guide line, never downward.

6- The aim of lip rouge is to make your lips balance. brush rouge over one side of mouth before "building" the other side.

7- To avoid drooping mouth, make the lower lip slightly longer and rouge inside corners of lower of the lower lip well!

8- To remove excess lip rouge from all surfaces evenly. blot with a 'folded' tissue pressed against closed mouth. Do not close mouth over tissue.

9- To brighten eyes, blend cheek rouge up under brows, but faintly! "X" indicates point of highest color.

10- Powder is applied generously over face, including lips and lids, and is then carefully removed from the lids.

11- For fresh sheen and a clear-skin effect, "wash" completed make-up very lightly with damp sponge.

12- As final step, stroke on mascara with side of brush, not tips of bristles, for fast and even application. i do not approve of the new wands. Hair – whether its brows or lashes, prefer a brush. Now you're done !
Eddie Senz – One of Paramount Studios makeup artist did several beauty tutorials for women from the late 1930s through the war years of the 1940s, which were published in magazines like American Hairdresser and as in this case Modern Beauty Shop – 1943.