1920s Beauty Lesson with actress Thelma Todd –
Before she was famous – and blonde – Paramount acting students Thelma Todd along with Mona Palma demonstrate for Glamourdaze.com – the basic 1920s makeup and hair tips every Hollywood bound girl should know.
Back to March 1926 we go …..
#1920s Beauty Tip1
To apply lip rouge so that it will not show rough edges, shape the mouth lightly with the tip of your finger.
#1920s Beauty Tip2
Never use a soft, thick pencil. Crudely applied lip rouge is worse than none at all.
#1920s Beauty Tip3

The correct way to brush your hair: – Grasp the hair firmly and apply the lower edge of the brush, turning it gradually on the downward stroke.
#1920s Beauty Tip4

The 'incorrect way' to brush your hair: – Never brush this way. Begin the downward stroke at the front or top of the head.
#1920s Beauty Tip5

The wrong way to hold a brush: – Never apply the brush flat to the hair. The brush simply slides over the surface and does not reach the hair deep down beneath.
#1920s Beauty Tip6


The correct way to brush: – If your hair is long, don't fail to brush 'upward' those stray locks at the back of the neck.
1920s Makeup and 1920s Hairstyle –  from Glamourdaze.com – 2014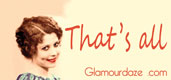 Courtesy of the Media History Project.
Thelma Todd died tragically young in 1935 under suspicious circumstances due to carbon monoxide poisoning.
Download vintage 1920s makeup guides – from Vintage Makeup Guide.com