1920's Style Guide from 1926
Thanks to the folks at the Haithi Trust Digital Library for preserving this 1920's style guide.This book "Making the Most of your Looks" by Dorothy Stote, declares that it is designed for the woman of 'moderate' means and will not be recommending expensive frocks!
Correct 1920's Suits for your Height
Left: The tailored suit should have a hip length coat and a straight skirt. They should be of the same material. A checked skirt and plain coat will reduce your height.
Right: Suit coats should be fairly long, for a coat that stops at the hips will add length.
Correct 1920's Clothes for your Width
Left:For large hips, the jacket should be slightly flared at the sides, and should extend below the hips to conceal your curves.
Right: The little woman's one piece sports frock should have its belt narrow, and it should be the same color as the frock. A wide contrasting belt will break up her figure !
Correct 1920's Dresses for your Height
Left: An afternoon dress with a short, broad apron or Peplum across the front. Beginning at the natural waist line is a good style for the tall woman.
Right: Disguise your height by combining horizontal and vertical lines in your frock
Correct 1920's Coats for your Shape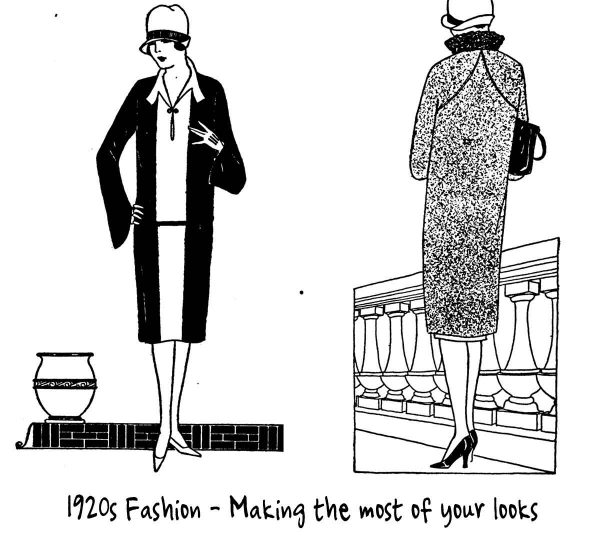 Left:A long straight panel of light color provides an effective means for lessening the wider figure !
Right: Top coats for broad shoulders. Look narrow by using raglan sleeves, which meet in a point at the back of the neck.
Correct 1920's Skirts for your Shape
Left: A good vest effect lessens broad hips.
Right: Both of these figures are the same height. The girl to the far right appears taller because of the long straight panel. The contrasting blouse and skirt of the other girl reduces height.
Left: An artificial flower placed halfway between neck and shoulder edge lessens breadth.
Right: If your hair is shingled or shaped in the back, let the highest point come as near as possible to the crown of your head.
The Correct Shoes for your Foot Size
Left: For Shoes of the 1920's ,slipper of simple lines with a light colored back and black front, reduces the length of the too long foot.
Right:  Shoe buckles for the long foot should be placed fairly low.
If the slipper is cut low on the side, it allows the fat foot to bulge.
Browse our blog for more 1920's fashion history.
That's all !
©Glamour Daze