Travel back to a London beauty school in 1960 for some swinging sixties makeup and hair tips. The models include actress Tania Mallet who played bond girl Tilly Masterson in Goldfinger (1964).
Directed by Michael Winner and shot at the famous Lucie Clayton Charm Academy. Other models appearing are Sandra Le Brocq,Primrose Austen and Betty Buchel. AI Upscaling and Interpolation by Glamourdaze. The original footage is from the Harold Baim Collection.
How to be Pretty | AI Enhanced Vintage Makeover Film
Harold Baim Collection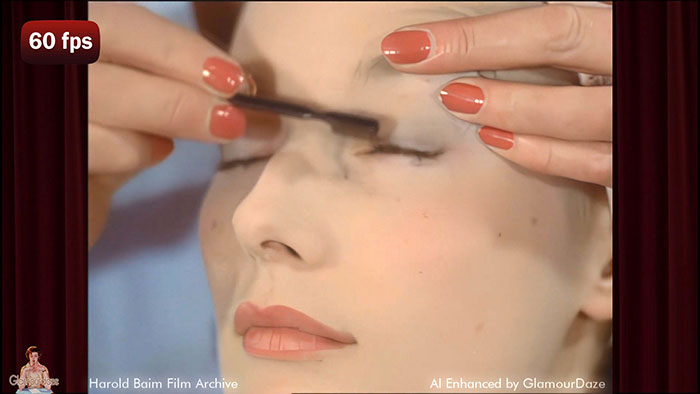 With thanks to Richard Jeffs and the wonderful Baim Collection. I uploaded these one minute edits
of Michael Winner's film Girls Girls Girls (1961) many years back. I thought I'd add a little AI magic and present them both together again in full 4K 60fps.
Browse the full Harold Baim Film Collection.

Harold Baim made over 100 glorious technicolor colour film shorts – mainly for cinema release. The archive is a colorful window in to the 1950s and swinging sixties.
For licence information of HD transfers of the original 35mm prints and other requests you can contact the Baim Film Archive.
Tania Mallet – Bond Girl Tilly Masterson in Goldfinger (1964)
Sadly Tania passed away a few years ago. We would have loved to interview her. This little time capsule is a lovely keepsake of her in her prime.
That's all ! © Glamourdaze