The name Sybil Connolly returned to the fashion press recently when actress Gillian Anderson turned up to the annual Bafta Awards wearing a vintage 1950's pleated handkerchief linen dress. One of the Irish designers most famous innovations – uncrushable linen – was a fashion sensation in the late 1950's. Glamourdaze have recently unearthed a forgotten 1950's fashion film featuring Sybil Connolly creations from 1957, and shot in glorious Eastman color! And it is from Ireland !
1950's Ireland normally evokes images of grim poverty – which was indeed widespread, but  this film is a rare glamorous exception to that image.
Many thanks to Richard Jeffs of the Harold Baim Film Archive who gave us permission to broadcast this recently found Sybil Connolly fashion film from Ireland in 1957 shot in stunning Eastman Color. It is taken from a Baim directed film called The Emerald Island.
Sybil Connolly – The forgotten Queen of Irish fashion Design.
She was Ireland's first fashion designer to attract international acclaim and the first woman to run a successful Irish based fashion house, yet her name has slipped from memory and she is largely unheralded. American Vogue magazine editor Bettina Ballard wrote in 1960 – " Ireland was a completely unexpected center for fashion. We were drawn en masse to Dublin by the personable milk skinned Irish charmer – Sybil Connolly."
For anyone not familiar with Irish fashion history – Sybil Connolly put Ireland firmly on the map in the heady glamorous decade of the 1950's. She enjoyed a heady popularity  across the globe. Her outfits were worn by Jackie Kennedy and numerous Hollywood stars such as Elizabeth Taylor and Merle Oberon.
Her favorite quote was "Women should show their curves, not their joints," which Christian Dior had said to her once – though now it is often attributed to her.
Sybil Connolly – born in Wales to an Irish father, and moved back to Ireland as a young girl. She worked for Irish clothing designer Richard Alan in the 1940's and truly learned her trade there. A strikingly stylish woman from the start – the writer Kate O Brien noticed her at a party in 1946, wearing her own designed dress. " She was her own best model" remarked O Brien.
Connolly greatest obsession was to employ uniquely Irish fabrics – but she was a lone voice in the wilderness of Dublin couture. Her chance finally came in 1952 when she was given the job by Alan of designing the next season's collection. A chance holiday in Donegal and the sighting of a woman wearing a plaid skirt and shawl gave her the inspiration she needed.Or so she said at many a party years later.
Another Irish connection in the shape of Dalkey born Harper's Bazaar editor Carmel Snow now came into the story.A special fashion show was arranged by Lady Dunsany at Dunsany castle [ where this unique fashion film here was filmed ] and Snow arrived with a troupe of buyers in toe. The result was a triumph for Connolly. By August of 1953 – one of her designs – a white crochet evening dress with full length red kinsale cape, modeled by Anne Gunningon was on the cover of Life magazine.
Her designs featuring Irish tweeds, linens, lace and poplins and for a brief period – her modern take on the traditional Irish red flannel petticoat took the fashion world by storm and established Ireland for the first time on the international haute couture scene. Her outfits had Irish names like ' Man of Aran' and 'Lough Corrib'.
The press adored her and her knack for quotable lines found her in papers regularly. " American women are more remarkable than skyscrapers" she said on her first visit.
Eventually in 1957 she set up her own fashion house in Dublin and there wasn't a starlet or politician's wife visiting the city who didn't make a bee line to see her latest lines. Connolly – like many designers drew major inspiration from Givenchy and excelled in dresses which celebrated a woman's curves. Her use of the traditional daily wear Irish hoods and cloaks marked her out amongst her contempories and she soon began to influence designers from New York to Paris.
"I must see movement in a dress. A woman's body is inside. It breathes. It moves." As a matter of interest, Sybil Connolly's  Merrion Square address in Dublin is now the showroom of the fashion designer Louise Kennedy
The nobility in particular  took to her designs as had her sponsor Lady Dunsany. One particular Norman Parkinson photo of her ballgowns stands out. Published in Vogue in 1954 and modeled by Ladies Melissa and Caroline Wyndham-Quinn.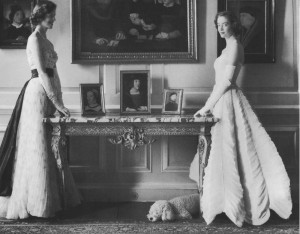 Sybil Connolly's famous Pleated Handkerchief Linen Dress.
Her most famous innovation came along in 1956. Uncrushable handkerchief linen for pleated skirts, developed along with Belfast handkerchief manufacturer, Spence-Bryson. It cleverly used taffeta lining to hold the shape. " We experimented to see if we could develop a process that would permanently crush or pleat the linen and so make a feature out of what was usually considered a problem "
The final result involved using nine yards of handkerchief linen to make one yard of dress fabric. The resulting dress designs with 'horizontal' rather than vertical pleats – which resembled the layers of a mushroom were an instant success and soon order came rolling in for evening gowns.
Harper's Bazaar enthusiastically wrote in 1958 – "that a pleated linen skirt will pack into a small travel bag and emerge unscathed"
There is an Aaron Shickler portrait of Jackie Kennedy in the White house wearing one of Connolly's pleated linen dresses.
Another Connolly favorite was her red quilted skirts inspired by the traditional red petticoats seen in the west of Ireland. Indeed, she had bought tons of red flannel from Connemara for the purpose.Worn with white cambric blouses and black shawls – Robert O Byrne of the Irish Arts Review suggests in his excellent tribute  – Milk and Diamonds – Sybil Connolly – that she heralded later bohemian 'peasant' fashions of the late 1960s and early 1970's. Nevertheless Connolly's star began to fade during the swinging sixties." The trouble with the world" she lamented in 1962 " is that people have forgotten about romance." While she may not have enjoyed the new Carnaby street movement " I never liked the mini styles".
As O Byrne concludes – " she may not have been a fashion designer of the highest rank but she was nonetheless one of the most remarkable women in Ireland in the 20th Century."
That's all !
© Glamourdaze 2012
Sources.
The Milk and Diamonds of Irish Fashion – Sybil Connolly – Robert O Byrne.