Time travel back to roaring 20s Biarritz France on a September day in 1928 thanks to the magic of AI neural networks.
Original footage from the Moving Image Research Collections. With kind permission of the University of South Carolina.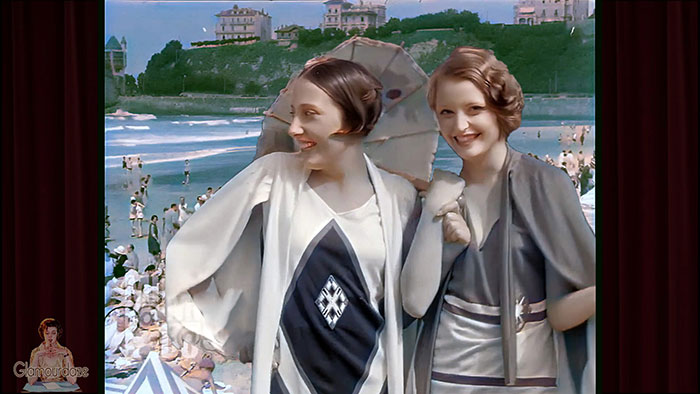 Watch A Day at the Beach – Biarritz 1928
The film starts with clips from a hotel overlooking the beach, then a street fashion show. We then move down to the beach for a walk among the sunbathers and swimmers.
In just a few years over the 1920's, women's swimsuits had evolved considerably when compared to those seen in our recent video "A Day at the Beach c.1921".
The roaring twenties saw seismic changes in clothing, style and social attitudes.
Biarritz by the 1920's was still one of the most fashionable summer resorts to visit. A playground for the rich. The Hôtel du Palais, was originally a summer villa built for Empress Eugénie. Gabrielle Coco Chanel opened her first proper couture house there in 1915. Always ahead of the curve and with a shameless eye on the wealthy, Chanel gravitated towards powerful people. Her own brand of sartorial style helped cement her popularity there.
Biarritz France 1928 – AI Restoration Process
Cleaned noise artifacts
Increased frame interpolation from 15 fps to 60 fps.
Increased resolution from 540p to 4000p.
Applied color using Deoldify ( notebook available on Google Colab)
Created ambient soundtrack.
That's all ! © Glamour Daze
Early autumn brings crowds to Biarritz–outtakes. (Fox News Story C7120…C7122.) Fox Movietone News Collection. Moving Image Research Collections. University of South Carolina.