Visionary designer forerunner to Dior –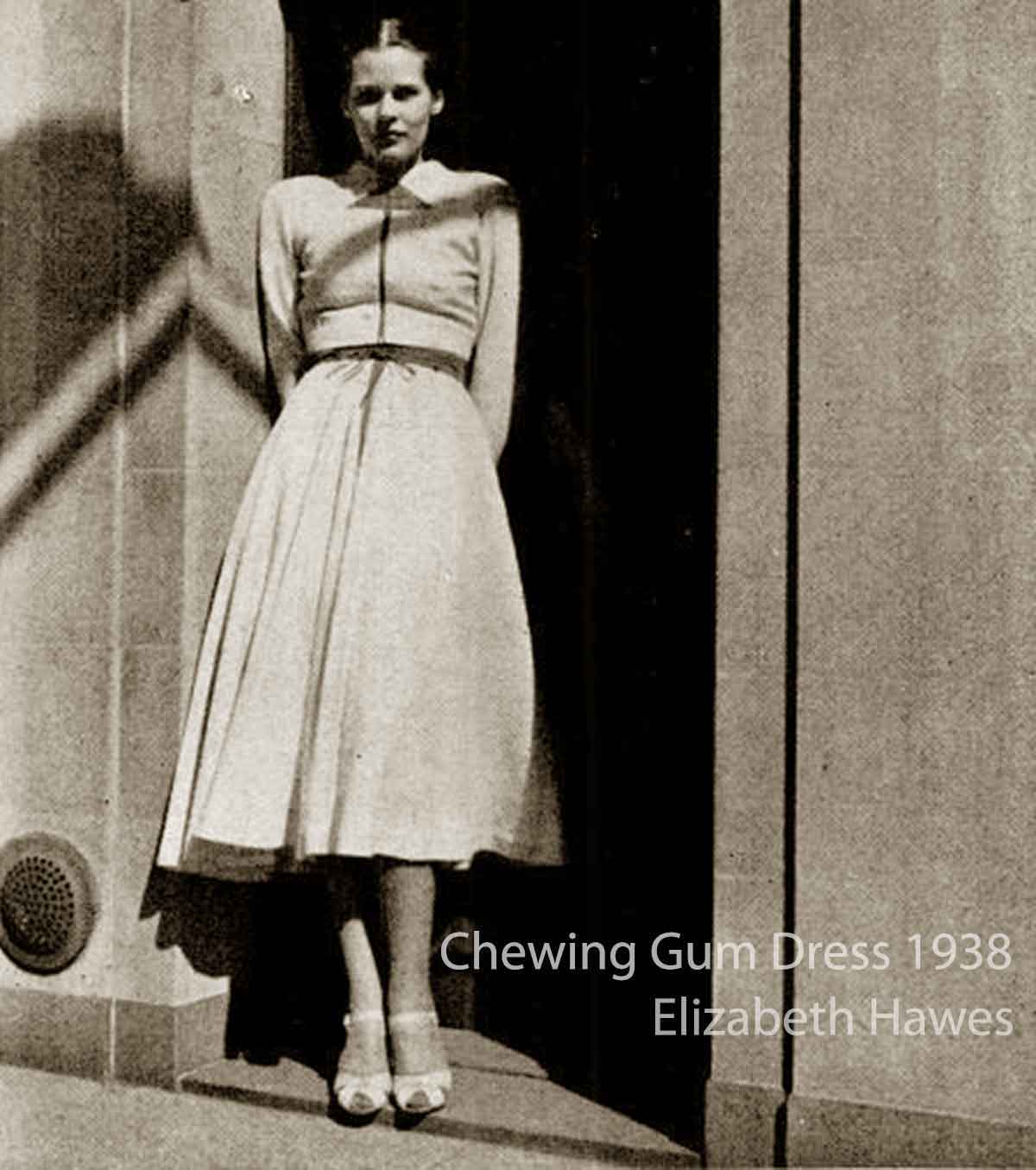 In 1938, a young American female fashion designer named Elizabeth Hawes, an author, a journalist, a political activist and union organiser with the foresight of Chanel and Dior and a razor sharp wit that made her the Dorothy Parker of fashion, published a book called Fashion is Spinach, a long forgotten fore runner of The Devil wears Prada.
With its outspoken criticism of the pomposity if the fashion industry and at times hilarious observations of human behaviour, the book, is a gem and you can download it for free ! In it she declared that " fashion is a parasite on style – a horrid little man who tells you last winter's coat may be in perfect condition but you can't wear it because it has a belt!"
As if to prove her point, the same year, she designed a dress that looks conspicuously ahead of its time, with its full circle over skirt with a silhouette that resurfaced most famously in 1947 in Christian Diors "New Look" Corolla line. The day dress called "The Conquest of Mexico" and used by Wrigley as part of their 'chewing gum makes you beautiful' campaign was one of many dresses from notable designers such as Schiaparelli and Travis Banton.
The pattern was featured in the Simplicity Patterns Fashion Forecast in March 1938.
One can only wonder how many American women made this particular design and unwittingly became local fashionistas.
Born in New Jersey, she was educated in Vassar College, as her equally radical mother had been. In 1925, with a friend, she sailed third class to Paris France. After a brief an unhappy job designing knock off  Haute Couture dresses for a local dressmaker, "We were basically stealing designs".
Hawes conscience finally got to her after seeing one of her 'Chanel' dresses being worn at the Paris Ritz. She went on to write fashion articles for The New York Post under the non de plume "Parasite". her career as a designer finally got its proper kick start when she got a job with Nicole Groult, the sister of Paul Poiret. Here she learned the Vionnet technique of the bias cut, and began developing unique designs of her own alongside experienced cutters.
Moving back to New York in 1928, she opened a small shop with designer Rosemary Harden ( Hawes-Harden) and together they presented their first collection that were so well made and well fitting, that the word on the street eventually brought her to the attention of Hollywood actresses such as Lynn Fontanne. By 1931 after parting from Harden she formed Hawes Inc and using advertising and her old Paris contacts, she presented a collection in Paris, becoming the first American house ever to do so.
The following year, she gained national fame as one of three designers being promoted by Dorothy Shaver of Lord & Taylor under the banner of "The American Look". A founding member of The Fashion Group (1930) Dorothy Shaver had helped coin the American Look. Other members included Edith Head, Mary Brooks Picken, Claire McCardell ,Elizabeth Arden and Helena Rubinstein,Adele Simpson and Eleanor Roosevelt.
In studying the gowns designed by Hawes during the 1930s, her non alignment to any silhouette diktat is what makes her dresses so unusual. As early as 1932, she was reinventing the robe de style into cute cocktail dresses which would not have looked out of place in the 1950s. Her fondness for circle skirts sets her apart from her contemporaries. By the mid 1930s Hawes Inc was at its height as a New York fashion house, Notably however you will not see her designs gracing many pages of conservative magazines like Vogue. She notoriously took a collection on tour to the USSR, the first American to show a collection since before the 1917 revolution.
A major proponent of 'ready to wear' over 'made to order' Hawes developed the reputation of being somewhat of a maverick – advocating pants for women and skirts for men. Like her mother before her, she was a passionate advocate for gender and race equality and as a leader of the Committee for the Care of Young Children in Wartime, promoted the idea of child care centres for working women.
Despite her so called Communist tendencies, Hawes was passionately American and patriotic, designing the outdoor Red Cross Uniform. In 1940 she abandoned her salon and did a stint as a shift worker at an Aeronautical plant to experience the life of women war workers, writing about it afterwards in her book Why Women Cry.When the war was over she joined the United Auto Workers union. Hawes later would write about her experiences in Hurry Up Please It's Time (1946).
Though she returned after the war to fashion, Elizabeth Hawes never achieved the type of fame in now accorded to the likes of Hattie Carnegie and Claire McCardell. Hawes passed away in 1971 at the Chelsea Hotel New York. In her obituary, the New York Times wrote "Her impression on American fashion was so deep that in 1967 the Fashion Institute of Technology staged a retrospective showing of her work"
She was a great designer and a pioneer to many causes. This little essay is a nod to a very unusual woman who should be remembered.
That's all !
©Glamourdaze 2016
See also:
Notable American Women
The Fashion Group
Read the Concise Illustrated History of 1940s Fashion – 1940 to 1949