A study of Vintage fashion on Film through the costume design of Edith Head
A small diminutive woman, famous for her Anna May Wong inspired crop and signature sunglasses – Edith Head may not have been a fashion visionary, but she knew how to concoct screen glamor like nobody before her or since. With a staggering 8 Oscars and 35 nominations, she is truly one of the fashion designer icons of cinema and her designs have left us with some formidable iconic images of women on screen.
This is our humble tribute to a remarkable woman known as 'the dress doctor'.
Her story is all the more interesting when you find that Edith took up art purely by chance. Having graduated from Stanford with a degree in French, she took up a teaching post in the Bishop School for Girls. Having been informed that she also had to teach art, Edith went to night classes at Otis Art Institute and later the Chouinard Art School. Fate also played a hand when it turned out that two of her students were daughters of none other than Cecil B DeMille.
Their father invited Head to Paramount studios and Head became transfixed with the work of the wardrobe department. Edith decided that come what may she was going to work there. One slight problem though. She couldn't draw a stick! But when a rare job opportunity opened, she enlisted the help of some colleagues at her art school and submitted ' their' work as her own. She got the job. On day one however – she had no option but to come clean to her boss – Head of Paramount Costumes Howard Green. Instead of sacking her, he laughed it off and suggested that ' she had better learn quickly !'
Edith Head worked diligently from dressing dogs to her first big break – Mae West in the famous ' come up and see me' film – "She Done Him Wrong" – co starring Cary Grant. Her sexy outfits for West made Edith Head an instant name as a costume designer in the Picture business.
We look at just a few iconic looks she developed for her female stars in some great movies. What made Head so much in demand for movie costuming was her experience in knowing how to create what she described as a 'costume board' for each scene in a movie.
She Done Him Wrong – Mae West.
Largely forgotten as a fashion trend setter, but the gowns worn by Mae West caused a storm. They not only became a style, but it was the first time that Paris accepted that there was a place called Hollywood. There was no mention of the designer – Edith Head –  but the fashion magazines declared  'Le style Mae West, c'est magnifique!' It was suddenly all the rage to have hourglass figures again. The movie which launched Edith Heads career as senior costume designer.
' Fasten your seat belts, it's going to be a bumpy ride!' says Bette, wearing that stunning off the shoulder cocktail dress. The film features many gowns in stage set pieces and parties galore. A young Marilyn Monroe makes her first appearance in All about Eve wearing  a stunning evening gown personally designed by Head.
The Road Movies – Dorothy Lamour / Hope and Crosby.

The most glamorous of foils, Dorothy Lamour appeared swathed in beautiful Edith Head creations in all of the famous Road movies . Head loved working with Hope and Crosby. Authenticity was not Edith Heads objective. She said once that if somebody wrote and said, 'Edith, in Morocco they don't wear headdresses like that,' I didn't give a damn. If Bob Hope wants to wear it because it's funny, he'll wear it."
Sunset Blvd – Gloria Swanson.

Swanson had not made a movie in years, and Sunset Boulevard was to be her greatest – and what a film!  Without any doubt, one of the greatest Hollywood movies ever made. "We didn't need dialogue, we had faces!"  Edith Head had known Gloria Swanson since the 1920's when Swanson was a screen queen. They got on great together and it was a very happy experience for Edith.
A Place in the Sun – Liz Taylor.

That stunning white strapless bodice evening dress worn by Elizabeth Taylor in A Place in the Sun , which helped shift tens of thousands of imitation prom dresses that year. Heads first truly iconic screen costume.
Roman Holiday – Audrey Hepburn.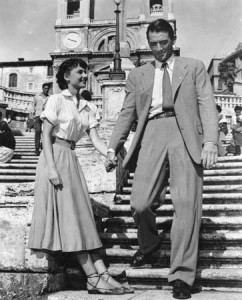 Beautifully dressed by Head in Roman Holiday, Audrey Hepburn went on to win an Oscar, and famously had one of Heads gowns which she actually wore in the final scene in the film, redesigned by a young upcoming Hubert de Givenchy.This was the beginning of a long relationship between Hepburn and Givenchy.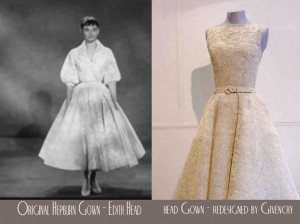 Sabrina – Audrey Hepburn.

So who made those dresses?
Her next film Sabrina exposed an unsavory side to Edith Head. Audrey Hepburn on a visit to Paris, met with the young couture designer  Hubert de Givenchy , and returned to Hollywood with several of his creations.  Edith Head went on to collect an Oscar for the costume and Givenchy was not credited at all. There are many blogs debating this infamous episode in Heads career. Her own version was told to designer Jean-Pierre Dorléac , who was mentored by Edith Head. She claimed to him that she had made the outfit from sketches Hepburn had shown her.
The most likely version comes  from Givenchy himself in an interview last year with Speakeasy. He had no time to come up with new designs for Hepburn, as he was in the middle of preparing a collection at the time, but at her request he showed her the collection . " She saw the first , and told me 'This is exactly what I need!'  We made the dresses. The film came out. It won an Oscar for the dresses but I didn't get any credit. She was furious. She demanded "Each time I'm in a film,  Givenchy dresses me." As this was corroborated by Hepburn herself, and by her family ( according to journalist Petronella Wyatt ) , it appears that Miss Head was lying. This would not be the first time, as she had submitted other artists work as her own before ( supposedly with their assent )  to get her very first job at Paramount.
Thanks to journalist  Petronella Wyatt for jarring me into re-examining  this. Petronella does not mince her words! "I'm afraid Edith Head was a monster, who was incapable of the truth !"
Hubert De Givenchy got his revenge some years later with his famous 'little black dress' worn by Hepburn in Breakfast at Tiffany's, and though apparently Head altered that dress too, to show a little less leg, no amount of  altering  was going to take the credit away from Givenchy. It was that famous little black dress that finally dethroned Edith Head.
Rear Window – Grace Kelly.

It's impossible to forget Grace Kelly in Rear Window – sweeping into James Stewart's dingy apartment wearing that billowing black velvet and white tulle dress by Edith Head, one of her most beautiful creations, epitomizing the out and out opulence of the 1950's Haute Couture. In the 1950's and 1960's, Head worked particularly well with Alfred Hitchcock.  Why? because she gave him exactly what he wanted.
A stand out film for Head costumes. One of Edith Heads great talents for film costume design was her uncanny knack for choosing clothes which helped project her female characters ' personality changes' throughout the films narrative.
The blue chiffon dress.
In To Catch a Thief – a floor length blue chiffon evening dress with a fitted bodice into the waist with spaghetti straps projected a 'withdrawn' and cold Grace Kelly.
The Picnic outfit – Coral Top and Skirt.
Overtly feminine with pleated skirt – changing Grace's character to a warmer and more sociable person.
The Beach outfit
Quite over the top but a real standout outfit and very modern – very European.Grace wears black rolled up Capri pants, with a silk wrap over skirt -which is oddly left 'open' at the front. Evoking a thrown together but designed to catch the eye. Topped off with a ridiculous wide brimmed hat. Priceless.
Yellow swimsuit and cats eye sunglasses.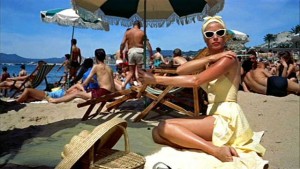 Again a standout swimsuit. The cat eye sunglasses gives Grace a 'spy like' personality. Proof – if there ever was – that what you wear will define how people see you.Head was unerring in choosing clothes not only to look glamorous but to aid the plot.
Vertigo – Kim Novak.

The iconic grey suit from the film Vertigo. Devised between Hitchcock and Head, its objective was to give Kim Novak an unsettling appearance as Madeleine. Her blonde hair simply didn't go with the grey, which in Hitch's and Head's eyes, succeeded in its purpose as a costume. Worn with a corset, Novak hated it. In a rare interview with her friend Stephen Rebello, she recounts her 'battle' with Head over the dreaded suit – "  I had never had a director who was particular about the costumes, the way they were designed, the specific colors.  The two things he wanted the most were those shoes and that gray suit.  When Edith Head showed me that gray suit, I said, "Oh, my God, that looks like it would be very hard to act in.  It's very confining.'  Then, when we had the first fitting of the dress, it was even worse and I said, 'This is so restrictive.'  Head and Hitch reassured her that she could wear whatever she liked in the second half of the film when she returns as a supposedly different character names Judy. Notoriously Kim chose not to wear a bra or corset – as she was so glad to get out of them following weeks in that dreaded grey suit. It is quite obvious she has no bra. The defining style of Madeleine – other than her clothes is the pinned back hairstyle. Restrictive and old fashioned.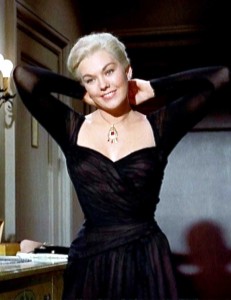 Another stunning outfit is the black chiffon halterneck dress, which Scottie played by James Stewart – buys for Judy in his attempt to re-create Madeleine. Earlier in the film – the most stylish of outfits has to be the fashionable white coat – black dress and gloves ensemble. In this case – Novak insisted on wearing white shoes to match the coat – rather than the suggested black shoes. The result is very glamorous and of the 1950's era.
Under Hitchcock's specific instruction – Edith Head redesigned the eau de nil green suit she had made for Grace Kelly in Rear Window. Taking inspiration from Chanel's new suits, Head created yet another iconic look. The image of Ms Hedren sitting in her city fashioned suit, smoking a cigarette outside the school, while a host of birds, with evil intentions gather behind her in the playground is one of those iconic cinema moments you can't forget.
Edith Head – How to dress for success
In 1967 Edith Head penned a book entitled How to dress for success. Lots of it is very tongue in cheek, and her illustrations reveal a rajor sharp wit.  Below are a few selections.
Edith Heads Top Dressing tips for women.
Don't let your clothes be fitted too tightly. Even a perfect figure looks better if it doesn't resemble a sausage. Only bathing suits should "fit tight."
Don't be too different. You don't want to dress like the herd, but you don't want to look like a peacock in a yard full of ducks. Being too much of an individualist is not being well-dressed.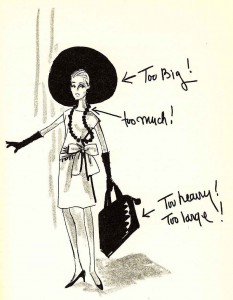 Don't feel that you must look "dressed up" when going to a party. A simple dress is safer if there's a question of what to wear. Plus, you will be much more comfortable simply dressed than overdressed.
Don't be afraid to wear a becoming costume many times. It's an old-fashioned idea that you must have a new dress for every occasion or party. Even if you have the money to do so, it isn't necessary. The modern approach is to change accessories; seems like I wrote that just last week.
Don't wear a date dress when you're arriving for a day's work at the office. The dressy dress, the low-necked lacy blouse, the glitter sweater and all of the glitter category belong to after-dark.
Edith Head passed in 1981, but recently has made a miraculous return from the grave in the form of Susan Classsen, whose highly acclaimed performance of Head in the one woman show –  A Conversation with Edith Head, is packing theaters where ever it goes.
That's all !

text copyright 2012 glamourdaze