This year, Paris designers have decided it is not the season to be giddy. there are no high-jinks or low jinks – about hemlines, and except for Yves St Laurent, who is pushing pants for city wear, little commotion of any kind.
The mood is haute sobriety and the dominant colour is black, with the exception of Andrè Courrèges.
Either a reaction to the riots in the French capital this past spring. Perhaps a simple switch from all the pale neutrals that have been around for a long while.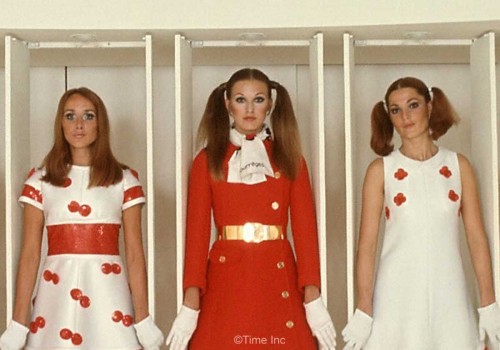 In keeping with the new no-nonsense mood is a basic change in the structure of the couture itself. While still churning out the made to order $800-and-up styles, the houses have become increasingly enchanted with ready-to-wear – which is equally stylish and less time-consuming for the customer and of course more democratically priced ( a slow as $100 ).
As seen here in the photographs by Life Magazine's Bill Ray of the Fall collections, in which couture and ready-to-wear are displayed together, it's impossible to tell which twin is the tonier.
Dior – Collection 1968
In the season's favourite black, seven girls in shiny off-white stockings and silk court shoes , are clustered around the house's traditional gold chairs.
Their outfits are from the ready-to-wear as well as couture.
Can you spot the difference?
In the front row from the left are mink collared and cuffed coat, a sequinned jacket and culottes, and a high-collared jacket wool coat ( all couture)
In the back row from left are a fox-trimmed pants suit ( ready-to-wear), a schoolgirl-velvet dress (ready-to-wear), a scarfed suit (couture) and a bow-trimmed dress ( ready-to-wear).
Courrèges – Fall Collection 1968
The designer who was a pioneer of ready-to-wear is still true in his red and white. The outfits include, from the right, a belted suit with fishnet tights (couture), an identical suit in red (ready-to-wear), a jumpsuit with button-on boots (couture), a gold-belted coat (couture), a flower-trimmed dress (ready-to-wear) and a jersey dress (ready-to-wear)
St.Laurent – Fall Season 1968
Here are three versions of the pants suit which this designer backed for Fall 1968. The girl in the foreground wears a couture version with the Indian headband which St.Laurent used throughout the collection. Second girl; in checks, is in a ready-to-wear, and third girl is couture. St.Laurent, who likes to dress the young, is opening a New York boutique this October !
Lanvin – Fall Collection 1968
A ready-to-wear coat ( on the left) and a couture one ( on the right) repeat blacks that Paris went for. Each is worn with chain necklaces, a big theme in Europe. The designs also have a snappy military spirit – this ready-to-wear version is even named the Lieutenant.
Cardin – Paris Fall Collections 1968
Surrounding a piece of sculpture which is part of the decor of the Pierre Cardin boutique, these girls wear black dresses trimmed with bright geometric shapes. the outfit in the centre is ready-to-wear and its longer length comes from cardin's couture spring collection. the Fall couture hem length, as shown at left and right, is short.
That's all !
©Glamourdaze
Life Magazine – Sept 1968