The first fashion show from liberated Paris –
The liberation of Paris sent a thrill of mixed anticipation and anxiety through the dress designers of London, New York and Hollywood, some of whom have thrived mightily during Paris' long night.
The first Paris fashion shows, therefore, brought forth groans of both dismay and criticism.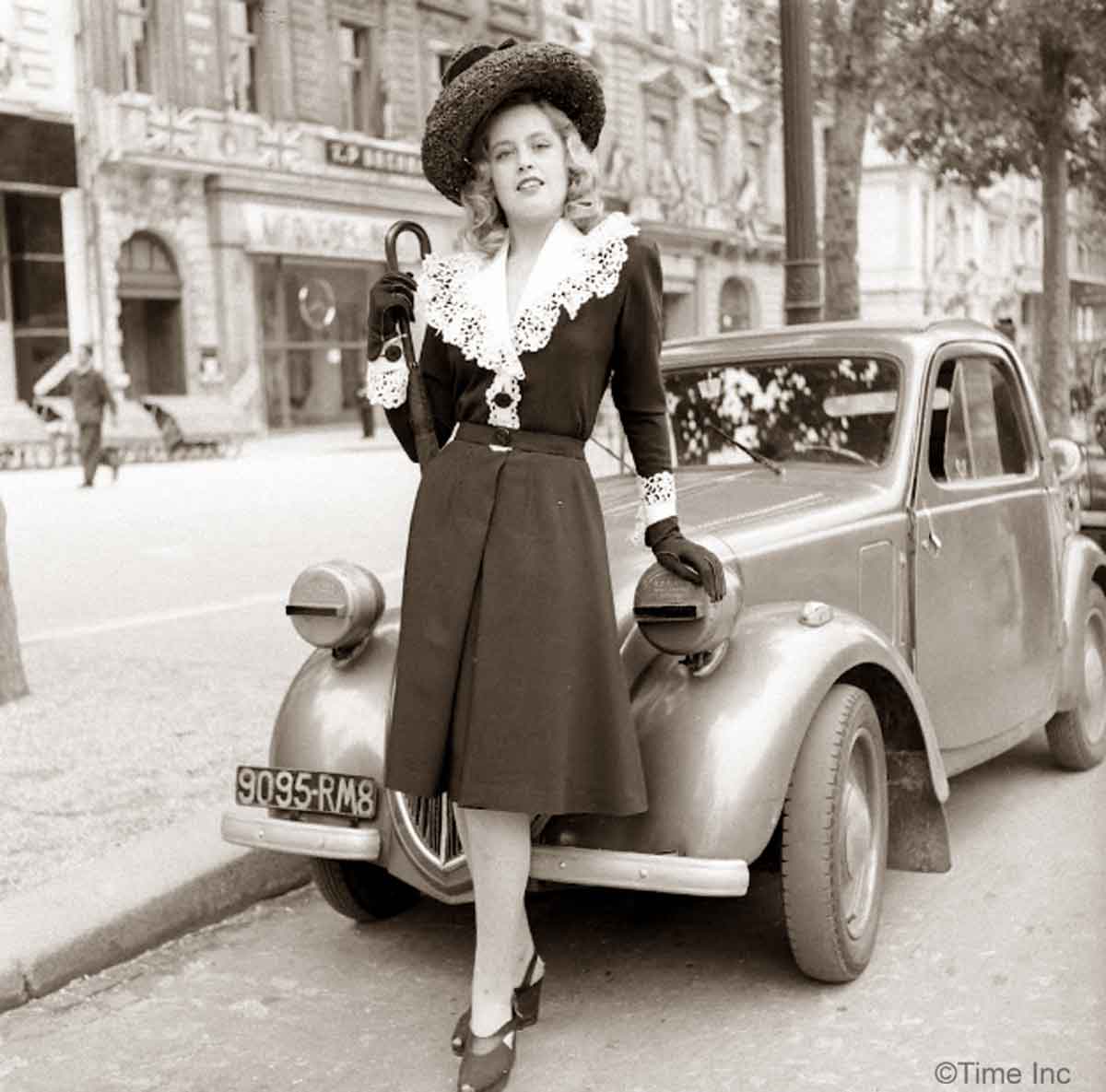 Paris however proved that it still has that certain 'je ne sais quoi', when it comes to materials, color and the way to put them on the bodies of women.
The first full length revelation in photographs of the results were covered by Life Magazine in photographs.
The shows were only really for advertising purposes. Paris had no materials to make the clothes for sale. It had only enough to make the strange and wonderful originals. Much later would come the real commercial shows for business.
A million people live indirectly from the French fashion industry and France claims it could export $400,000,000 worth of fashions.
At the moment Paris styles are still influenced by a period when a conqueror was in France. the clothing arrogant, mannish even. Women are made to look tall with high heels, high hats and high coiffures.
Substitute materials and the needs of bicycles also affect the styles.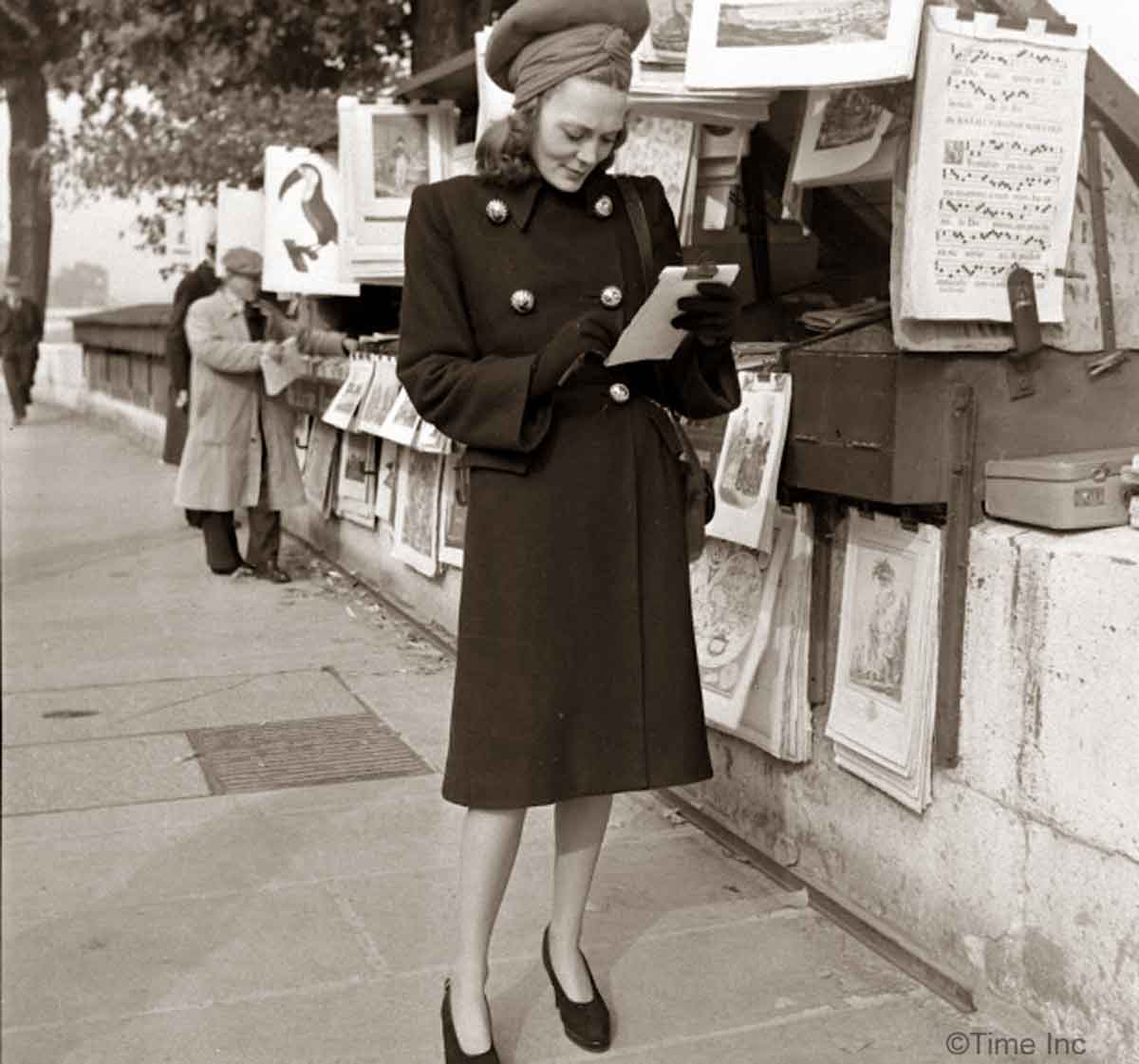 Popular materials are cords, plaids and checks.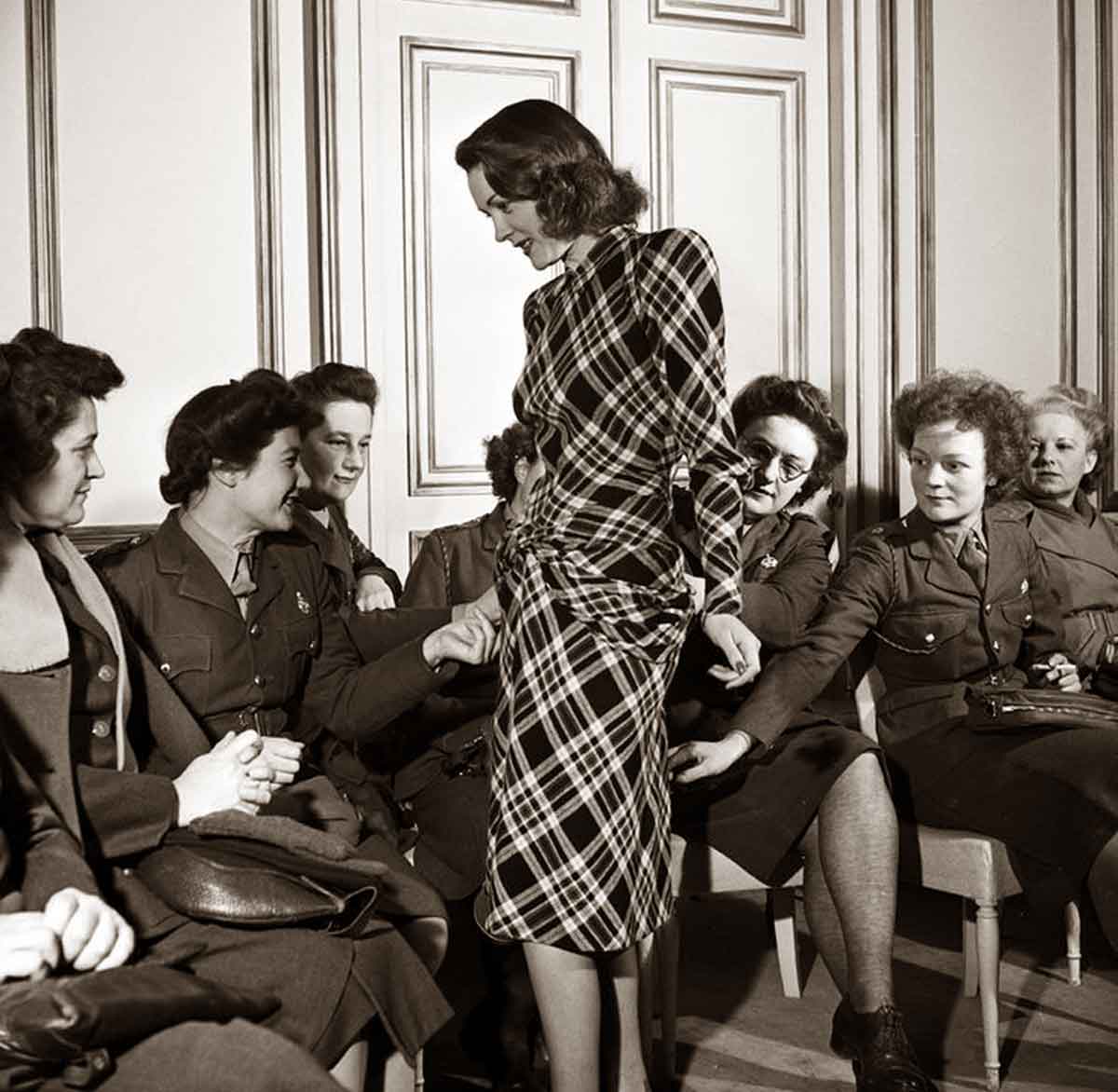 There are differences of opinion about skirts – as to whether they should be full in front or full in back, and as to whether they should be bell shaped or peg-top ( narrowing toward the knees). Upper sleeves are puffed, wrists are tight. Waists are tight. Skirts are short. Hips are rounded.
Yes, Paris is still full of tricks. It used buttons, fur pockets, fur cuffs and everything else with vast ingenuity. Coats button back onto skirts. Big pleats make pockets. Dull clothes have vivid linings. Suit coats look like cutaways. Hats are balloons, minarets, chef's caps. Big sleeves are slashed, showing a tight sleeve beneath.
Fringes fall from pockets, blouses and gloves. Sleeves spring from the neck, the back, the elbow. Bodices are what the experts call "studied", i.e carefully fitted and elaborated. Of course, much of this is unusable under US wartime restrictions, but it promises of better days to come !
(ED. Notable brands in this first fall collection after the liberation of Paris included the brand new Mad Carpentier , which took over the house of Vionnet and featured the first names of its two founders Mad Maltezos and Suzie Carpentier.
Also old reliables Jacques Fath, Jean Patou, Jeanne Lanvin, Jean Desses,Maggy Rouff, Molyneux, Lucien Lelong, Schiaparelli, Grès, Robert Piguet, Marcelle Dormoy.
Coco Chanel is not mentioned.
That's all !
Text©Glamourdaze 2015
Photographs©Time Inc