1920's Psyche Knot Chignon Tutorial
By Talia Felix.2013 – Blogger and author of Gibson Girls Guide to Glamour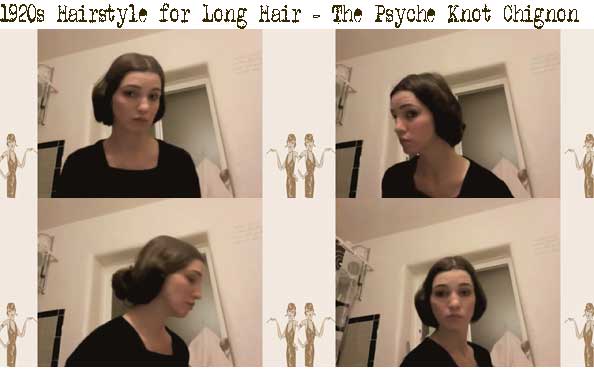 Not every woman bobbed her hair short in the early 1920's. Many women still wore long hair like they had done many years before. A style that became very popular during this period was a very sleek look with an elongated bun called a 'psyche knot' .
Probably the most famous wearer of this style was Popeye's girlfriend – Olive Oyl. In earlier strips from the 1910's she wears an old fashioned bun, but by the early 1920's, she developed this psyche look. The side puffs are also very typical of late 1920's and early 1920's hairstyles.
1920's hairstyles for long hair – Tutorial
Watch the Video Tutorial here and save the transcription with images below. Enjoy!
Tools: comb, natural bristle brush, hair tie, bobby pins, bun pins, 2 round hair rats.
Start out with long hair and we're just going to comb it out.
Then for our version of this hairstyle we're going to part it down the middle, though you can do it as you prefer. Many versions didn't have a part.
Then you want to get out your natural bristle hair brush, and brush your hair. This is going to add some more volume and smoothness.
Once the hair is smooth, we need to get out our 'hair rats'. These are two little masses of false hair. And we're just pinning them over our ears as you want your ears covered for this style. use as many pins as you need, but remember you don't want the rats to show through your hair in the end.
Get out your little hair tie – a cheap elastic one will do fine. The tighter you can pull your hair back, the better this will actually look.
You want your pony tail that you begin with – slightly high up on the head – not down at the nape of the neck but not high up at the crown either.
With your pony-tail secured, start working on the front of your hair. We're going to take some hair-pins, and try and pin the hair down in the front a bit. – to get that sort of a forward push of the hair, where the hair puffs out.

Then we turn again to the back of the hair and now we're going to be tying our 'psyche knot'. You begin by making loops around your hand and securing that loop with bun pins!
We then take the remaining length of hair and wrap it around and around the base of that loops we've made.
This is a psyche knot! Secure the loops you've made as well. Fluff out the knot so that it's somewhat elongated to get the effect that we want.
You can vary this of course, you can wear a regular bun instead of a psyche knot, you can wear a headband over it, you can reduce the size of the side puffs.
There are many many ways to wear the same essential look!
That's all !
©Glamour Daze / Talia Felix