There was much more to 1920's fashion trends, than flapper slang, and dancing to the Charleston ! What to wear and where to buy.
We put together a vintage carousel slide projection, which takes you through all the popular fashion trends of the 20's. You can read the concise illustrated history of 1920's fashion. But first enjoy the video.
What did Ladies Wear in the 1920's?
Robe de Style, Garcon look, Chemise, Drop waist dress, Bob cut, Cloche Hat, Pleated Skirts, Sweaters, Cardigans, Silk Stockings and T-Strap heels, Costume Jewelry, Fur stoles, Bathing suits, Beach pajamas, Makeup.
1920's Fashion Trends in Detail
Fashion in the early 1920's kicked off with a return to a more classical robe de style silhouette. But hems were higher and the dresses slimmer. By 1935, the drop waist dress, for no particular reason, was the new fad.
The drop waist dress definitely emanated from the Paris couturiers. The popular garcon look was epitomized by flat chests and no waist.
The simple chemise or shift dress, which hangs from the shoulder, became the staple silhouette until more feminine shapes returned in the early 1930's.
Handmade 1920's Inspired Clothing
We recommend La Vie Delight, a small company with great reviews. They produce bespoke handmade 1920's dresses.
They also sell pretty cloche hats, jackets and coats. The attention to detail in their 1920's day dresses really sets them apart from other sellers.
But this was not say that women's clothes were not feminine. Pleated skirts, sweaters and cardigan combinations were very much the vogue. The more daring may have worn slacks or pajama suits to evening parties.
Beach pajamas and revealing swimsuits, as well as jaunty sailor suits, were all the rage while on holiday or at the beach. They were not acceptable however on the high street.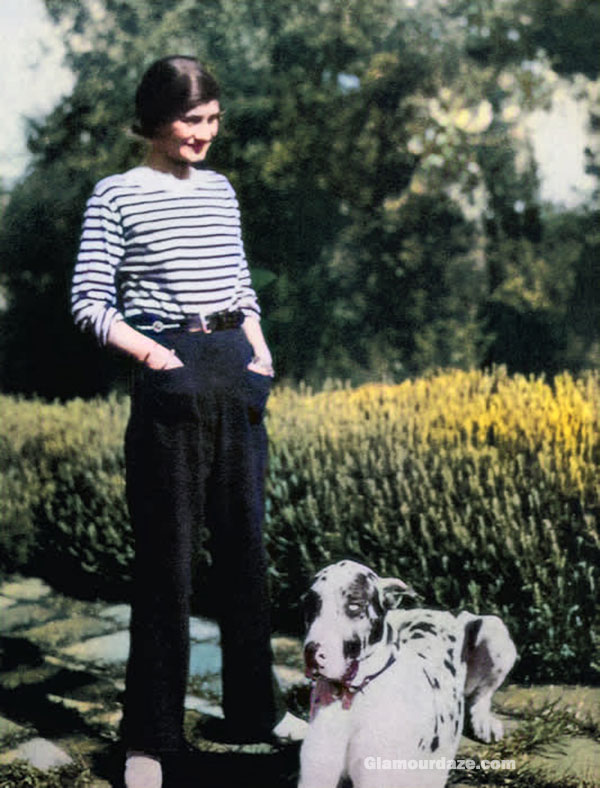 Coco Chanel is forever being credited with styles she did not invent. The striped marinière, or Breton sailor top is one. The myth is based on one photo of Chanel from 1928. The truth is, the marinière was quite popular among young women at resorts, as were many traditionally male items of clothing. Chanel's early fondness for androgynous clothes, helped make many items more acceptable however.
The rise of the hem, meant that legs were fashionable. Hosiery sales shot up during the Twenties, as did the sale of T-strap heels.
Costume jewelry, in the shape of faux necklaces were another fad which ran the gamut of fashion for many a discerning flapper.
For the languid lady, no items spelled luxury more effectively than the fur stole. Of all the 1920's accessories, this item was the most popular, for those who could afford one.
Finally, the bob cut, and the wearing of makeup was the most vivid demonstration of the liberated 1920's woman.
That's all ! ©Glamour Daze