1920s bathing suits as modeled by Hollywood stars in 1929, where the summer forecast was always fair and warm weather
1920s Bathing Suits 1929
Every year in the golden age of Hollywood, the most gorgeous bevy of glamour girls could be seen on the pages of Photoplay and Motion Picture, modeling the newest bathing suits
Joan Crawford and Anita Page
Left: Anita Page indicates that stripes should always be worn with plain trunks. The delicate stripes are of red it should be noted.
Right: Joan Crawford, never a shrinking violet on the beach, shows off her new Catalina suit designed to secure the proper amount of sun tan required by the new decolletage neckline of afternoon and evening Summer attire. The evening frocks of 1929 demand a complete back tan. This 1920s swimsuit will meet that demand.
Virginia Bruce 1920s Bathing Suits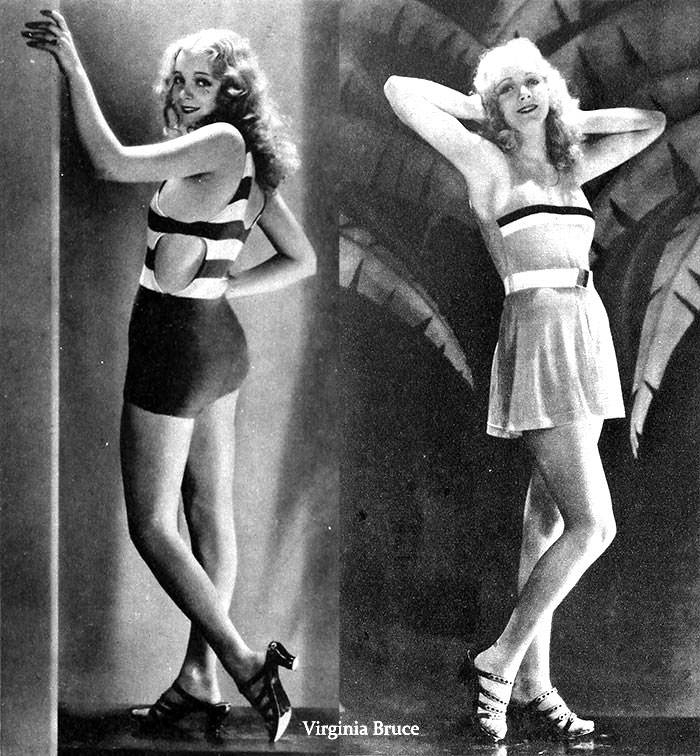 Left: The newest in backless and side-less bathing suits demonstrated by Virginia Bruce. This suit of red and white is the ideal California sun tan attire.
Right: Bathing suits with cute little skirts will be the thing this season. Virginia shows a knit costume in yellow jersey that is belted at the waist line and boasts a circular skirt of flattering cut.
Beach Pajamas in 1929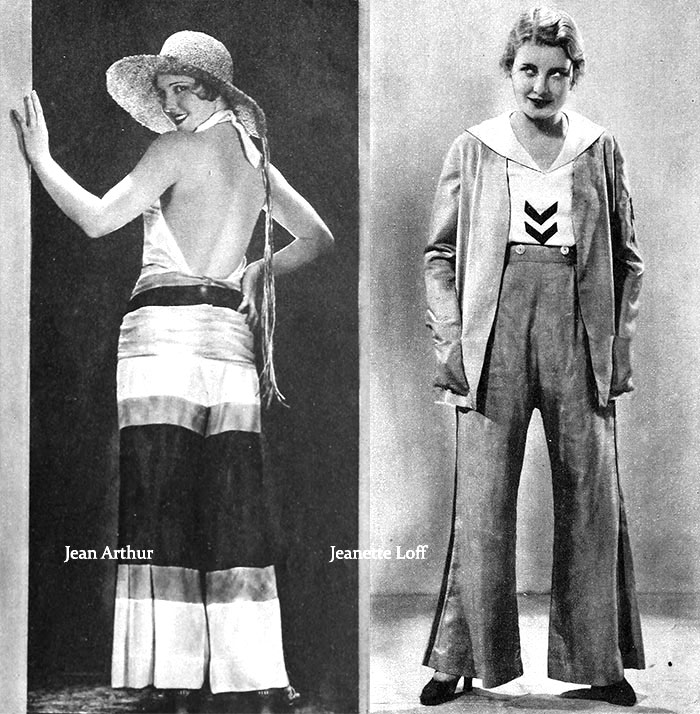 Left: Jean Arthur in her new sun and sand pajamas. These come in egg shell, beige and brown satin. The blouse is backless. The trousers are pleated and widely girdled as are all smart beach pajamas this year. The beige hat in rough straw is trimmed with many hued cords of yarn.
Right: Jeanette Loff poses in the prettiest of beach pajamas made of navy blue silk pongee with white silk pongee blouse, trimmed with red chevrons. The broad bottomed trousers have a real salty flavor and distinguish all beach pajamas that are to be seen this year.
That's all !
© Glamour Daze