Carole Lombard explains what she loves about fashion ! –
Virginia T Lane – 1930s Fashion Report for Glamourdaze.com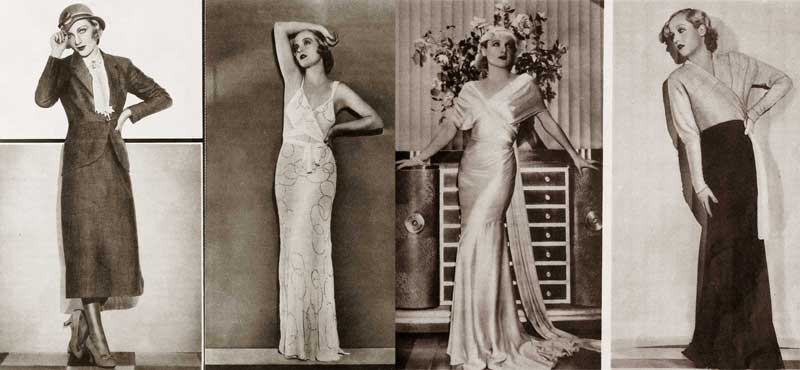 Ten to one if you met Carole Lombard on a desert island, draped in fig leaves dashingly trimmed with red berries, you'd say: " Now there's chic for you! I must have a dress like it!"
I know I would. Because this clever young woman gives any costume she chooses to wear a style all of its own.
A style you want to copy. When I interviewed her I had to remind myself that steely-gray, the shade of the suit she had on, isn't my color and that I'm too short-waisted to have a cinched -in coat anyway. Otherwise I would have driven straight over to my dressmaker and gone into a deep dark conference. The suit made that much of an impression! ( see above)
It was strictly tailored. Narrow collar, single buttoned coat and of a light weight wool that was smooth and wonderfully cool looking in this summer day. Carole had added to it those feminine touches which are indispensable to modern suits. A white crepe-satin waist with a fluttery imitation of a stock collar. Fastened with an exquisite diamond baguette and star sapphire pin which was a gift from her husband William Powell.
Her gray pumps were low trimmed and her tilted hat was banded with a two-tone ribbon in gray.
Grays – as a rule are difficult to blend well but she succeeded beautifully.
Carole Lombard talks Fashion !
" It doesn't really matter," said Carole in that way she has of seeming to be tolerantly amused at herself and you and me for taking it all so very seriously. " Where you live or where you shop has no bearing on whether you'll be smartly dressed or not. It limits the range of your wardrobe of course but it shouldn't affect your sense of style. A girl can be as charmingly gowned in Podunk as she can be in New York," she laughs.
"Its easy," she says" to find out what the latest trend is from various magazines – to apply it to yourself with some study. The truth is I'm always gawking at other girls in the street to see what they have on. Just the other day on my way to a shoot it struck me how extraordinarily well dressed women were on the streets as we drove along. I felt quite frumpy and sank miserably down into my seat – admittedly I was decked out in baggy flannels and shirt – as I was going straight to wardrobe"
"Anyway later that day on the way home I stopped off at a dig store for some lipstick and again – the women at the counter were just gorgeous. 'Fifty miles from nowhere like this, how do so many of you manage to keep up with the fashions?' i inquired.
" 'Well, we're lucky, i guess,' one girl replied. ' We have a school principal who is the most fashionable woman in town and she makes a point of sharing her tips and telling us where to get the best clothes and how to combine colors with hair and makeup' .
" Well, " I told them " you ought to erect a statue to this woman, as she is a genius!"
"If I hadn't ended up acting I think i would have loved to have been a dress designer. It opens up a tremendous field. You never can know too much about clothes! And it is fun plotting and planning your wardrobe each season"
Carole Lombard's June Wardrobe – 1932.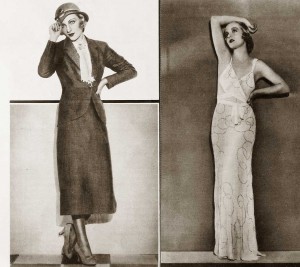 Steel Gray light wool suit ( above left)
The material is steel-gray light weight wool. the style is strictly tailored – notched lapels, cinched in, one button closing, bound diagonal pockets and a single button to finish off the sleeves. But note the feminine touches Carole has added: the white satin waist, with its imitation 0f a jabot collar, fastened with a diamond brooch. The suede gray pumps are bow trimmed. The gray felt hat has two bands and two bows in two tones of gray.
Evening gown ( above right)
Let's see how many fashion notes we can get from this evening gown of Carole's. Material, dull white crepe roma. Very good – dull materials are best, you know. The circles of brilliants are very new.

Next ( above right) this stunning evening gown is a gem. Not only because the bodice is a solid mass of pearls, but because it is so unusual without being the least bit tricky. The skirt is black crepe and floor length. Long ties of the beaded material fall from the surplice closing.
Satin Evening Gown ( above left)
A flesh satin evening gown best described by the word classic. Those graceful sleeve-like affairs swing over the shoulders and keep on going until they form a train at the back. The lower skirt too ends in a train. The V-neckline would have been spoiled by a necklace. A cluster of bracelets is good enough with this gown.
Pajamas ( above left)
Carole's pyjama's are beige satin – one of her favourite shades – and they're made up in Russian style with a high neckline and tiny stand-up collar. the trousers are just normal width, as most well pajamas are these days.
Tweed suit ( above right)
A very useful all round suit this – of mottled gray tweed, banded with caracul wool around the capelet, sleeves and jacket edge. Nore the novel little hat of the tweed and caracul wool. And the buttons on the front of the coat.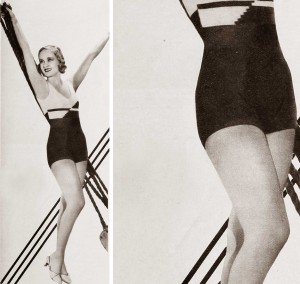 Carole's favorite bathing suit this June is corsair blue and white ribbed silk. It has practically no back. The beach sandals are washable crepe!
Text – copyright – Glamourdaze.com 2014
Originally published in Modern Screen – 1932
Many thanks to The Media History Project – for sourcing,scanning and preserving these wonderful articles.