1930's Summer Dresses 1931
Summer Dresses 1931. Hollywood stars Anita Page, Dorothy Jordan and Leila Hyams model the latest summer suits and swimwear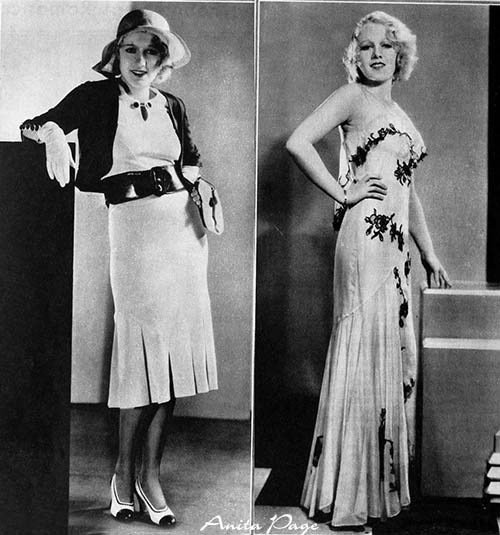 Left: Anita Page makes a charming appearance in a one piece jersey dress of white, featuring a short sleeved bolero jacket of brown. The brown shade being carried out in the belt and button decorations. Brown and white sport slippers and bag add an attractive color touch, while the hat and gloves are white.
Right:The white chiffon frock, worn by Miss Page at the right, shows an interesting use of black lace insertion designs. Forming the only ornamentation on the otherwise plainly made dress. The contrast gives a striking effect.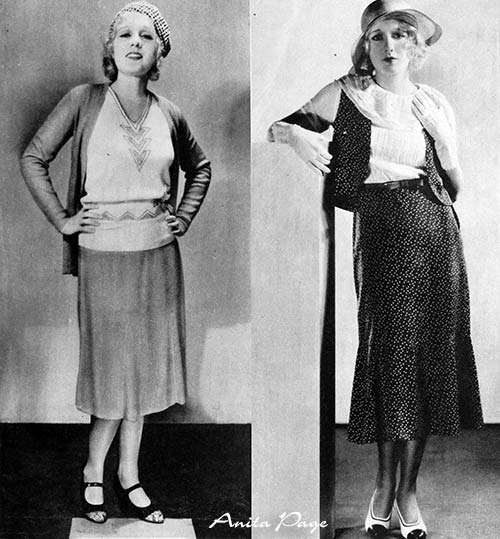 Left: Miss Page appears in a rose-colored knitted suit with flesh-colored sweater. Knitted suits are arriving to join the summer sportswear styles fashioned in three piece patterns consisting of sweater and skirt with cardigan jacket.
Right: Miss page reveals a suit showing a sleeveless bolero and bell-shaped skirt of printed silk with handkerchief linen blouse of short sleeve, rounded collar design.
What the well dressed Mermaid will wear this summer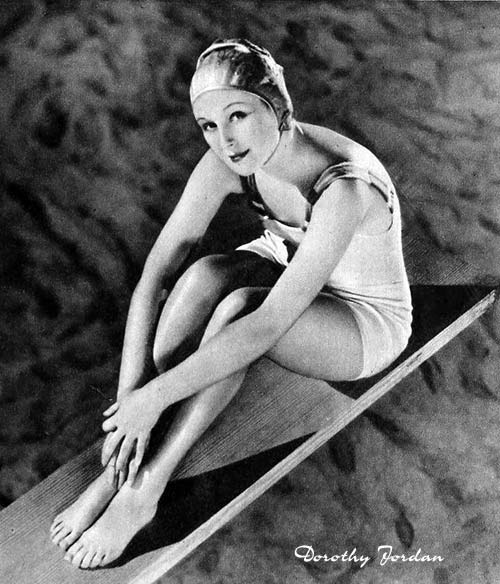 Dorothy Jordan in one-piece white bathing suit, ideal for real swimming. The white cap matches.
Leila Hyams in a smart orange-jersey swimsuit with orange rubber slippers. Ideal for the water or for acquiring a beach suntan.
Left: Catherine Moylan demonstrating that plaid gingham is the newest thing for beach pajamas. It is a youthful pattern carried out in blue, yellow, red and balck. Fashioned in a backless style with an accompanying bolero jacket.
Right: June MacCloy in her new anti-sunburn bathing suit.This is the latest beach vogue. It is a high-necked jersey suit in white and dark blue. The top part is appliqued with a modern design in blue and yellow.The beach jewelry is of carved wood.
That's all !
©Glamourdaze.com