Hairstyles for Face Shapes – Six Actresses
Follow these easy 1940's hairstyles for face shapes. 1940's hairdos applied by famous 1940's actresses. Simple face contouring secrets to follow. R.K.O studio's Loretta Francel shows you how to get those Hollywood curls.
1940's Hairstyles for Round Faces – Lynn Bari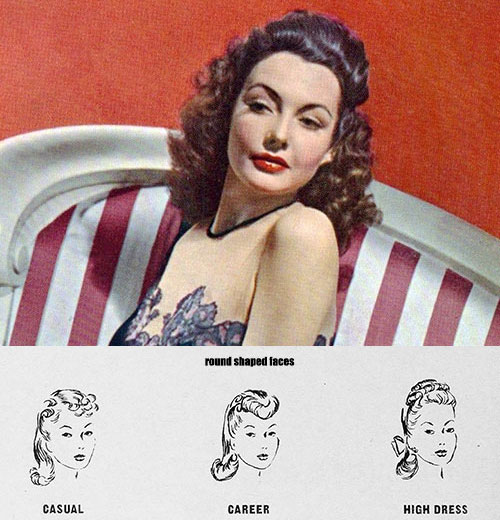 Even if you're the round-faced type like Lynn Bari, with full cheeks and chubby chin, you can achieve that oval effect. Here's a trio of hair do's guaranteed to lengthen and narrow your face.
CASUAL – Informal glamour. Part hair on side, since center part tends to broaden. Dress front hair into pin curls, then sweep side sections up off face into larger curls. Large, loose curls at nape of neck have a magically lengthening effect.
CAREER – Neat and femininely efficient. To take away fullness at cheekbones, sweep sides up cleanly into rolls toward center. To disguise low forehead and to narrow the face, part in a v-shape and bring entire top section forward into large v-shape roll over brow.
HIGH DRESS – Sleek and smooth. Wave top hair and side sections back from the face into rolls to add height. Drop the back section to the neckline in soft curls and tied with a ribbon
1940's Hairstyles for Oval Faces – Bette Davis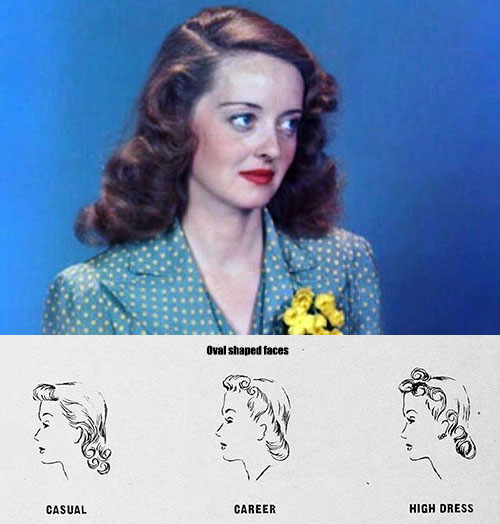 Bette Davis has the perfect oval face – egg-shaped. Wide at the cheek-line, and with the forehead slightly broader than the chin. If this is you, you have nothing to alter or hide. Your principal job is to play up that oval outline, for you have the perfect face shape.
CASUAL – Just for fun. Comb hair loosely behind the ears and brush curls out t nape of neck. Comb front roll over brow into a suggestion of bangs.
CAREER – For a chic career girl. Frame head with reverse roll to accent oval contour. The front may be varied, but is shown with a dashing pompadour.
HIGH DRESS – Striking. Here's an elegant one that spotlights your oval shaped face. brush the front hair up into a half-dozen fat curls. Do not wave the side sections but turn under at the ends. The back hair falls into a sleek page boy.
1940's Hairstyles for Long Faces – Dorothy Lamour
The long face, like that of lovely Dorothy Lamour, is a mere step from a perfect oval. It just needs a bit of shortening and widening.
CASUAL – Excellent for active sport. Broaden the brow by brushing hair straight back from face into clusters of curls that are held in place by bows above the ears. Concentrate width at jawline by letting back hair fall into a loose page boy.
CAREER – For office or date. To achieve width, part hair in middle. brief bangs are shortening to forehead and entire face, and side curls add width. Let back hair fluff out to expand jawline.
HIGH DRESS – Suave and chic. Draw hair off at sides in a horizontal line that broadens the face, and make a roll of curls across top of head extending from ear to ear. Turn the back hair up in to a loose roll, or for variety – you can page boy it.
1940's Hairstyles for Diamond Faces – Carole Lombard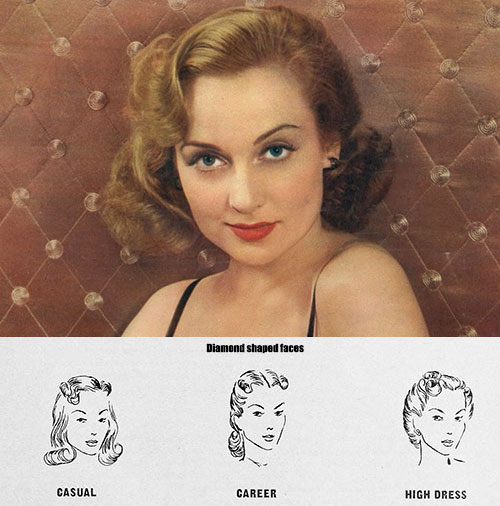 Carole Lombard's diamond-shaped face ( narrow forehead, broad jawline and narrow chin) is tailor made for a woman of whims.
CASUAL – A cinch to handle. Draw attention to forehead, yet conceal its narrowness with a soft bang over right eye. Side hair falling in deep waves around the face cuts the breadth of cheek and balances a narrow chin.
CAREER – Flattering simplicity. A middle part and two soft waves falling over temples, give forehead appearance of width. In order to make temple line as flat as possible, side hair is drawn back of ears. To fill out chin line, back hair should fluff at the neck.
HIGH DRESS – Sophistication! A wave at brow falls into little girl ringlets. So there's drama in that smooth roll that encircles the head, and carries the eye up an down.
1940's Hairstyles for Square Faces – Priscilla Lane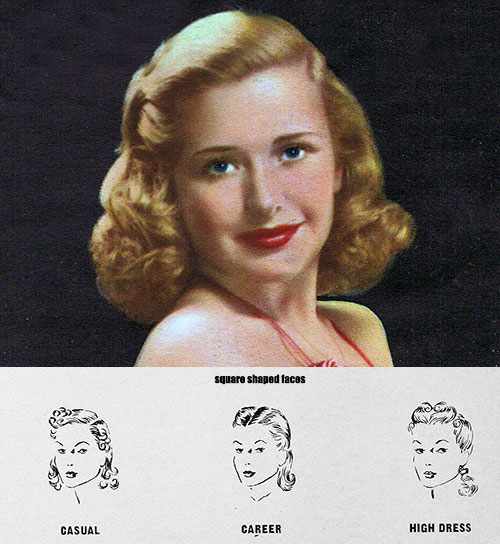 If like cute Priscilla Lane, you have a straight hair line and a square jaw, your problem is to soften your angles into perfect oval. Here's how:
CASUAL – Easy-going smartness. Break squareness by a side part and concentrate fullness on upper side of head. This is done by sweeping hair up behind ears into soft curls to minimize breadth of face. Back is combed out loosely to flatter jawline.
CAREER – Tailored simplicity. Side part is usually best. But if the forehead is unusually high and broad, a center part will  break it in half. Brush hair up back of ears and push forward into fullness with combs. Let back hair fall into soft rolls.
HIGH DRESS – Gaily sophisticated. Make two reverse curls at top of head. This offsets square chin by widening forehead. Then bring hair upward back of ears into reverse rolls and catch the back section in wide barrette.
1940's Hairstyles for Heart Shaped Faces – Ida Lupino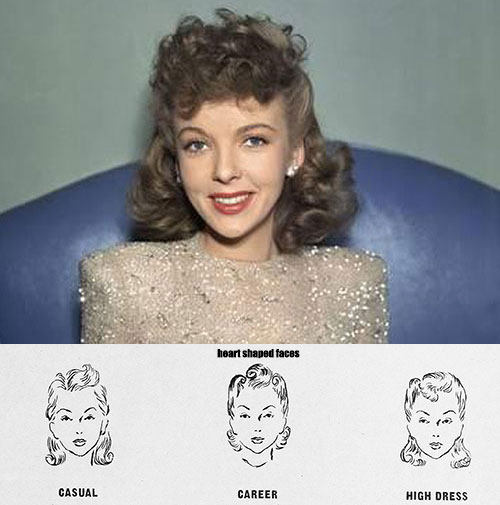 The heart shaped face with its wide forehead and narrow jaw has a lovely pixie haircut, like Ida Lupino. Play it up. At the same time, build out that slightly weak jawline.
CASUAL – Carefree and gay. Height is achieved by waving front hair back from the brow into semi-reverse curl. Brush hair smoothly behind ears where it falls in with back section and creates fullness at nape of neck.
CAREER – Simple and trim. Keeping sides flat, sweep hair upward into three reverse rolls on top of head. Back hair is combed into a neat upward roll that fills out jawline.
HIGH DRESS – Sweet n Smooth. Heighten by two reverse tolls on top of head. one of these forms a partial bang on right side, which narrows a too broad forehead and is a perfect camouflage for an irregular hairline. Necessary width at chin line is formed by loose curls at the nape of the neck !
You can copy some more 1940's hairstyles from 1941.
That's all !
©Glamour Daze
Victory Rolls – The iconic 1940's Hairstyle.