A New Dress Silhouette for Autumn –
Nipped in waistlines, soft back fullness and longer fuller skirts. The new Paris silhouette creeps in to Fall dresses in 1947.
Fall dresses 1947 – A New Silhouette
A black skirt below the knee, but without the petal like fullness of the new Paris look. The Jacket with nipped waist follows Diors new Corolle line.
Here in the US, this startling new silhouette is getting mixed reviews from women, with many loath to lower their hems once more.
Fall dresses 1947 – College Girls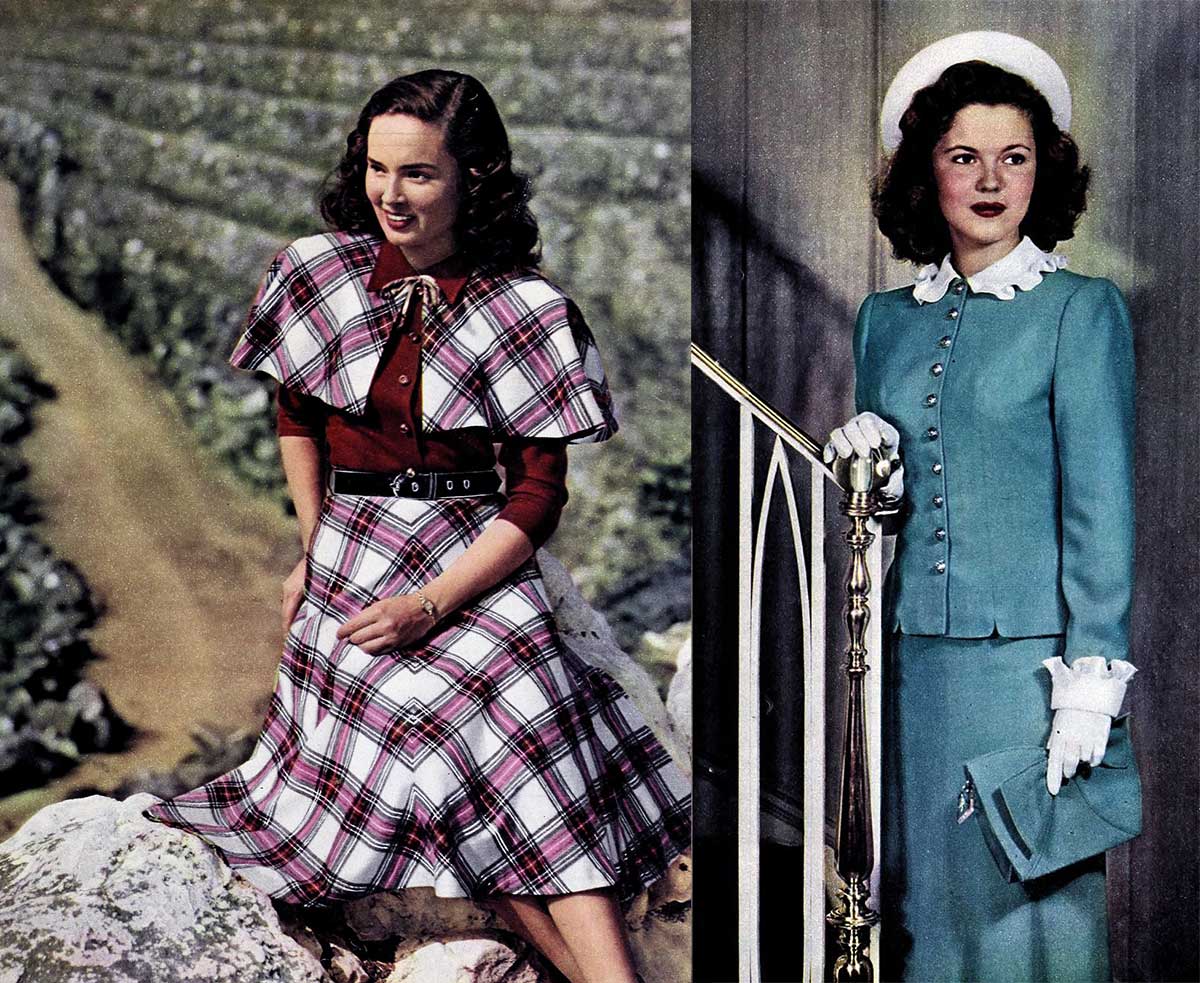 Left:For the Fall season – this eye-catching plaid outfit with its newsworthy cape. In three pieces. Designed by Tailored Lass in light worsted wool.
Right: Shirley Temple models this delightful suit. A perfect outfit for the Autumn and winter days ahead. It can be worn as a business suit, to school or on a date.
Fall dresses 1947 – Carole King

Left: College girl fashions are going for the Spectator – for a well turned out look. Look at this Carole King wool and spun rayon frock.
Right: Slim princess lines and a soft rounded shoulder are featured in this beau-catching dress of lightweight wool by Carole King. This also come sin blue and grey. The model featured here is actress Mona Freeman.

Left: For glamour girls only: A moire suit by Barbara Field. With a jacket that dips slightly and flares dramatically in the new style. In black, brown or grey.
Right:The long molded look, so popular this season, is achieved by Doris Dodson in this striped middy top and plaid skirt. A sheer wool in aqua and black, red and green.
That's all !
©Glamourdaze 2018