A Slender Silhouette for 1930s Autumn Fashion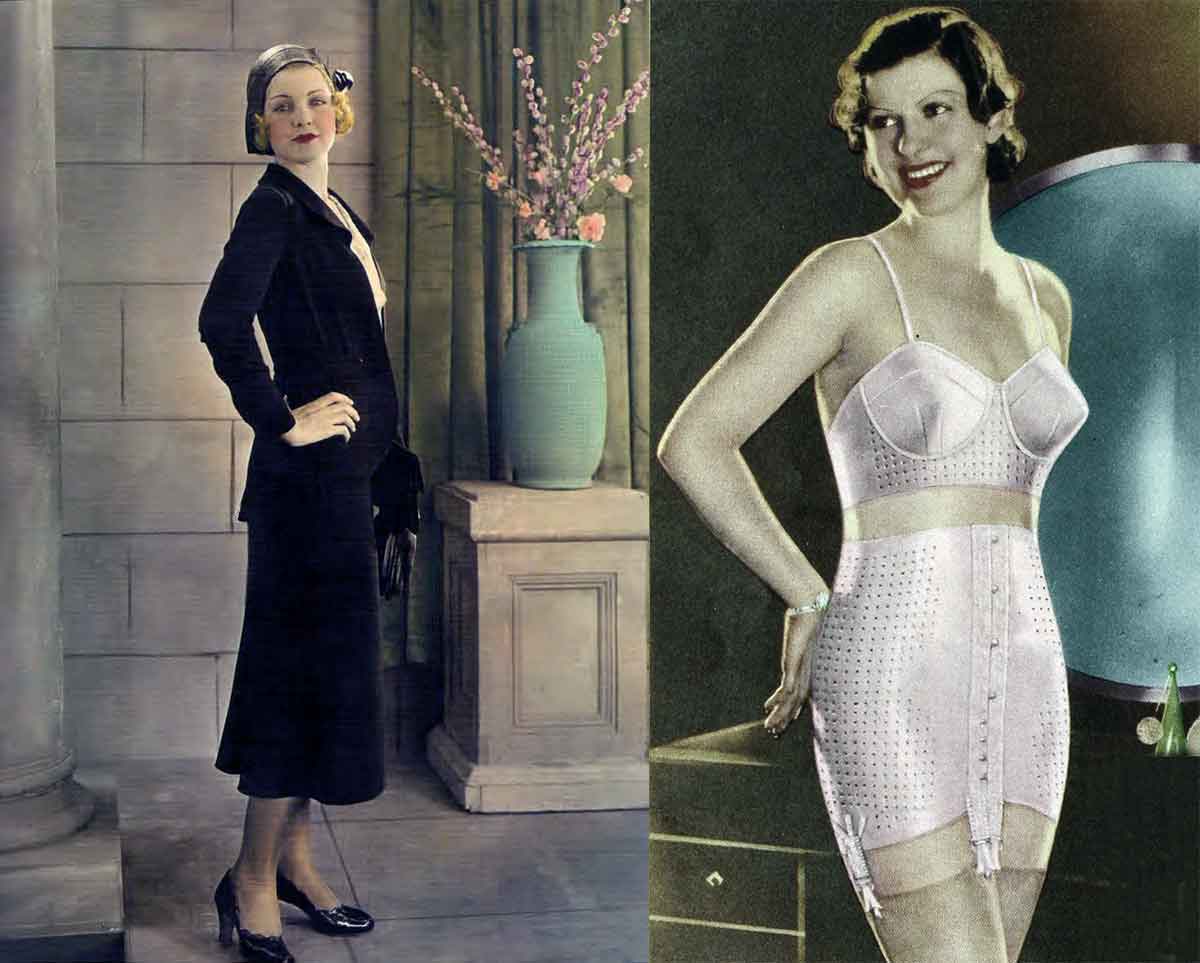 A preview of what you might have been wearing in Fall fashions of 1931. The silhouette was slender, the skirt hems had lowered. The control girdle was a must for foundation wear.
Hollywood Actresses model Fall Fashions
When it's summer for you, it's already Fall for the designers. Width has gone to the top of clothing. The idea being to look broad-shouldered and slim-waist. Evening dresses are still long enough to make you feel as glamorous as Garbo.
Left: Loretta Young picks this as her first costume for Fall. Paris calls this type of thing the "Cinema" suit. So called because it goes many places without ever feeling out of place. It uses that very smart fabric, satin. I find it charming. Its sleek black jacket reveals a low-backed, sleeveless frock underneath. The silhouette is new – even to the straightness of the skirt, which flares slightly at the hem.
Middle: You must choose the right foundation wear. Here we see the Miss Simplicity model by Gossard Lingerie of Royal Batiste and fine lace. It's very slenderizing. Your bulgy hips have no Chance against this marvelous elastic. Your bust is lifted, your waist is slenderized and your abdomen is smoothed. We recommend this foundation garment to make your Fall clothes look as if they were designed for you.
Right: Sylvia Sidney wears this suit for travel this Fall and winter. Brown and white sharkskin woolen is trimly tailored. The arrangement of the plaid scarf is unique.
Constance Bennett wears a dream of an eggshell taffeta evening frock that will make hearts flutter. Taffeta is always smart for young folks. It has that party look. She is molded by tucking through the hips, but it has a lovely wide flounce below. The bead trimming follows the deep U at the back.
Connie's other frock is a perfect velvet evening affair. It is black transparent velvet unadorned with just the right length.
Brown is the grand Fall color in clothes, accessories – and in lingerie as shown here. The coat of this pajama ensemble is brown satin. The pajamas are peach color. Nice combination. That contrasting color with the trick monogram is smart. Worn by Madge Evans.
And finally a sports suit from Madame Coco Chanel. A beige wool model for Barbara Weeks. Rather a short skirt, but the famous french designer likes em that way for sports. The jacket buttons over a white silk sweater. The collar and cuffs are pique.
That's all !
©Glamourdaze.com 2018
Originally seen in September 1931 Photoplay.