Leila Hyams shows us her daily outfits – Feb 1932
The Afternoon Suit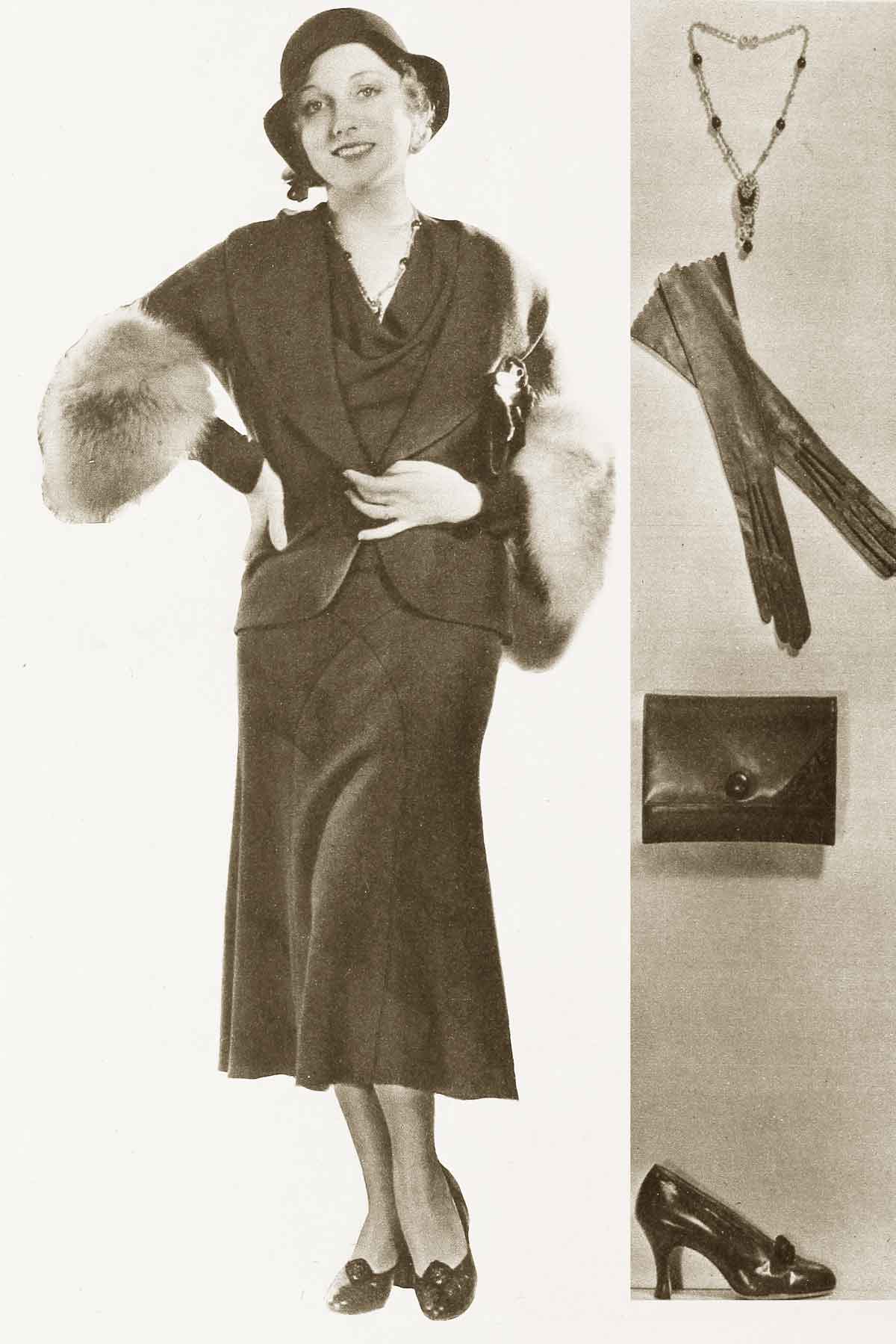 A pretty blonde – out for the afternoon in the correct clothes!
"There's nothing nicer than a dressy 1930s suit," says Leila Hyams. Hers has wide fox fur elbow-cuffs, and she wears with it a drooping- brimmed hat. Very fetching.
Note the accessories Leila has chosen to compliment her suit. They include aa gold and jeweled necklace of the 'antique' type, brown gloves, brown ourse and matching brown pumps with a cute ornamental buckle. Leila knows that, with those splashy fox fur cuffs, her accessories should be as simple as possible.
The Outdoor Sports Suit

What girl wouldn't go in for the big outdoors in a whole-souled way if she looked as smart as Leila Hyams? Here's a hint; get yourself one of those suede leather jackets, a jersey skirt, low-heeled, laced oxfords, white pigskin perforated gloves and the battle is more than half won! nd don't forget the gay little beret ! Ensemble complete !
The Sunday Supper Suit

The velvet suit with its brocaded and fur edged blouse, and circular ankle-length skirt worn by Leila Hyams, left, calls for smart accessories. See the gold necklace and the wrist-length suede gloves. Leila's envelope purse is black velvet with a crystal ornament, discreet and dainty. Black suede slippers of the simplest and smartest cut are correct with the elaborate "Sunday night supper" ensemble.
The Evening Ensemble Suit

Leila wears a a black velvet, train-finished gown with a beaded over-blouse carried out in white beads that graduate to black beads on the flaring peplum. Her wrap has a luxurious ermine collar bordered with black fox.
Accessories are important, long black gloves and bag which carries on the white to black theme of the beads. To finish, a quaint crystal necklace and matching earrings.
That's all !
©Glamourdaze 2016
Screenland – Feb 1932