Belle Époque Paris of 1900. Lumiere brothers film brought back to spellbinding life using AI deep learning.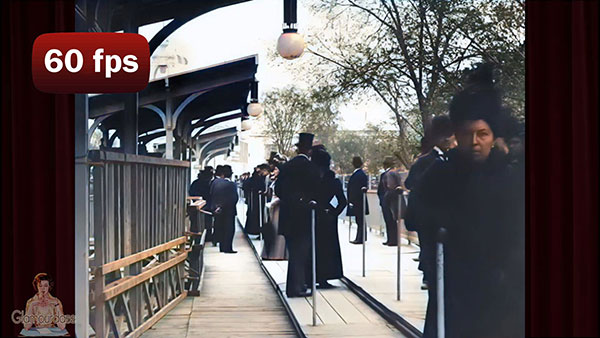 The Exposition Universelle 1900 was held from May to November in Paris and the optimism of a new century can be seen in all the faces of these people, now long departed.
Belle Époque Parisiens of 1900
This short film, in the dawn of motion pictures, was filmed by the Lumiere brothers on May 24th 1900. At the peak of the 'beautiful era' or Les Belle Époque, we see Parisians using the famous rolling walkway, or Trottoir roulant.
The likes of Oscar Wilde, Debussy and Toulouse-Lautrec were all alive and mingling among their fellow Parisians. Sarah Bernhard, Colette, the list goes on.

Running along the edge of the Exposition, from the Esplanade of Les Invalides to the Champ de Mars, it passed through several stations along the way, where passengers could hop on or off.
It consisted of two mobile sections. The first you boarded ran at 4km per hour, and the second faster platform traveled at 8.5 kmph.

Original Title: Catalogue Lumiere
Vue prise d'une plate-forme mobile,I,II,III, and IV.
No.1155, 1156, 1157, and 1158
Title/ Subject: View taken from a mobile platform
Film Date: May 24 1900
That's all ! © GlamourDaze