1950s fall makeup looks of Kim Novak, Debbie Reynolds and Sandra Dee. The Fresh Look, the romantic look and the kookie look. The 1950's makeup look straight from Hollywood.
"Every woman can be beautiful". That's what Richard Smith, 20th Century Fox make-up artist says."If she has patience with her makeup and learns to stress her best feature."
"The stars learn early not to hurry up the business of makeup. They take their time, don't just slap on makeup and lipstick and go out and face the world; they make an art of applying cosmetics. The cardinal rule is to apply makeup thinly. Nothing detracts more from a woman's beauty than makeup which is obvious!"
1950's Fall Makeup – Kim Novak
Kim Novak chooses the Romantic look for this coming Fall makeup look. For this look, use a charcoal gray pencil to sketch in brows. Line your lids with deep blue or violet liner and try a shadow in a misty lilac shade. Blend it up and out from your lashes. Use blue mascara on your upper lashes, then tip them and your lower lashes with misty violet shade.
Kim always wears a secret smile – and every man wants to know just what is amusing her. With a lipstick brush you can duplicate this same provocative effect. Smiling slightly, outline your upper lip in a rosy pink, exaggerating the smile corners. Fill in with a light pink or mauve.
Kim likes to frame her face with her hair. Brush and brush again to get that cloudy look.
1950's Fall Makeup – Debbie Reynolds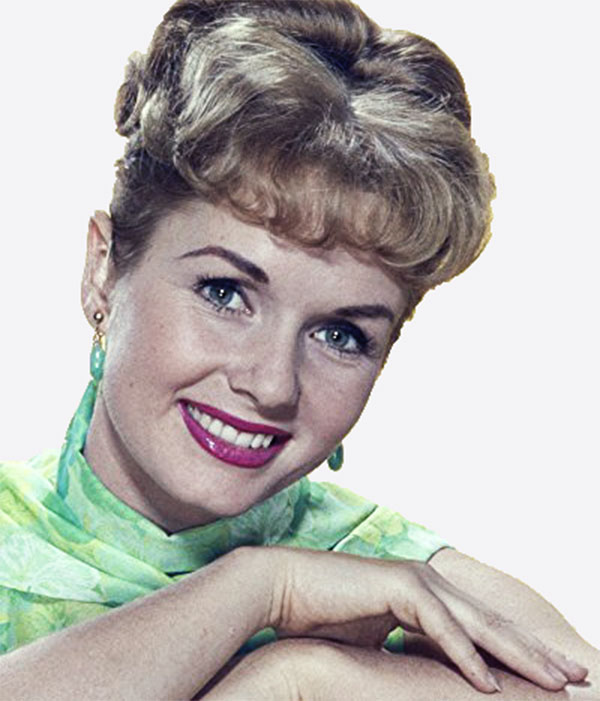 Debbie Reynolds has lovely deep-set eyes and she plays up their flower look. She uses a warm brown eyebrow pencil and the same shade to line her upper lid, which she extends with a little tilt. Debbie sometimes uses two shades of green eye shadow at once – light spring green blended to emerald.
Debbie says a smiling girl makes you more aware of your mouth. Using a brush, she outlines mouth in flag red, fills it in with either the same shade or a vivacious pink, and then blots it with powder. After a minute she blots again, reapplies lipstick.
Debbie's hair is brown. Sparkling clean, its highlights brushed daily, her simple, curly style is set off with a gay frill of bangs.
1950's Fall Makeup – Sandra Dee
Sandra Dee has round, dark eyes ( called the 'blotter look') and a very dark brown eyebrow pencil furthers the effect. She completely outlines her eyes with dark blue – the line narrow at the inside corner, wider at the outside corner. She uses a stormy blue shadow and black mascara.
Sandra likes her mouth rimmed in a bright color. For instance, she outlines her mouth with brilliant orange, then fills in with a lighter shade such as orange ice, or dark red with light pink. For a glossy look, she adds a dab of Vaseline.
Sandra's soft tousled hair is just perfect for her and for your own busy life. The secret to its always looking perfect is that Sandra doesn't part her hair, "and the wind combs it," says Sandra, "helps give it that tousled look."
That's all !
©Glamour Daze