Plaids, Checks and Stripes for students –
1940's fashion report – Marjorie Ripples
The styles, the fabrics that are going places this seasons Sears catalog. Concentrating on young women for spring-wear, we see plenty of plaids, checks and stripes. Tried and true cottons you can easily wash and care for in these times of war and thrift. Unlined jackets – so feminine and pretty. Everything that makes an easy and flattering fit to the young woman's figure.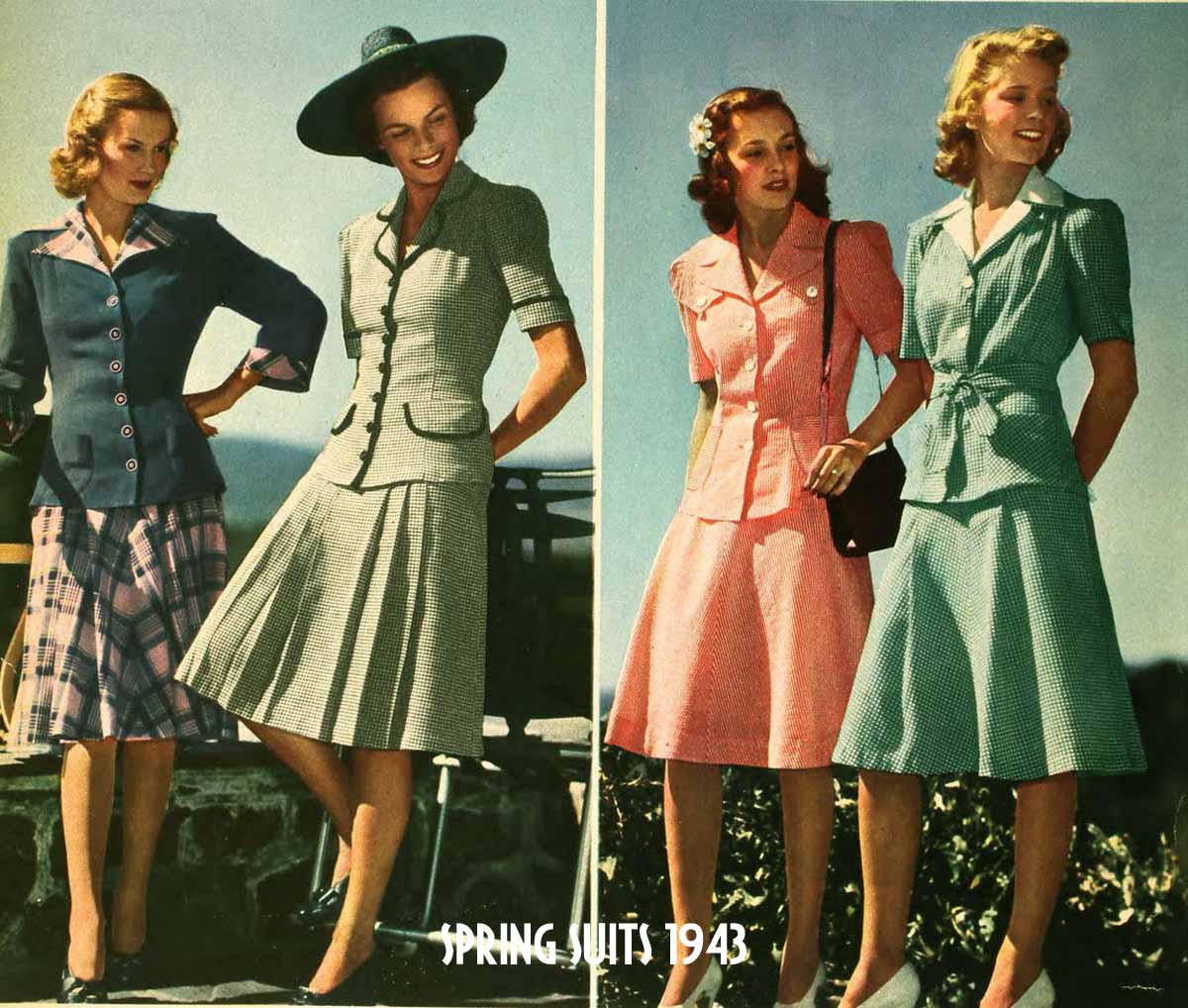 Spring Suit One: The bias skirt with front pleats, collar and cuffs is made with woven plaid gingham. A spun rayon jacket to harmonize, ( wash separately). Colors: navy with navy and pink.
Spring Suit Two: Shepherd Checks are big news this Spring. You'll like the way they're used in this woven cotton suiting outfit with effective black binding and buttons. Pocket flaps give appearance of pockets.
Color: black and white.
Spring Suit Three: the Pilot Suit in your favorite printed cotton crinkle crepe. Note flattering "pilot" shoulder straps, patch pockets, comfortable flared skirt. Needs no ironing. Colors: red and white or copen blue and white.
Spring Suit Four: Window-Pane Check in printed cotton crinkle crepe with detachable white pique dickery and the set-in belt which allows you to adjust it to your liking at the waistline. Patch pockets. Kick pleat front. Colors: emerald green-and-white or copen blue-and-white.
That's all !
©Glamourdaze
Read the fully illustrated concise but detailed history of 1940's fashion. The trends, dresses, shoes,  silhouette changes, lingerie, hairstyles and makeup. How WW2 influenced women's styles, and the war on fashion itself, between Paris and Hollywood.