A preview of Hollywood Spring styles –
1930s fashion report by Rosalind Shaffer
With the overwhelming changes in fashions that have taken place during the past year, women have been jarred out of all the pleasant paths of fashion in which they have been accustomed to walk. On all sides is the wail, " The new fashions are pretty, yes – but what can a woman of my type wear anymore?"
The answer is clear – go to the movies girls and take the advice of a top Hollywood designer.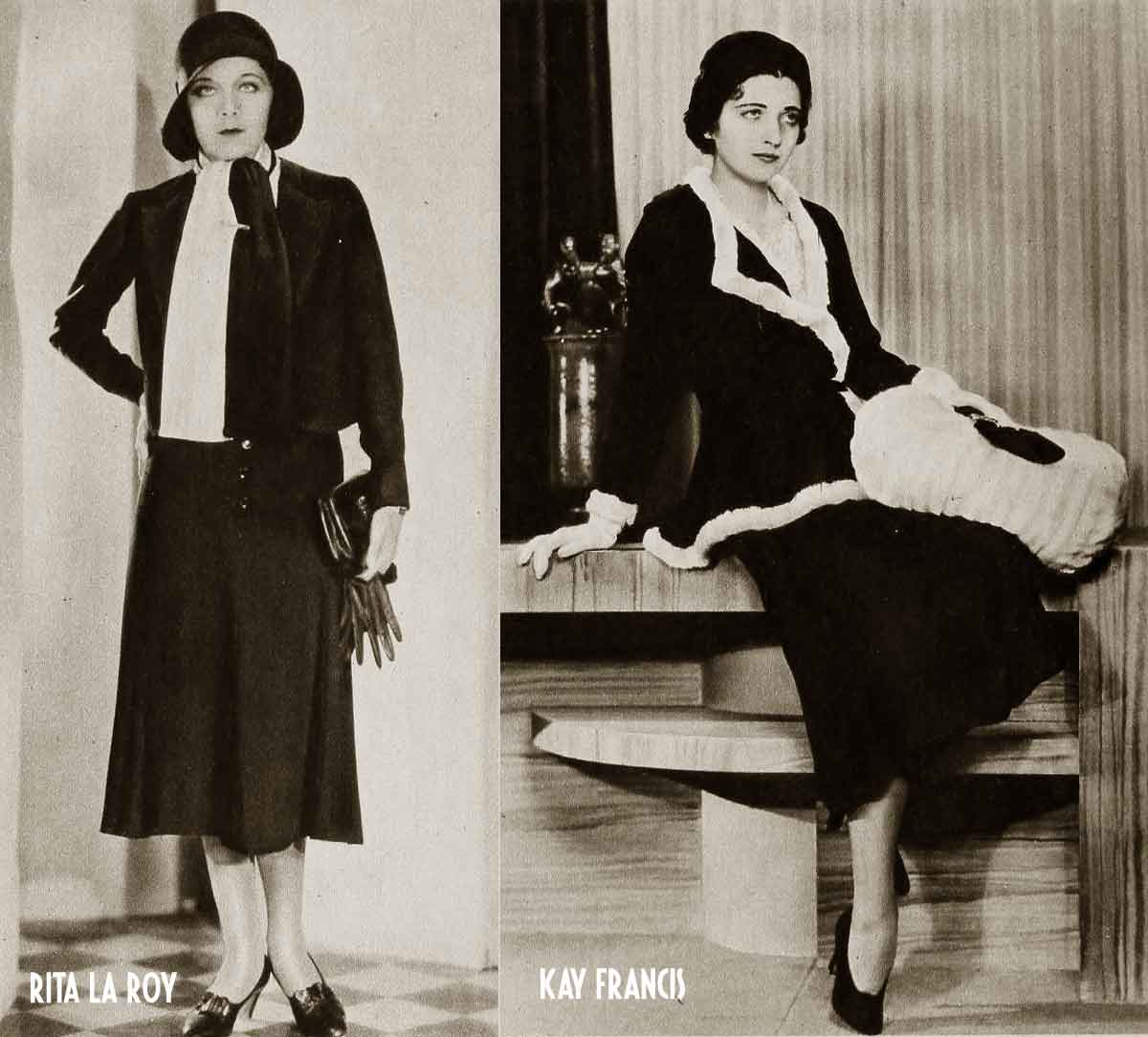 To the left, this suit, worn by Rita La Roy, is the correct and fashionable thing for Spring. Notice that the accessories add that touch of elegance. To the right, Kay Francis wears a more formal black and white ensemble. This Spring, black velvet, edged with ermine, is one of the luxuries of the new mode.
"If you are petite," says Max Ree, "don't be afraid to wear suits and collars with masculine lines, it will make you appear even more becoming. On the other hand, if you are broadly built, tall and wide shouldered, don't be afraid of wearing soft flowing lines, such a sloose cardigans, now that Spring is here, or a bias cut frock for those April afternoons."
Bebe Daniels wears a hostess gown designed in flattering lines. The skirt is hitched up in front, emphasised by three wide flounces. This suits petite and comely girls, not the tall angular type.
To the right, the tall, slender type, such as Kay Francis, can wear this peach silk chiffon gown with its voluminous folds falling in cape-like sleeves, terminating in a train. Only the tall slender type can get away with a train.
Outstanding features of the new mode are the Bolero, the puff sleeve, the long bouffant skirt, the Princess line, and the Empire style with its high waistline. There are both dangers and advantages in each of these new features of the new mode.
"The short girl should think of the bolero as the head of the tassel, and of her skirt length as the fringe. The effect is out of proportion. So, the short girl should avoid boleros, unless she wants to look like a shaving brush! The bolero, then is for the tall but slender woman!"
Sharon Lynn is so slender that her costumes must be adapted to give her those fashionable curves. Sophie Wachner designed this gown to the left, which has a fitted bodice, with jewel ornaments and a very bouffant skirt with horizontal banding to give her wide lines. To the right, Mary Brian goes for simplicity in a Grecian line gown.
A correct, practical and becoming street dress for the tall slender girl worn to the left by Marguerite Churchill. The full upper arm of the sleeves gives a good shoulder line and the bolero waist gives width to the figure. To the right, Loretta Young wears a formal tea gown. The shirring which extends from the waistline to the knees, is an unusual feature.
Finally,to the left, a gown for the young and vivacious Sue Carol. It is of flowered taffeta, made with a bolero jacket effect, and accented by a perky bow at the waistline. If you have a really beautiful, clothes-proof figure, study this flattering gown to the right, worn by Claudette Colbert. It has an old-fashioned, tight fitting Basque bodice and a long circular skirt banded luxuriously in fur.
That's all !
©Glamourdaze 2016
New Movie Magazine 1931