14 Step Guide to a 1970s Disco Makeup Look 1978 –
Shape the eyebrows
Brush the brows
Moisturize the face
Conceal under eye circles
Camouflage nasty expression lines
Contour the face
Highlight the cheekbones
Dab on foundation
Gold Eye-shadow – light inside corners and dark outer corner
Smudge on eye pencil
Mascara each lash, upper and lower
Define the lips
Fill the lips with color
Finish lips with gloss
It's easy to get your own 1970s disco makeup look with this 1970s makeup tutorial, but before you start, you need to study your face to decide which features to de-emphasize and which to enhance. Should you be playing up your cheekbones or lips; reshaping a round face, square jaw?
1. Shape brows – tweezing from underside only. Don't over tweeze – the current vogue for eyebrows is full !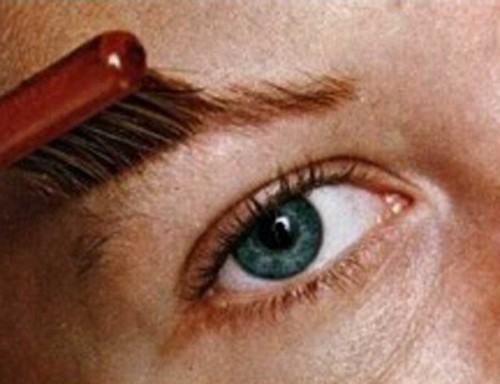 2.Brush brows – upward line, at inner corners – an easy way to "open" eyes and "life" a face.
3. Moisturize – before you apply makeup, to protest your skin, help makeup glide on.
4. Cover under eye circles – and shadows with cover stick, or light powder applied with a brush.
5.Camouflage expression lines – from nose to mouth with pencil: blend on lightly.
6. Contour – before, not "after" applying foundation. Here, nose is "thinned" with darker shadows.
7.Accent cheekbones, slim jawline – with contouring powder: blend to avoid demarcation lines.
8. Dot foundation : Chin, forehead, cheeks, then lightly blend in upward-outward strokes.
9.Color lids: lighter shade on inside corners, darker in outer corners, for new "rounded" look. The big vogue in night shadows is glossy gold blended with golden browns this season.
10. Pencil on color – at lower lid, from outer corner to halfway across lid: smudge for soft effect.
11.Brush on mascara – precisely, coloring each lash individually. Don't forget lower lashes, corners.
12.Outline lips – with pencil to define their shape, correct any unevenness, and to make lips look fuller.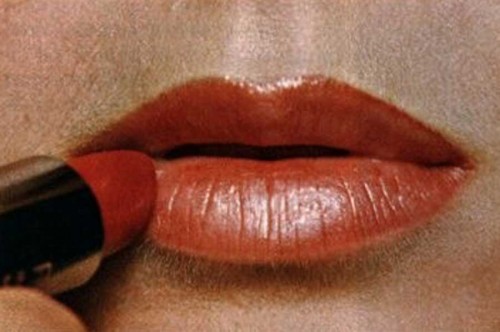 13.Color in the lips – bringing out their fullness – an important makeup-fashion point this season.
14. Gloss lips, over lipstick as shown or alone, with clear or color gloss for that luscious gleam.
Get on your dancing shoes and flaunt your new found glamour !
That's all !
©Glamourdaze 2015
Originally published in 1978
Photos by Neal Barr
Hair and Makeup – Arthur Scott
Free Yardley Makeup Guide from the 1970s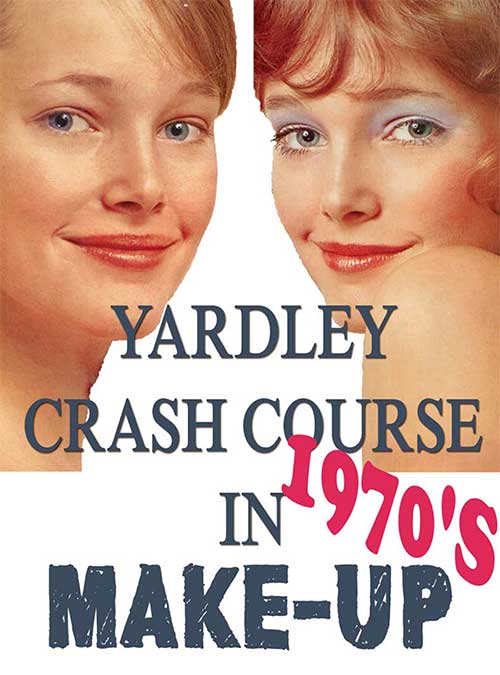 Iconic 1970s Makeup Looks.