The aftershock of Marlene's infamous Tuxedo premiere in 1932
1930s Fashion Report for Glamourdaze.com
Marlene Dietrich certainly started something when she appeared at the opening of  The Sign of the Cross, wearing a masculine tuxedo, wing collar, soft felt hat, mannish topcoat, and a pair of mannish patent leather shoes!
If this controversy over trousers for ladies doesn't subside, President Roosevelt may have to declare another holiday – a tailoring holiday!
It already has reached Congress, and that august body has to pass on whether or not the new styles violate the law forbidding women to "masquerade as men".
The Marlene Dietrich "Trousers Craze" – Women don the pants in 1932.
The Congress declared that women wearing trousers were not trying to deceive anybody as to their sex, and certainly Miss Dietrich deceived no one, nor was she attempting to.
Marlene started it all – and plenty of girls are following suit. Mozelle Brittone "suits herself!" Barbara Weeks and Diane Sinclair like em! Fay Wray finds them "chic".
Others however are not to be swayed –
Constance Bennett " Trousers? – Never!" calling them "atrocities", but her sister Joan wears them.
Lilyan Tashman says most men despise women in trousers. Kay Francis says " Let the others go mannish – I'm staying with feminine!"
Adrienne Ames says, " I am not ashamed of being a woman. I intend to keep on looking like one. Trousers on women are quite hideous. You will never – I repeat – never see a woman wearing trousers on Park Avenue!"
Carole Lombard is not a fan either. " I have never seen a single woman who looked well in trousers," says Carole coldly, allowing her eyes to rest momentarily on Marlene at the next table in the Coconut Grove, in a gray flannel lounge suit, beret, mens oxfors and turtle neck sweater." I adore mens tailoring – but trousers? No!"
But does Carole Lombard know that the suit Marlene is wearing is by none other than Coco Chanel ?
"What a fuss over nothing," says Marlene Dietrich, who has been wearing trousers for years, but was rarely photographed in them until that night earlier this year on the evening of January 12th, a new era in feminine fashions was officially inaugurated when, accompanied by a blushing and slightly embarrassed Maurice Chevalier, La Dietrich wore her tuxedo to that premiere. Before radio announcers and google-eyed spectators stuttering with amazement.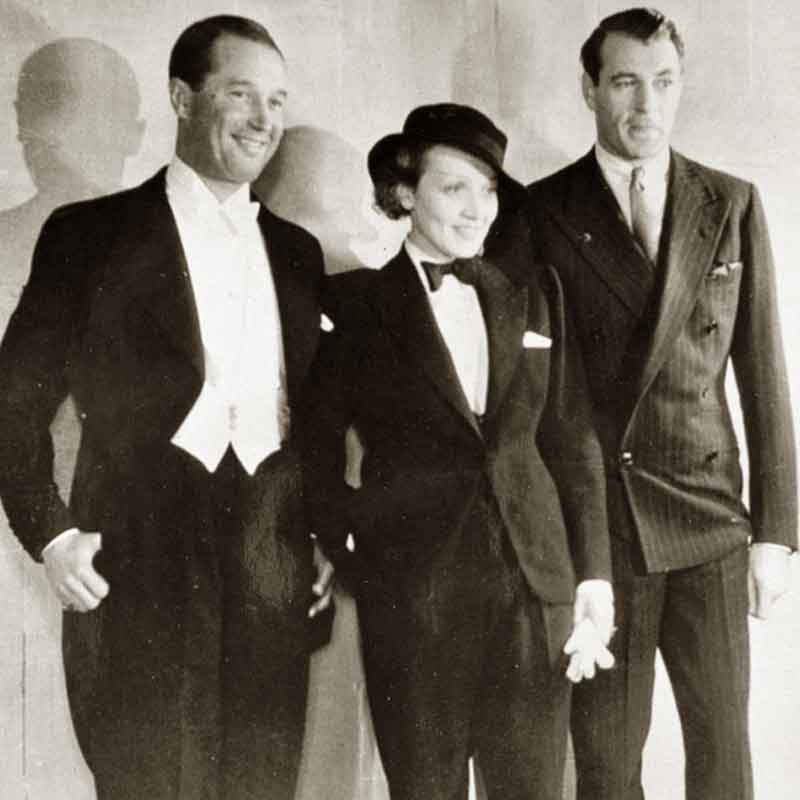 Marlene coolly and challengingly wore the tux, with her hat cocked at a jaunty angle – and posed obligingly for the newspaper photographers.
The following day – every newspaper in America carried a picture of Marlene in trousers. Telegraph wires clicked, cables carried the news to far countries. Paris raised their eyebrows only to sigh – their women have been wearing trousers for some time. Paramount seized the occasion to push the greatest publicity campaign ever given to a star.
" I wear them to be comfortable," says Marlene," not sensational!"

Avid fans of Marlene might remember her 1929 Berlin film Ship of Lost Men, where she was almost exclusively in male attire. In Hollywood she has attended many parties wearing slacks and is certainly considered – along with Greta Garbo to be somewhat of a pioneer. But it took that premiere to spread the word beyond Hollywood and what a stir it has caused.
Word got out that Marlene had in fact ten trouser suits; she was photographed in several of them.
Department stores blossomed out in pantaloons for every size, from junior miss to stylish stout. Advertisements blared the new "Marlene Mannish Styles."
And what of Garbo? For many years she has worn them. Attendants at the Filmarte Theatre often saw Garbo strolling in, wearing white flannel trousers and a mannish coat. Partygoers were accustomed to the sight of a Greta in slacks or trousers. But no one, not least MGM, ever thought of making publicity out of it. And so – Garbo, the real pioneer, many would say, is eclipsed by Marlene.
Is it possible that this is because Miss Dietrich actually looks 'more feminine' in male garb than Garbo?