Edwardian Makeup – 1900's and 1910's
Explore the evolving vintage makeup styles and cosmetics of women in the 1900's and 1910's. The Edwardian and Titanic era. During and after World War One.
Introduction
By the beginning of the 1900's Makeup Era, women sought after a 'pale look'. Lemon juice either consumed or applied as a face tonic was a popular method of achieving this feminine complexion. Society hostesses sought to hold on to their youth. To cater for this demand or perhaps to encourage it – exclusive beauty salons sprouted up in major cities.
Theda Bara – The 1910's Eye look Anna Pavlova in 1915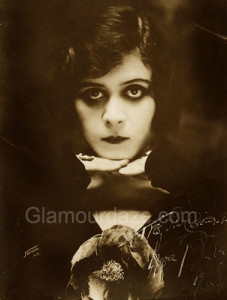 Edwardian Women and Cosmetics.
To have a tan, was to suggest that a lady was of a lower class, who worked the land. Women of the 'better class' remained indoors or in the shade for most of their day.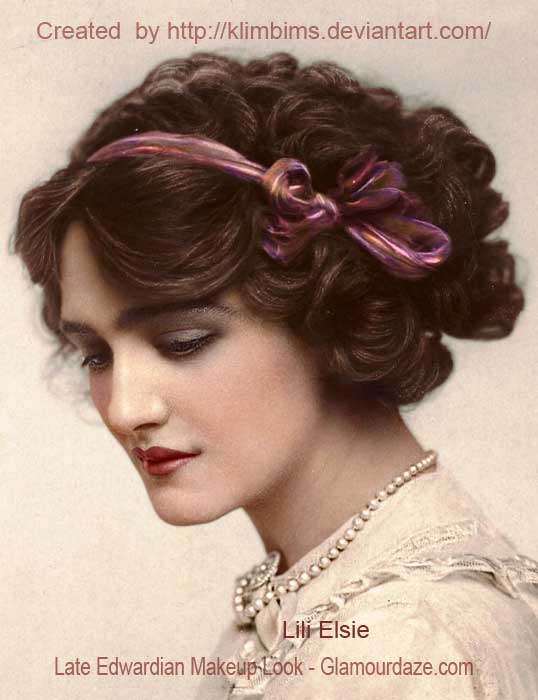 Edwardian women loved facials and spent many hours massaging and applying creams to their face to keep their skin soft and supple. Cosmetics, by the turn of the century, consisted of little pots of rouge for cheeks, eyes and lips along with blotting papers.
1900's makeup – 1900 to 1919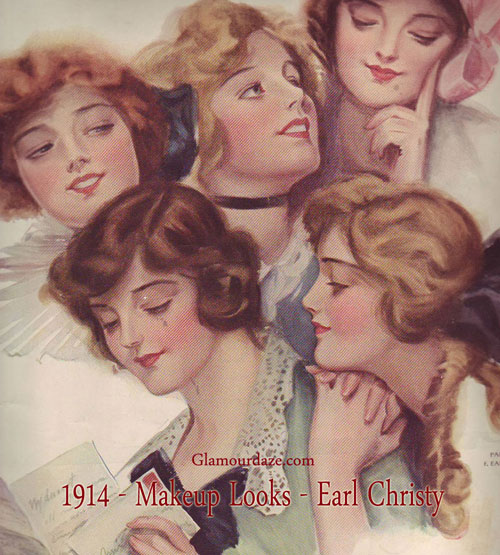 1914 Looks – Earl Christy
The more daring women would mix up dyes from cosmetic preparations created at their chosen pharmacy. Edwardian Makeup was very much a DIY affair, and the objective was to create an effect of youthful beauty without anyone knowing you were wearing makeup.
Download original makeup and beauty guides from the golden eras.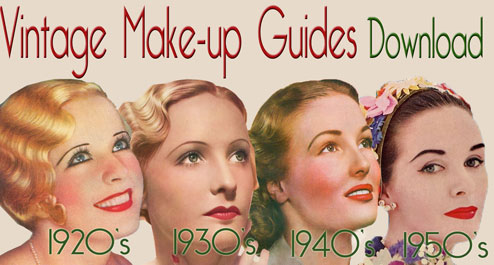 Gallery – 1900's Makeup Looks
To be seen as actually 'wearing' makeup was only reserved to women of the stage, or the street! Searching for cosmetics was quite a furtive affair, with concealed backdoor entrances provided for an elite clientele.
Selfridge's and the Birth of the Cosmetics Counter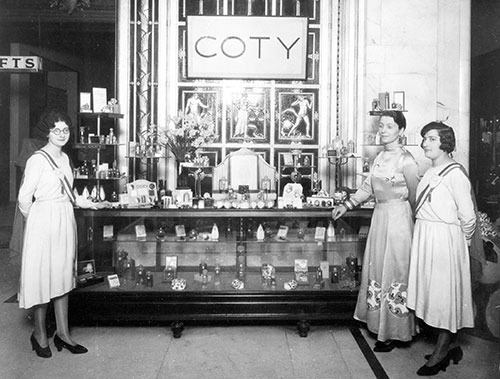 Gordon Selfridge in Oxford Street, London, launched his 'cosmetics counters' in 1909. Women, consequently could openly experiment with cosmetics before having to buy them. This simple marketing ploy became a worldwide phenomenon and the age of cosmetics was born.
Edwardian Style Makeup from Besame Cosmetics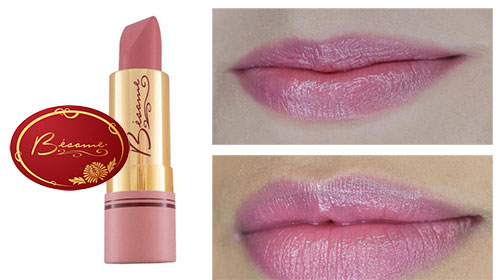 We love this Edwardian lipstick from Besame Cosmetics. NB. It comes in a conventional lipstick, but lip rouge came mostly in pots until the late 1910's.
Gallery – Early Photos of Women Applying Makeup
Famous 1900's Makeup brands
There were many notable perfumers such as Houbigant (1775) Rimmel (1834), Bourjois (1863), Shiseido ( 1872), Ponds (1872), Richard Hudnut (1888).
They dealt mostly in skincare and female fragrances. It was the early 20th century that saw some real innovators in makeup and beauty emerge. Such as Helena Rubinstein (1903), Papier Poudre ( 1903), Coty (1904), Princess Pat (1907), Harriet Hubbard (1907), Max Factor (1909), L'Oréal (1909),and Elizabeth Arden (1910).
The First World War and the advent of Hollywood movies saw names such as Lady Esther, Inc (1913), Cutex Nail Polish (1914), Maybelline (1915) , Dorothy Gray (1916), and Marie Earle (1918). All these notable names helped change the way women thought about themselves.
The Key Makeup Looks of the Edwardian
The term makeup still only belonged to the domain of stage actresses. A woman could not be seen to be wearing anything other than her natural face! That being said, the main component in any Edwardian ladies bag was rouge, which came in pots of varying sizes.This rouge could be applied to cheeks, forehead and just a stain on the lips as opposed to 'lip shaping'.
Excellent recreation of the Edwardian Gibson Girl look by stylist Allison Lowery. Visit her Gallery for more vintage era recreations.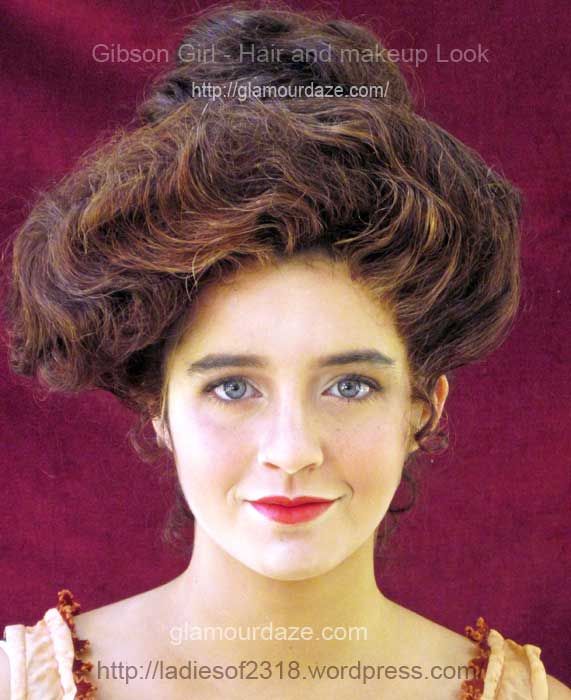 Gibson-Girl Hair and Makeup
The foundation look was very much 'non tan' and a woman who had color was considered to be of a questionable class.
Foundation – Moisturize, powder, rouge and then powder again.
Powder – a popular choice for the woman on the go – was 'papier poudre' which resembled roll up cigarette paper.
Eyes – post of grey,brown and lemon colored paste applied very slightly on the lids.
Lips – a light stain to create a 'bitten lip' effect as apposed to 'painted'.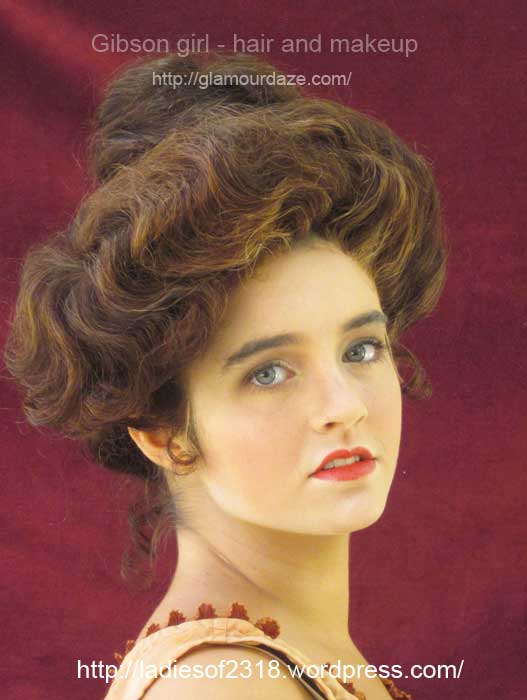 Early 20th Century Makeup Innovators
The first real innovations in the development of modern beauty cosmetics for women emerged in the 1910's, during and after the First World War. Max Factor, who had opened his salon in LA in 1909, was already making a name for himself with his work in the young Hollywood studio system. He helped create the screen siren looks of among others – Theda Bara, with her heavily kohl-ed eyes in the first screen version of Cleopatra in 1917.
Gallery – Cosmetic Patents 1900 to 1919
Hollywood's influence on Makeup
The impact that Hollywood had on women was considerable. The early flappers of post war Europe began to use more eye makeup when out partying. The Ballet Russes phenomenon in London in 1911 also inspired both Helena Rubinstein and Elizabeth Arden to develop eye makeup. Both of these women's influence on the silent screen is notable.
The early chromatic film required more defined eyes and lips. It was only natural for women to emphasize these in order to stand out.
The 1910's also saw the introduction of the first 'cake' mascara from Maybelline.
The brand name was inspired by the sister of founder Tom Lyle Williams. He had frequently watched Maybel concoct her own eye and lash makeup from Vaseline and ash. The final perfected brand he launched in 1917 was a cake mascara or Mascaro as it was known then, made from a type of soap – sodium stearate.
Gallery – Makeup Adverts from 1900 to 1919
In 1914 – Max Factor introduced pancake makeup along with the first commercial eye shadows made from henna extracts. The Hollywood vamp look helped sell these new products and it is no coincidence that most early makeup advertising appeared in movie magazines like Photoplay.
Who invented the Lipstick
The metal Lipstick tube was allegedly invented in 1915 by Maurice Levy. We are searching for definitive patent proof on this still. A clever push up stick of lip color inside a metal bullet-like cartridge tube. Cosmetics and Skin traced this claim to a 1957 article – but there are no patents or ads in existence to prove this assertion.
Maurice Levy claim on Lipstick Invention
Collecting Vintage Compacts suggests that the true inventor may have been a William Kendell – who designed metal cases for the French cosmetics brand Mary Garden by Rigaud. I tend now to agree that the metal lipstick tube probably originated in France and that the Levy claim is shaky at best. He was not an inventor but an investor whose only apparent brand during the 1910's was Hygienol – a powder puff – launched in 1916 – and not a metal case in sight!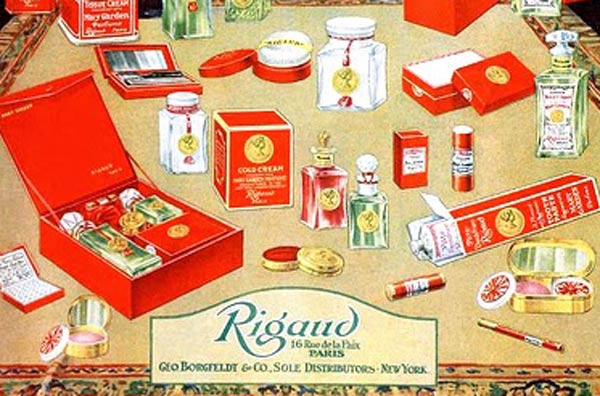 On the other hand there are numerous Mary Garden ads showing various metal cases for rouge etc and this one from 1917 that certainly looks like a lipstick tube. The mystery remains !
Up to the First World War, lip colors came in little tubs or sticks wrapped in paper and were made from various shades of carmine, a red colorant taken from cochineal beetles. Soon all the cosmetic names like Max Factor, Helena Rubinstein, Elizabeth Arden and Coty began to produce their own ' lipsticks' incorporating their own secret recipes and colors. It wasn't until the 1920's that the real commercial success of these 'handy' cosmetics for began to take off across the world.
© – Stevie McGlinchey – Glamourdaze.com
Further Reading:
Short History of 20th Century Makeup
A History of 1920's Makeup.
History of 1930's Makeup.
A History of 1940's Makeup.
History of 1950's Makeup.
---
A Concise Illustrated History of Fashion – 1900 – 1919
Concise Illustrated History of Fashion – 1920 – 1929
A Concise Illustrated History of Fashion – 1940 – 1949
—————————————————————————————————————————————–
Fashion Era
Vintage Makeup Guides.com
Wikipedia – Cosmetics
Museum of London
Cosmetics and Skin
Patent Images – via Google Patents
Plus – the excellent – Collecting Vintage Compacts
2 patents by J Komorous – 1231383 and 1158935