AI enhanced film of the last poignant two days of John F Kennedy's life with First Lady Jacqueline Kennedy, filmed in November 1963
A chance to see with added AI clarity the iconic raspberry pink wool bouclé Chanel suit, worn by Jacqueline Kennedy on their arrival in Dallas. The double-breasted suit included a navy trim collar and was matched with a trademark matching pink pillbox hat and white gloves.
Jacqueline Kennedy & John F – AI Enhanced 60 fps
Included with the First Lady and the President is Governor John Connally, and Vice President Lyndon B. Johnson. Also a brief segment as the late President's body is returned to the White House on November 23, 1963.
Ai Upscaling Technique
The restoration process:
Frame interpolation – from 24fps to 60fps, using Dain, a deep learning AI process.
Upscaled from 480p to 4K resolution using Topaz Gigapixel.
New music soundtrack.
Music " Harp Ambience No 4 – by Erick McNerney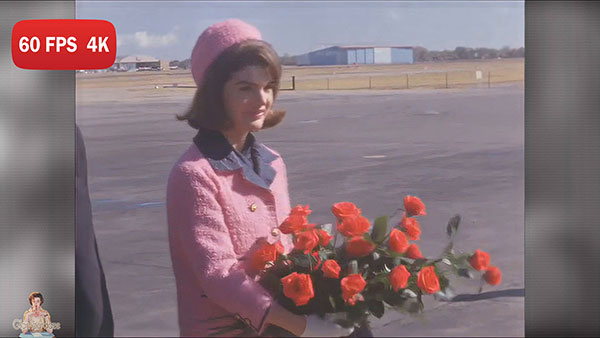 Produced by: Naval Photographic Center, 1211-69.
Photographed by: Thomas M. Atkins, Robert L. Knudsen
This public domain film is available in it's original format from the JFK online library.
That's all ! © Glamourdaze