1960's Style embraces the First Lady's look –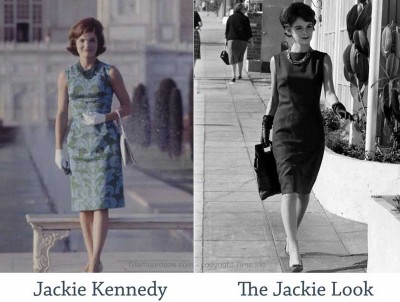 The spectacle of the First lady and her husband has set hearts racing for many reasons, but Jackie Kennedy fashion has set a look and style that is setting the national pace this year!
College girls copy the Jackie style  casually, suburban housewives faithfully. Millinery shops are being fortified with the largest collections of pillboxes in history.
Fashion ads twinkle more mischievously with Jackie's unmistakable wide eyes. her bouffant hairdo is becoming a by-word in beauty salons. All in all, the shy, beautiful Jacqueline Kennedy's  fashion followers are building up quite a bandwagon.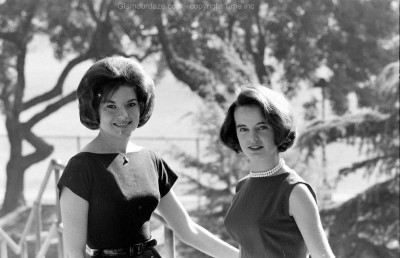 Jackie's smoothly simple look in clothes is achieved by an almost deliberate plainness. It is an elegant and expensive style from pillbox to pumps and can be inexpensively copied !
The Jackie bandwagon began before the Wisconsin primary, as American women began to look admiringly at Mrs Kennedy's sophisticated simplicity. It hit a new high recently when 217 fashion editors were exposed in New York to a flurry of mannequins, ads and style shows.
The First Lady's newly appointed designer, Oleg Cassini announced he would keep up the Jacqueline look in a series of designs throughout the year.
Ironically, the problems of being a fashion leader are the least of Mrs Kennedy's worries. But she wears her clothes with such effortless grace that, despite herself, she is becoming the nation's No.1 fashion influence – a well deserved compliment to a very young and very poised First Lady.
A Quartet of Jackies pose in Oleg Cassini clothing. These girls were all virtually unknown until recently, but now find lots of work through their resemblance to Mrs Kennedy. Posing here in New York from left to right are Jeani Kitchens, Joanna Hilem, Dorothea McCartly and Eugenia McLin.
Oleg Cassini, will style the First Lady, not only with his own creations but with the latest fashions from her 'other' favorite designer Coco Chanel. Known personally for his tight fitting, seductive styles, many fashion experts were a tad surprised by his choice. However, though he is a close friend of the Kennedys, he insists that his selection were down solely to the sketches he submitted to Jackie.
Most strikingly – the First Lady's beautiful press secretary – 23 yr old Pamela Turner – with a marked resemblance to Jackie – is herself a model of chic.( Ed: Miss Turner allegedly previously had an affair with JFK when he was still senator ).
Original article – Life Magazine – January 1961
Images – Time Inc
Images Source – Google Cultural Institute
Related articles across the web