Late 1940s brassieres eliminate straps –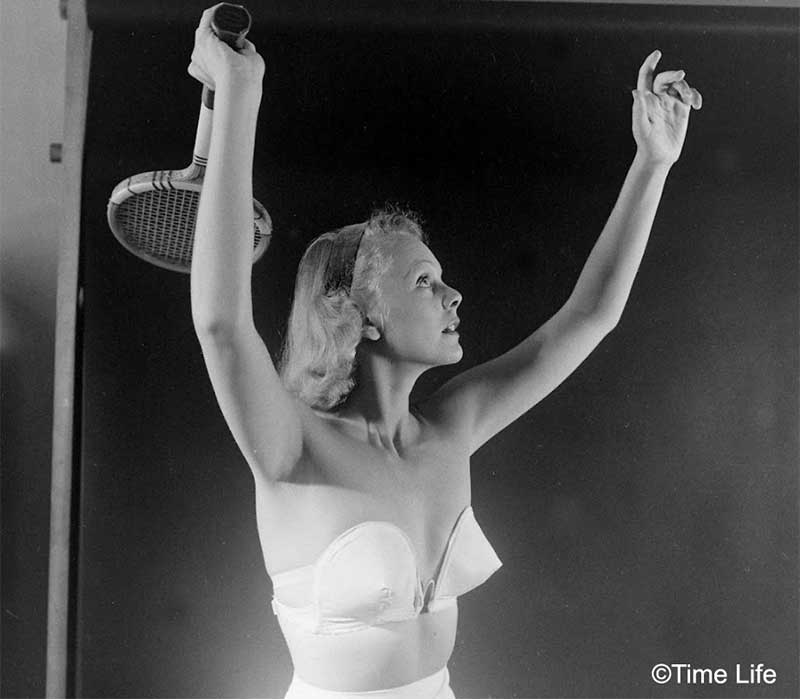 Bare shouldered fashions set a problem for foundation garment makers. This has resulted in the development of the strapless, wired brassiere – an increasingly important article of women's 1940s underwear.
This new and useful brassiere contains a single wire which makes an arch over each breast and a small loop in the center.
Fitting the bra calls for skill and care, because correct placing of tucks is essential for a proper fit. Adjustable bow is added for those women who find it necessary.
On a live model, a designer with Alene Bras, sketches over a strapped bra, an outline for a new strapless bra.
The strapless bra is fitted here to a perfect 34B cup.
In an ordinary bra, weight of the bust is supported by shoulder straps but in the strapless bra it is supported by wire arches. Some wired bras also have shoulder straps for use with dresses that cover the shoulders. In this case the wire goes under the breasts and the center loop turns down to permit plunging necklines. The strapless type is most in demand for the bare shouldered daytime dresses.
With or without straps, the wired bra gives the wearer freedom from shoulder pull.
That's all !
©Glamourdaze 2018
Images Nina Leen ©Time Life
Read the Brief History of the Bra