A day with a 1940's fashion model –
And now let's drop in to the house of England's number one glamour girl Joan Richards. A 1940's fashion model, who turns her charm and ability into a business.
Joan has a long and busy day ahead, splitting her modelling duty between giving shows for the troops.

The telephone rings during breakfast; her agent giving her the days bookings.

After breakfast Joan picks her outfit. Models have to keep a large stock of clothes and they do not get extra coupons ! She spends many an evening mending and dressing.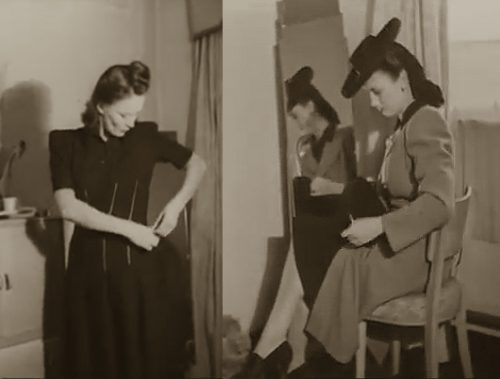 Her ladyship is now almost completely dressed, except of course for a smart hat.

She joins some other girls at the studio of fashion photographer Dermot Connolly.

First scene, Joan changes into an attractive modern 1940s frock and poses with a young man she has never met before. Just a matter of posing and lighting to get it all right. Eventually after achieving the perfect pose, the scene is shot.

On to a dress show, to model a striking pinafore frock.

Another one out of many is a beige wool creation with contrasting sleeves.

Then it's on to modelling some exquisitely pretty hats.

After a long day, it's home at last. It's a relief to shed her clothes and these shoes ! Tired out and no wonder. Joan takes her first relaxation since early morning !
That's all !
Text©Glamourdaze 2016
See the original Pathe Film – Anne Edwards aka Glamour Girl 1944