Some early post war summer styles-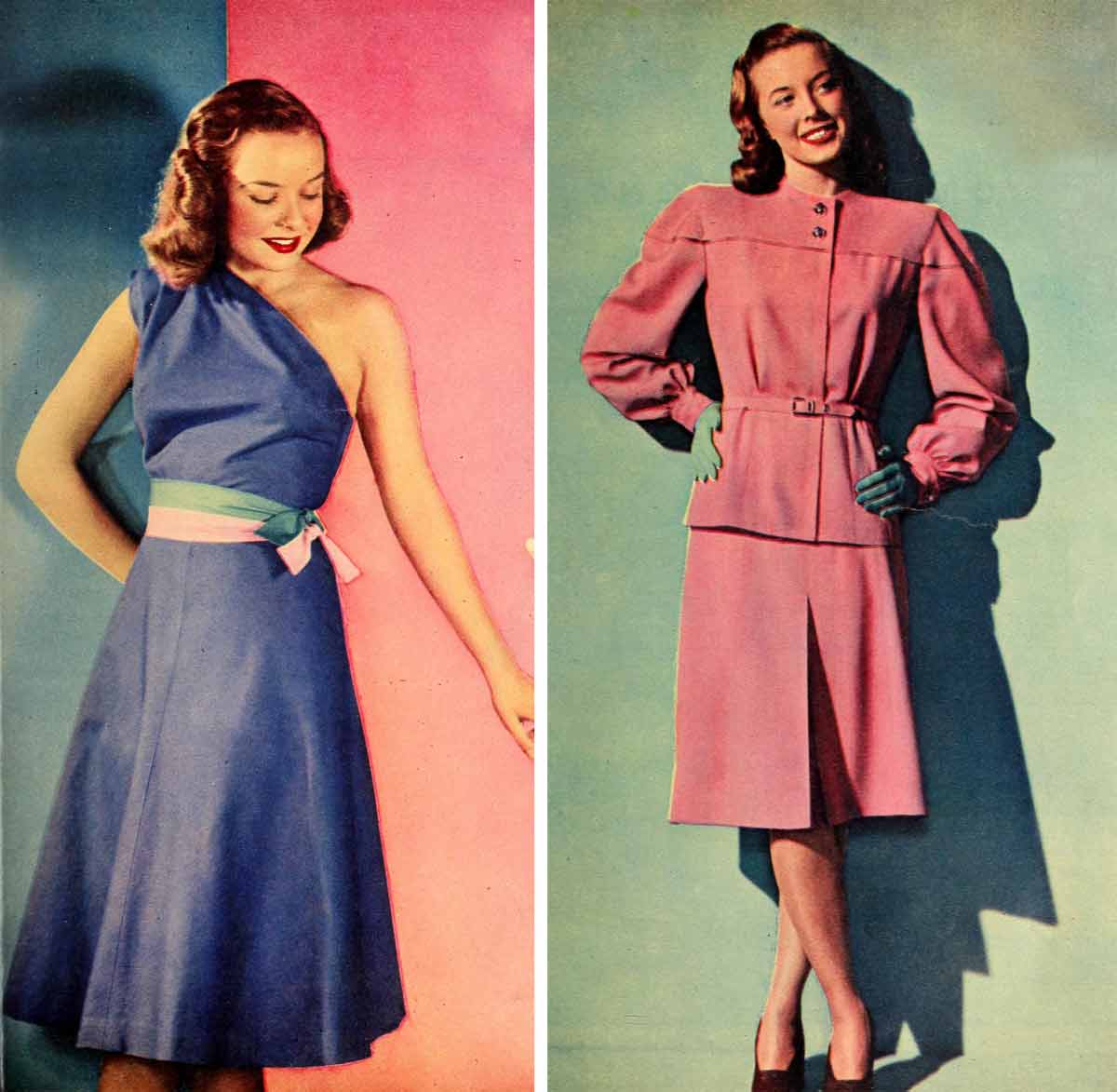 To the left – actress Diana Lynn sports Henry Rosenfield's superbly cut "sun dress" of Shire cotton poplin. It has a tiny separate jacket to cover its one bare shoulder ! To the right – a lustrous melon colored tropical worsted by Junior Deb. Gracefully ballooned sleeves with the new "dropped shoulder" line.
To the left, this rayon garbardine beauty will be the most versatile thing in your wardrobe. With flats and a beanie, wear it to school. With your big black straw hat plus a pair of black shortie gloves – wear to the dance !
The middle dress – is a two piece battle-jacketed honey. Skirt is tailored to a T. It can be worn casual as here or with a white Ascot, hat and gloves.
Frock in the far right is a charmer of a two piecer, with its expensive looking dressmaker touches that are found in dresses twice the price.
All these Gail Gray Junior Classics are made by the Jack Wasserman Company.
Our next three summer frocks are particularly sweet.
To the left, airy dotted swiss makes this enchantingly prim little number, with its white ruffles outlining neck and armholes, and that new dropped waistline look.
To the center: Feminine and fragile is the way you will look in this bare-shouldered plaid cotton. It is as fitted as can be, and the skirt is very full. Shoestring bows which you tie yourself. Very pretty.
To the right: This striped seersucker is something out of a fairy tale, with its double puffed sleeves, its be-ruffled skirt. These wonderful dresses are by that brilliant designer, Dorris Varnum, of Jonathan Logan.
That's all
©Glamourdaze 2015
Original text from 1946 Modern Screen
Related articles across the web